[sixcol_five_last]
By Crystal Aguon
The Simon Sanchez Sharks and St. John's Knights were set to battle for a back-to-back win after both teams won their season opener Friday night. Both teams were determined to keep their record flawless causing tension, nervousness, and a make or break third set. Battling it out in a three-set game 25-19, 24-26, 25-20, it was the Sharks that grabbed the first and third set to take the win.
The game started out jittery with errors from both sides of the floor. It wasn't until the Sharks star outside hitter Edelene Cruz slammed the ball straight down into her opponent's court did her team pick up momentum with a 4-1 lead. Another kill from Sharks co-star Giselle Kho and numerous errors on the Knights caused the Sharks to slip into a comfortable 13-1 lead.
Finally, an error on the Sharks gave the Knights a chance to capitalize. St. John's freshman middle blocker Destiny Castro had two hard hits, slightly closing the score gap to 13-4. However, Cruz put the power away, played smart and glided the ball from the right side of the court all the way to the huge space on the left side for a point on their side of the score board. Both teams exchanged kills putting points on their respective sides one by one. There were constant defensive communication errors on both ends, but the Sharks capitalized on their offense with Cruz to lead in kills and the set at game point, 24-12. The Knights did not let the score bring them down; they fought as hard as they could, pushing their points up one at a time. The Knights were just too late because a beautiful dig, a perfectly executed set, followed by a hard sharp hit from Cruz sent them the message and ended the set at 25-19.
The second set was a whole new game and the intensity was at a whole new level. The kills along with errors from both teams went back and forth, causing the score to be incredibly tight. Pressure caused both teams points and simple mistakes became their downfall. Three consecutive Shark errors gave the Knights their first lead of the night at 13-12. However, the lead was quickly lost and the score continued to fluctuate. Castro tried to build her team some momentum by putting up a huge block and tying the score 19-19. All of a sudden it became a block party on both ends, and the teams started to find their rhythm. Two crucial mistakes on the Sharks caused the Knights to pull away at game point 24-22. Sharks Giselle Kho tried to redeem her team by recording a great kill, evening the score 24-24. However, the Knights fought for a third set by taking the second set 26-24.
The final set came down to who could minimize their errors. As everyone in the gym felt the tension, both teams remained composed. There were long nice beautiful rallies consisting of continuous bump, set, spike execution. Although the score was tight and both teams shared outstanding kills, it was Cruz's strong seven kills and two aces that got the crowd jumping out of their seats. The score see-sawed back and forth through out the set until Sharks Kho found the Knights weak spot as the score was 20-20. Cruz, Kho, and the fellow Sharks used that exposed weak spot to catch their strong win of the set and game at 25-20.
"We want championship, but we are taking it one game at a time," said Cruz, who finished the game with thirteen kills, three aces, and five digs.
Knights Destiny Castro had eight kills, four blocks, and three digs in the loss.
[/sixcol_five_last][ubm_premium_banner_rotation banners=46, 38, 16 interval=9 width=120 height=600 orderby=rand]
[fbshare url=" http://www.gspnlive.com/?p=15375″ type="button"][fblike url=" http://www.gspnlive.com/?p=15375″ style="standard" showfaces="false" width="450″ verb="like" font="arial"]

2022 GSPN I MÅS METGOT COMPETITION
2022 GSPN I Mås Metgot Competition Recap
2022 GSPN I MÅS METGOT COMPETITION
2022 GSPN I Mås Metgot Competition Recap
2022 GSPN I MÅS METGOT COMPETITION
2022 GSPN I Mås Metgot Competition Recap
COMING SOON …
Sat: Origin Power Lifting Meet 
ISA Girls Volleyball/Boys Soccer Finals
QUICK HITS
Guam runners complete London Marathon. Former Guam top runners Charlie Epperson and Aysha Perez Epperson along with Cameron ONeal completed the 42nd London Marathon.
Charlie 2:47:56
Cameron 2:59:49
Aysha 3:51:04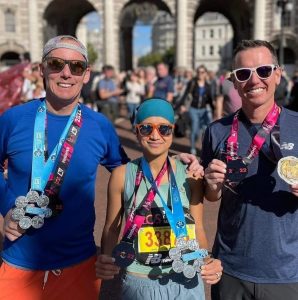 ———————————————–
Trevin Jones drops a unanimous decision 30-25, 30-27, 30-27 to Raoni Barcelos in UFC Fight Night 211 in Las Vegas.