[sixcol_five_last]
By Derek Mandell
After nearly two months of regular season matchups, countless hours of training and an unforeseen delay of the All Island meet, it all came down to one race on Tuesday evening at Okkodo High School.
Rain, mud, and a winding, hilly course. The perfect cross country conditions for all of the island's top high school runners. At the end of the day, the JFK Islanders backed up their strong regular season records and claimed both boys and girls team titles. The Islanders won in convincing fashion with each team besting their nearest opponents by more than 30 points.
"That was our goal from the beginning of the season, to bring the championship back for both boys and girls," said JFK head coach Eladio Manansala. "We kept reminding the guys and the girls that when the time comes we're gonna come out and perform. And even though (the race) was cancelled last week, we knew we were ready and we were prepared for it. Today they showed it."
The Southern Dolphins earned their first cross country team trophy in school history by finishing second with 80 points, followed by the surprising third-place team, Sanchez Sharks (98 points).
In the girls race, the defending-champion Guam High Panthers placed second with 67 points, and the GW Geckos held on for third (91 points).
Manansala added that he constantly cautioned his teams that the regular season standings do not count on All Island.
"We told them on All Island it's zero-zero and the records are wiped away. Today's all that's going to count, and they came out and performed today. So I'm really proud of them," said Manansala. "As an Islander, our cross country program, we knew always have great talent, but to win both boys and girls…it's awesome. It feels great. This year is really special."
Martin, Aquino Win Individual Races
Seniors Emma Martin (Guam High) and John Aquino IV (JFK) ended their high school cross country careers on top by winning the Individual All Island championship. Both Martin and Aquino have been competing in cross country since their freshman year and have steadily moved up the ranks each year.
The girls race was a back and forth battle with the top ten finishers, as the placings seemed to change after every lap. The one constant, however, was Martin gradually pulling away from the field and asserting her place on the top of the podium.
"I don't think it's sunk in quite yet, but I feel really good." said Martin. "I knew my goal and I really worked hard to achieve it. I've gotten third overall the past two years so I was really happy with my performance today."
Martin's time of 21:44 was thirty-seconds faster and about 100-meters ahead of GW freshman Kianni Aguillard (22:14). JFK's Keiha Yoo held on for third place in 22:27, followed by Alette McGuire (Guam High) in 22:34 and Jadine "Mika" Rosario (JFK) in 22:37. Maria Ollett of JFK (22:41), Jeashalyn Fejeran of GW (22:42), Nikki Del Castillo of Okkodo (22:46), Pilar Righetti of JFK (22:52) and Domini Prudente of Harvest (22:56) rounded out the top ten All Island Girl's Team.
Martin was eager to race since last Thursday and said that the delay in the All Island came as a surprise. Despite the delay, she was able to maintain her focus towards Tuesday's race and is looking forward to the Asia Pacific Invitational on Friday.
"I just want to say congratulations to all the teams, and John (Aquino) because I know he's a senior as well. I've seen him progress throughout the years and I'm really proud of him and the JFK runners. I want to tell all the up-and-coming runners to keep working hard and set their goals, and work hard to achieve them."
Aquino once again put on a show and solidified his dominance from throughout the regular season.  Aquino was a class ahead of the field and finished with a time of 16:32, through a downpour of heavy rain.
"It feels good. I'm pretty happy that I'm out of high school cross country now because, you know, there's saying 'there's always a time to move on,' and high school has been very awesome years for me," said Aquino. "And I'm happy, not only me, my whole team is happy because we had first place overall, I got my first place medal, and a couple of our guys got medals as well in the top ten. And, you know, just coming out here in my last year and giving it all that I've got, that's enough for me. I've still have running because I've got collegiate running ahead so I'm not sad. I'm ready, I'm pumped for the next level."
The closest finisher to Aquino was JFK teammate Michael Murphy in 17:51, who was more than a minute behind. Okkodo senior Mark Yoshida battled Murphy throughout the race and earned the third spot in 18:04. Guam High's Tyler Thorne was fourth in 18:14, followed by JFK's Rey John Flores (18:19). Southern's Rainier Porras (18:26) and Sydney Talledo (18:31) finished sixth and seventh, respectively and helped secure their team's historic finish. Wayne Owen, Guam High (18:35), Karl Almoite, JFK (18:39) and John Garcia, Sanchez (18:44) earned the final three All Island spots.
Aquino said he was not surprised to be where he is at right now, noting his progression from freshman year.
"All that training over the four years of cross country all led up to last year and this year." added Aquino. "I thank God for me, my team and my coaches, that we all took first for boys and girls."
Team Results
Boys
JFK 32
Southern 80
Sanchez 98
Girls
JFK 34
Guam High 67
GW 91
Top Ten Results (All-Island Team)
Boys
John Aquino IV (JFK) 16:32
Michael Murphy (JFK) 17:51
Mark Yoshida (Okkodo) 18:04
Tyler Thorne (Guam High) 18:14
Rey John Flores (JFK) 18:19
Rainier Porras (Southern) 18:26
Sydney Talledo (Southern) 18:31
Wayne Owen (Guam High) 18:35
Karl Almoite (JFK) 18:39
John Garcia (Sanchez) 18:44
Girls
Emma Martin 21:44
Kianni Aguillard 22:14
Keiha Yoo 22:27
Alette McGuire 22:34
Jadine "Mika" Rosario 22:37
Maria Ollet 22:41
Jeashalyn Fejeran 22:42
Nikki Del Castillo 22:46
Pilar Righetti 22:52
Domini Prudente 22:56
Notes
-The championship races were set to be held last Thursday at the Guam International Country Club, but the course conditions and rainy weather caused the races to me moved to Okkodo High School.
-In the Junior Varsity race, Okkodo Freshman John Olandez took top honors with a time of 21:47. Olandez is the younger brother of Okkodo's Mark Yoshida (3rd overall in Varsity).
[fbshare url="http://www.gspnlive.com/runningtrack/aquino-martin-top-all-island/" type="button"] [fblike url="http://www.gspnlive.com/runningtrack/aquino-martin-top-all-island/" style="standard" showfaces="false" width="450″ verb="like" font="arial"]
[/sixcol_five_last][useful_banner_manager_banner_rotation banners=53, 38 interval=8 width=120 height=600 orderby=rand]

Athletes Birthdays by W5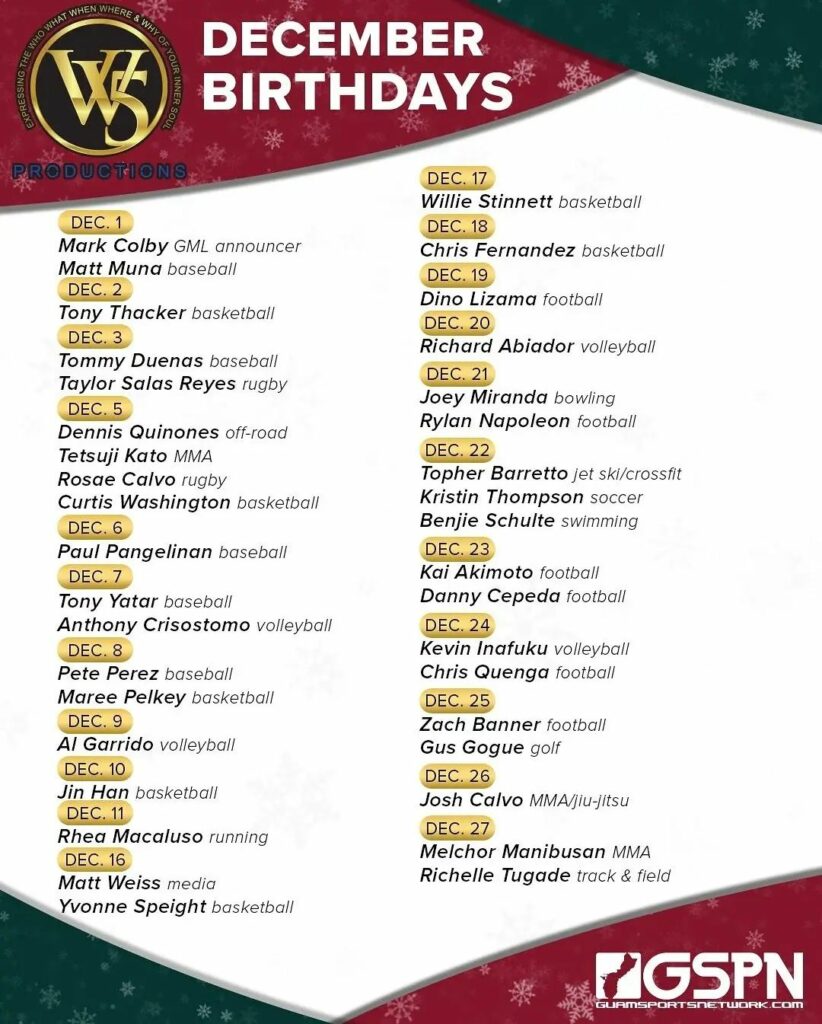 GPS Sports Calendar
SU

MO

TU

WE

TH

FR

SA
Events for December
5th
No Events
Events for December
6th
Events for December
7th
Events for December
8th
No Events
Events for December
9th
Events for December
10th
Events for December
11th
06:00 AM - 08:00 AM
Umatac
Events for December
12th
No Events
Events for December
13th
No Events
Events for December
14th
No Events
Events for December
15th
No Events
Events for December
16th
Events for December
17th
Events for December
18th
19

20

21

22

23

24

25
Events for December
19th
No Events
Events for December
20th
No Events
Events for December
21st
No Events
Events for December
22nd
No Events
Events for December
23rd
No Events
Events for December
24th
No Events
Events for December
25th
No Events
26

27

28

29

30

31

1
Events for December
26th
No Events
Events for December
27th
No Events
Events for December
28th
No Events
Events for December
29th
No Events
Events for December
30th
No Events
Events for December
31st
No Events
National Guard Athletes
Scott Eclavea
Scott Eclavea is a jiu-jitsu black belt and an accomplished MMA fighter. The Guard has given him an outlet in combatives to display his martial art skills, where he's become a head instructor for that program. Eclavea has served since coming out of high school and the Guard has only changed his life for the better.
COMING SOON …
LIVE FOOTBALL ON GSPN
Semifinals: #1 FD vs. #4 Southern (Friday 7 pm)
GSPN Preseason Basketball Tournament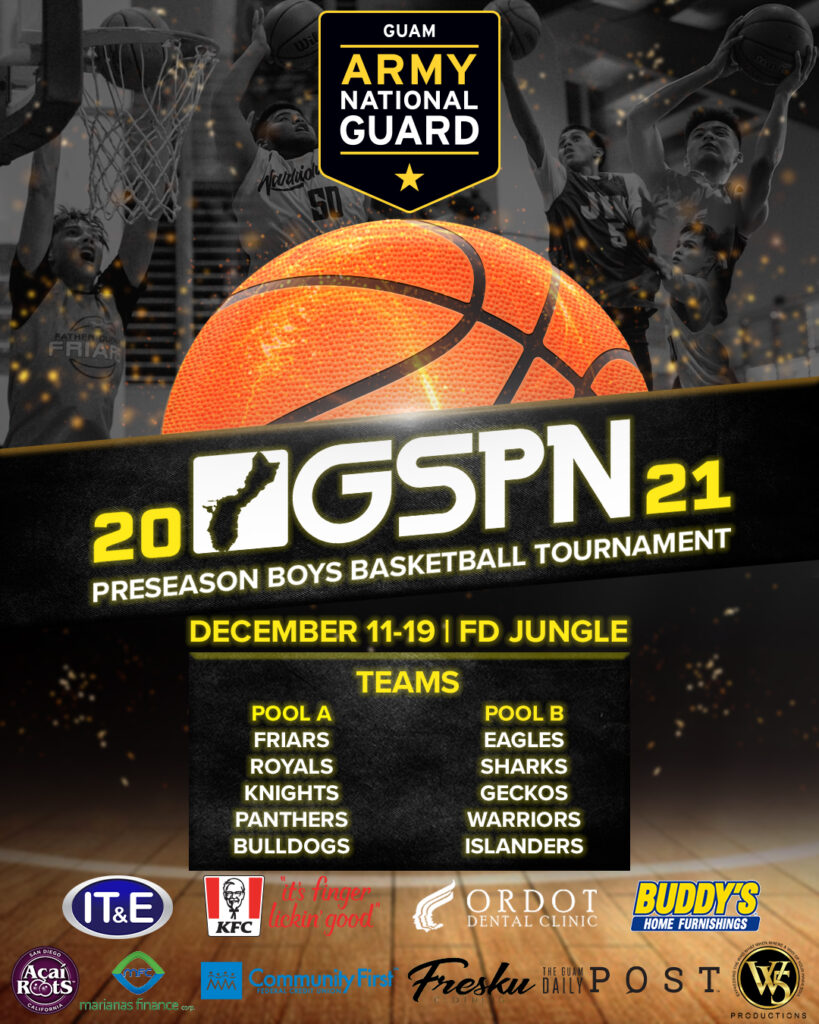 QUICK HITS
Robert Artero Maley recently captured the 182-lb. division of the Costa Mesa Classic, winning via pin in 4 out of 5 matches. Robert is a 4-year varsity wrestler at San Clemente HS (Tritons) and is currently ranked 15th in California's high school scene. He is the son of Jacque Artero Maley (AOLG 1991).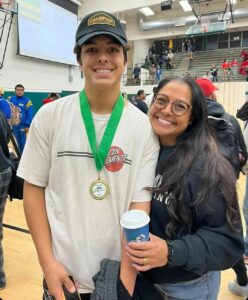 ——————————————–
Pat Taitano and Rich Abiador, teammates on the 1995 SPG volleyball team, have led their high school girls volleyball teams to the Washington State Championships in Yakima, Wa.
Taitano coaches Mt. Rainier High while Abiador leads North Creek High.
There for support is Dr. Mark Perez, a health professor at Central Washington University and a former UOG volleyball player.