[sixcol_five_last]
By Regina Shiroma
With only seconds left in the championship game, Hurao scored a tie-breaking try to take home the cup in the second annual Guam Rugby Sevens tournament Sunday afternoon at the UOG field.
The nature of 7s rugby is fast-paced, thus was the nature of the cup game. The Lions and Hurao lashed it out on the field for two ten-minute halves instead of the usual seven. By the blow of the final whistle, both teams were well spent after a hard-fought game.
In the first half, Hurao's quick ball-movement and off-loading enabled Frank "Kikoman" Shimizu to score a try under the posts; Sablan completed the conversion to put Hurao in the lead 7-0. Following in close support of a breakaway, John Arceo was on the receiving end of a two-on-one against a Hurao defender, allowing him to score a try for his team, making it 7-5.
The Lions were up 12-7 at half time after Rob Leon Guerrero picked off a Hurao pass and returned it 65 meters to his try zone. Leon Guerrero also kicked in the conversion.
In the second half, Hurao's Eddie Calvo nearly scored for his team, but not before stepping out of bounds at the one-meter line with a Lions defender hot on his tails. Younger brother PJ Calvo finished up his big brother's business, tying up the game after diving on a ball made loose in the try zone thanks to a big hit by teammate Chris Sgro.
Passing the ball out to the wing, Hurao's Matt Sgro ran into the try zone to score the game-winning try.
The Lions and Hurao were mostly comprised of players from Guam's men's national rugby team, so most of them are teammates.
"We knew what to expect against them, they knew what to expect against us, we just played on and it was just a really good game," said Hurao's Steven Sablan, who played an essential part to his team's win.
This being one of the many upcoming rugby tournaments, it gives rugby players many opportunities to play and get into the rhythm of the game.
"I think it's really good for the island of Guam, to get more and more experience. We have a lot of young athletes, young rugby players that could just use this, which is something we never had growing up, so they're going to benefit a lot from it.," said Sablan.
Plate 
Da Doks 24, Southside Ryders 14
Bowl
Wolf Pack 20, Pupz 0
[fbshare url="http://www.gspnlive.com/gspn/hurao-takes-7s-cup-tourney/" type="button"] [fblike url="http://www.gspnlive.com/gspn/hurao-takes-7s-cup-tourney/" style="standard" showfaces="false" width="450″ verb="like" font="arial"]
[/sixcol_five_last]

Foody's 5 Fun Facts
ND Royals Volleyball Setter Gabrielle Piper
DID U KNOW?
Guam National Track & Field sprinter and St. John's Cross Country/Track Star Madison Packbier is the daughter of former Track Star Tara Steffy granddaughter of GNOC's Bob Steffy.
COMING SOON …
– 1st Quarter High School Sports Kicks Off
– FIFA: Guam vs. Maldives Sept. 5
– Submit VI on Sept. 6
QUICK HITS
Former JFK All-Island lineman Christopher Parker transfers to De Anza College in Cupertino, CA. De Anza finished last season 10-1 and won the American Conference Championship Bowl. Good luck Chris!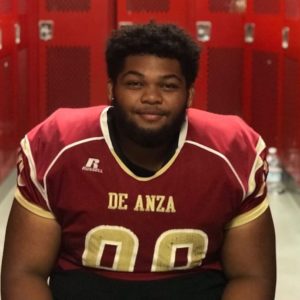 —————————————————-
Die-hard Rams fan Kenny Artero is in Hawaii to catch his beloved team play the Cowboys at Aloha Stadium in a preseason NFL game. Artero got a chance to meet Hall of Fame running back and Rams legend Eric Dickerson.