[sixcol_five_last]
By Nathaniel San Nicolas
It was a long Saturday at the Father Duenas Phoenix Center as the Marianas Open Brazilian Jiu-Jitsu Tournament started in full force bright and early at 8 a.m. as competitors of all levels went to the mat to showcase their skills and talents in an electric atmosphere.
The day kicked off with the youngsters battling it out giving the crowd a glimpse of the future BJJ athletes, but the highlight of the day happened at the end of the event as Joshua "Wu" Jerome took the Brown Belt Absolute Gold Medal and put the icing on the cake as he took home the featured prize of $1000.
Throughout the day, the huge mat was divided into four sections for multiple matchups to happen at once. However, when the Brown Belt Absolute was up, all four sections were no more and each competitor took on his opponent at the center of the mat with all eyes focused on them.
The bracket became interesting when defending champion Eric Sian took on Jerome in the semifinals. The two went at it back-and-forth for the beginning of the match looking pretty neutral throughout until Jerome got the BJJ champ Sian in a knee-bar and forced the tap that allowed Jerome to advance to the finals against Mike Sanchez.
At this point, the spectators were silent and observing the matchup between Jerome and Sanchez. Jerome came out of the match via submission, giving him the bragging rights of being the Brown Belt Absolute Gold Medalist.
"I spent most of my time on the mat trying to prepare for this match," said Jerome, "Not so much weight-lifting or cardio, just training at the gym with the guys. Most of these guys I went up against are my brothers and it's pretty awesome and I know they've trained hard too."
With those loving words from Jerome, one can tell that the jiu-jitsu community is definitely a close-knit one as he humbly accepted his reward at the same time taking notice in his opponents hard-work and dedication themselves.
Medal Winners:
Brown Belt Absolute:
– Gold: Joshua "Wu" Jerome
– Silver: Mike Sanchez
Female Absolute:
– Gold: Brogan Walker
– Silver: Alexandria Aflague
– Bronze: Rebecca Tomada & Jayronne Gandaoli
Purple Belt:
Over 160:
– Gold: Ryan Bustamante
– Silver: John Moser
– Bronze: John Meno
Under 160:
– Gold: TJ Francisco
– Silver: Kevin Cruz
– Bronze: Eduardo Salanatin
Blue Belt:
131-145 lbs.:
– Gold: Shane Aguon
– Silver: Trevor Nelson
– Bronze: Lloyd Cubacub
146-160 lbs.:
– Gold: Anthony Cruz
– Silver: Christian Lastimosa
– Bronze: Josh Alvarez
161-173 lbs.:
– Gold: Derrick Calvo
– Silver: Anton Rosario
– Bronze: John Camacho
176-190 lbs.:
– Gold: David Harris
– Silver: Nicolas Brown
– Bronze: Brannon Perez
191-205 lbs.:
– Gold: Johnny Aguon
– Silver: Christopher Nededog
200 lbs. +:
– Gold: Ryan Schilling
– Silver: Nicholas Caceres
– Bronze: Erik Flores
Teen:
190 lbs.:
– Gold: Eathan Cruz
– Silver: Kevin Martin
– Bronze: Arnold Duarte
155 lbs.:
– Gold: Odin Mendiola
– Silver: Preston Paradis
– Bronze: Tristan Chguina
135 lbs.:
– Gold: Jayronne Gandaolu
– Silver: Ray Umadhay
– Bronze: Alexandria Alfague
120 lbs.:
– Gold: Patick Pangelinan
– Silver: Steve Pangelinan
– Bronze: Ellie Torres
108 lbs.:
– Gold: Scottie Topasna
– Silver: Gerrard Quichocho
– Bronze: Jude Cruz
97 lbs.:
– Gold: Kenneth Ledesma
– Silver: Eddie Muna
– Bronze: Christian Mendiola
85 lbs.:
– Gold: Justin Untalan
– Silver: Ronney Duenas
Kids:
170 lbs.:
– Gold: Russell Guerrero
– Silver
– Bronze
128 lbs.
– Gold: Brian Roberto
– Silver: Isabel Guerrero
– Bronze: Kode Onedera
100 lbs.:
– Gold: Ayden Duenas
– Silver: Justin Lalumandier
98 lbs. +:
– Gold: Francesca Lizama
– Silver: Jacob Lalumandier
97 lbs.:
– Gold: Katelyn-Rae Quintanilla
– Silver: Seth-Galigher Gutierrez
80 lbs.:
– Gold: Aleiya Almario
– Silver: Collin-Ray Cruz
– Bronze: Hailey Taitano
70 lbs:
– Gold: Laralei Gandaoli
– Silver: Jayden Lalumandier
68 lbs. +:
– Gold: Colin Santiago
– Silver: Skyler Lujan
– Bronze: Caleb Laserna
67 lbs.:
– Gold: Sean Mantanma
– Silver: Nolan Pegarido
56 lbs:
– Gold: William Ludwig
– Silver: Johanna Duenas
– Bronze: Brydon Baldin
54 lbs.:
– Gold: Colin Ada
– Silver: Tye Hernandez
– Bronze: Devin Okada
50 lbs.:
– Gold: Masato Rabago
– Silver: Jon Leon Guerrero
45 lbs.:
– Gold: Ghrace Joy Santos
– Silver: Isaiah Vilante
– Bronze: Xander Duenas
44 lbs.:
– Gold: Jake Ryan Cruz
– Silver: Ethan Sablan
– Bronze: Ava Aflague
40 lbs.:
– Gold: Stussy Shimizu
– Silver: Zander Taitano
– Bronze: Shiloh Muna-Brecht
[/sixcol_five_last][useful_banner_manager_banner_rotation banners=38, 53 interval=8 width=120 height=600 orderby=rand]
[fbshare url="http://www.gspnlive.com/?p=23677″ type="button"]
[fblike url="http://www.gspnlive.com/?p=23677″ style="standard" showfaces="false" width="450″ verb="like" font="arial"]

Foody's 5 Fun Facts
NFL Fan Edition: Sherwin Paet
DID U KNOW?
Frank 'The Crank' Camacho was a competitive youth golfer in Saipan with dreams of making it to the PGA.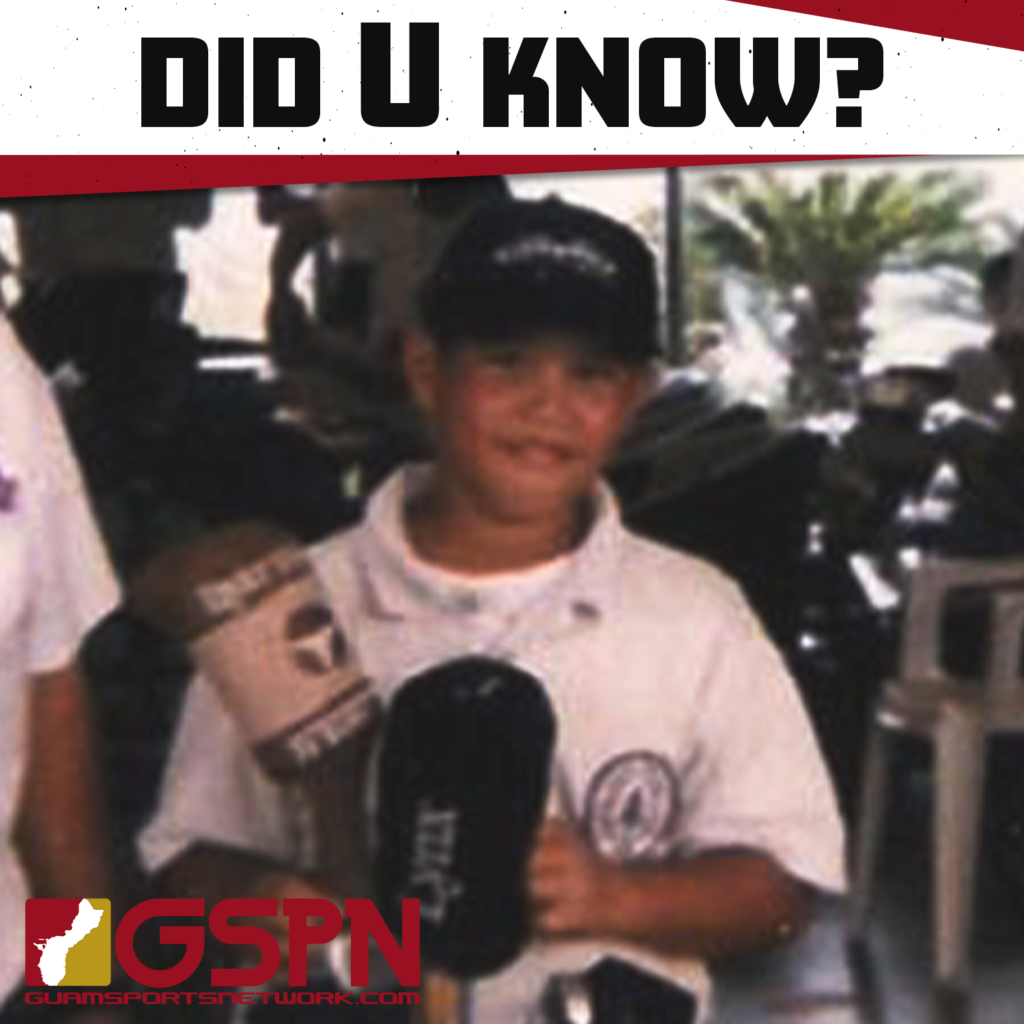 COMING SOON …
ALL SPORTING EVENTS HALTED DUE TO THE CORONAVIRUS ISSUE
QUICK HITS
Brazilian Jiu-jitsu gains another CHamoru black belt.
Johnny-James Lujan earned the honor in Colorado from Professor Tom Lynn, who is also a former US Olympian in taekwondo.
Lujan is the son of Johnny Lujan formerly of Mongmong and Janille Jamero Lujan formerly of Sinajana.