[sixcol_five_last]
By Jeff Ochavila
It was the biggest race of the year for Guam: the 8th annual Guam Ko'Ko' Road Race.  This race just so happened to have the biggest turnout with the most people coming from Japan, other Asia countries, and especially the locals here on Guam. The whole area was filled with people, either competing, watching, or assisting early in the morning at the Ypao beach. It was definitely a site to see.
There were two different races: the half marathon, which is 13.1 miles, and the 4 person Ekiden Relay which totals up to same distance at the half-marathon.
The race started with those who are competed in the half-marathon then the relay teams followed after. However, they made the course somewhat different this year. As the half-marathon runners will have to pass village of Tamuning, Hagatna, Anigua, and turn around at Asan. The relay will stay in Tumon as their turnaround is at the SandCastle and the exchange is in front of the GVB intersection.
Despite the drizzling rain, the race was still exhilarating to see. The race was competitive overall, but it was the runners from Japan that scorched the entire competition. It was lead by the first runner of the whole entire race, Tsukasa Kawarai. Watching him, he seemed to have the entire race in his hands without showing a sign of exhaustion or weakness. With that, he came in first in the half-marathon at a time of 1:12:18.
Tsukasa Kawarai says, "this race was hard for me because the condition. Usually in Japan, it's much colder there but on Guam, the weather was very hot " about the difficulty of the race. He includes, "but it was very fun. I wouldn't have finished this with support," about the whole race.
As two other Japan runners come in 2nd and 3rd, with the big efforts of Guam's own Derek Mandell, he was able to finish the whole half-marathon at 4th place at a time of 1:17:55. He did the best he possible could be in the top three but he fell a bit short in the end.
Derek Mandell had a few words about the race today, "overall, I think it was good. There was a lot of competition from Japan and also local competition as well. Also, I'm please with my performance." For him, he states, "The front pack took off too fast and I had to let them go in the beginning because I knew that if I went with that them, I would have faded in the end. I had to play smarter and be more conservative in the beginning. I was able to catch some in the end but not the top three."
Soon after, many more people starting to come in and finish the race from both the relay and the half-marathon. There were mixed of winners from different places that topped the different divisions. The whole race was a complete success with many
breathless runners coming out of the chute tired but happy that they were able to finish. You can hear that commotions and whole in the area about how much fun everybody had this morning.
Top Finishers
Overall male:
Tsukasa Kawarai (1:12:18)
Yutaka Naito (1:13:52)
Hisroshi Kuwakado (1:17:05)
Juniors Male:
John Aquino IV (1:22:05)
Benjamin Middlebrooke (1:43:43)
Brian Tsuji (1:49:17)
Open Male:
Derek Mandell (1:17:55)
Daisuke Yanaguchi (1:19:22)
Kazuya Miyamoto 1:21:15)
Sum-Master Male:
Charles Epperson (1:19:35)
Yukinori Hirata (1:21:32)
Shishin Miyagi (1:34:20)
Master Male:
Mark Jolin (1:36:59)
Takashi Kano (1:39:31)
John Wigsten (1:42:22)
Senior Male:
Yuichi Yoshizai (1:29:37)
Rodney Bordalle (1:34:34)
Shigeru Fukuda (1:36:37)
Grandmaster Male:
Yutaka Takeshige (1:48:29)
Kenichi Otani (1:50:48)
Robert Navarro (1:57:19)
Overall Female:
Satoka Uetani (1:23:45)
Marie Benito (1:34:10)
Namiko Kawasaki (1:47:25)
Junior's Female:
Emma Martin (2:03:30)
Open Female:
Yusika Sugahara (1:48:33)
Kirsten Kennon (1:49:11)
Diobelkis Ozuna (1:52:47)
Sub-Master Female:
Stephanie Clark (1:49:48)
Erika Parker (1:52:35)
Tamasi Smith (1:53:38)
Master Female:
Mylene Garcia (1:57:34)
Letitia Lujan Shimizu (2:02:44)
Yuka Hechanova (2:02:54)
Senior Female:
Kathy Sgro (2:02:29)
Rebecca Jones (2:03:21)
Yusiko Kino (2:03:43)
Grand Master Female:
Eva Tanag (2:05:18)
Namiko Goto (2:16:24)
Manamko Female:
Miyoko Nishikawa (2:08:37)
[fbshare url="http://www.gspnlive.com/runningtrack/kawarai-takes-koko-road-race/" type="button"] [fblike url="http://www.gspnlive.com/runningtrack/kawarai-takes-koko-road-race/" style="standard" showfaces="false" width="450″ verb="like" font="arial"]
[/sixcol_five_last][useful_banner_manager_banner_rotation banners=53, 38 interval=8 width=120 height=600 orderby=rand]

2022 GSPN I MÅS METGOT COMPETITION
I Mås Metgot Athlete Spotlight: Tim Nauta
2022 GSPN I MÅS METGOT COMPETITION
I Mås Metgot Athlete Spotlight: Tim Nauta
2022 GSPN I MÅS METGOT COMPETITION
I Mås Metgot Athlete Spotlight: Tim Nauta
QUICK HITS
Guam boys Kekoa Toves and Matias Calvo went head-to-head on the rugby pitch as American International College took on Dartmouth College, both top-ranked men's rugby programs in the country.
Calvo (FD) is the captain of Dartmouth and scored, but Toves (Sanchez) and his AIC squad came away with the win in Springfield, Mass.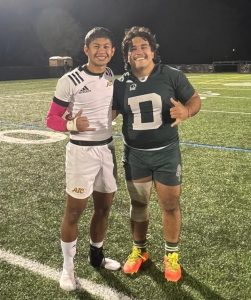 ———————————————–
1LT Belizabeth Nicole V. Rengiil is known to be the first female from Guam and Palau to make the All-Army Women's Rugby Team. She is an active duty Signal Officer with the US Army and is stationed at Joint Base Lewis-McChord in Washington.
Her team won the Armed Forces Women's Rugby Championship with a 4-0 record.
Belizabeth is the daughter of Edwin and Juliana Rengiil with siblings Johanna and Edwin-Isaiah Rengiil from Mangilao.