PRESS RELEASE – The organizers of the Guam Cal Ripken Baseball League (GCRBL), a division of Babe Ruth Baseball Program held their season opener and parade of teams this morning 10am, Saturday, February 16, 2013 at the Paseo Baseball Stadium.  GCRBL officials welcomed (5) divisions with over 60 teams of youth baseball players ranging from  4 – 15 years of age.
Over 900 youth baseball players and over 120 coaches and managers watched on as Guam leaders including Lt. Governor Ray Tenorio, Senator Tina Rose Muna Barnes, Senator Tommy Morrison and Senator Brant McCreadie took turns throwing the ceremonial pitch.
Youth baseball players concluded the event with its traditional sportsmanship pledge and mission statementpromoting the use of regulation competitive baseball, teaches skills, mental and physical development, a respect for the rules of the game, and basic ideals of sportsmanship and fair play. In all aspects, the program is committed to providing participants the very best educational, sports experience possible; it's Cal Ripken, Babe Ruth's fundamental belief that every child with a desire to play baseball be afforded that opportunity.
History:
The GCRBL organizers started a pilot program seven (7) years ago with only 8 teams and two divisions ages 6 to 12.
In 2009, the GCRBL organizers added another division focusing on baseball players ages 4 to 6.
In 2013, GCRBL organizers added Babe Ruth 13 to 15  division under its purview.
GCRBL players qualify to compete annually in the Cal Ripken Pacific Southwest Regional Tournament held in California and Utah, any Guam team who successfully wins their regional division in the West Coast will have an equal opportunity to continue competing for the championship title game in the Cal Ripken World Series held annually in the East Coast, Aberdeen, Maryland.
Continued Progress and development:
In 2008, Guam's 10 year old "all star" team successfully entered the regional championship round of the Cal Ripken Pacific Southwest Regional Tournament in California.
In April 2012, the GCRBL organizers hosted a friendship tournament with youth baseball players from Alabang, Philippines.  The Friendship tournament was an important opportunity for Guam teams to gain experience and playing time with other teams from Pacific Asia.
In July 2012, Guam's 12 year old "all star" team successfully competed in the Cal Ripken Pacific Southwest Regional Tournament in California.  The Guam team finished 3rd place and received a Sportsmanship Award.
League officials
1 – Commissioner: Roque Alcantara, Sr.
1 – Vice Commissioner: Joe Young
4 – Division Presidents: Joe Young, Tom Aflague, Dora Fegurgur and Faithe Escalona
TEAMS
Jr Rookie League (4 – 6 years old = 15 teams)
PMC Lil Cobras
B&M Lil Cobras
Santa Rita Braves
Barrigada Little Dodgers
Barrigada Dodgers
Stars
Northern Yankees
Sinajana Giants
Yona RedHawks #1
Yona RedHawks #2
Talofofo Rangers
Agana Heights Blues
Mangilao Tigers
Mangilao Tigers – B
Mangilao Cubs
Rookie League (7 – 9 years old = 16)
B&M Cobras
Cobras #2
Northern Sons
MTM Falcons
Northern Yankees
Rangers Green
Rangers Gold
Yona RedHawks
Sumay Braves
Agana Heights Blues
Mangilao Tigers
Rockies
Dodgers
Agana Heights Heart Breakers
Mangilao Cubs
Tatuha
Cal Ripken Minor League (9 – 10 years old = 10 teams)
Yona Red Hawks
Santa Rita Braves
Agana Heights Jaguars
Agana Heights Blues
TC Cobras
Talofofo Rangers
Mangilao Cubs
Mangilao Halu'u
Sinajana Giants
Islanders
Major League (11 – 12 years old = 10 teams)
Sumay Braves
Yona RedHawks
Sinajana Giants
Stars
Axe Stars
Rangers
Mangilao Halu'u
Rockies/Islanders
Agana Heights Cougars
Tamuning Twins
Major League (13 – 15 years old = 10 teams)
Sumay Braves
Yona RedHawks
Yigo Nationals
Talofofo Rangers
Sinajana Giants – A
Sinajana Giants – B
Islanders
Cobras
Barrigada Crusaders
Mangilao Aguguhats

Athletes Birthdays by W5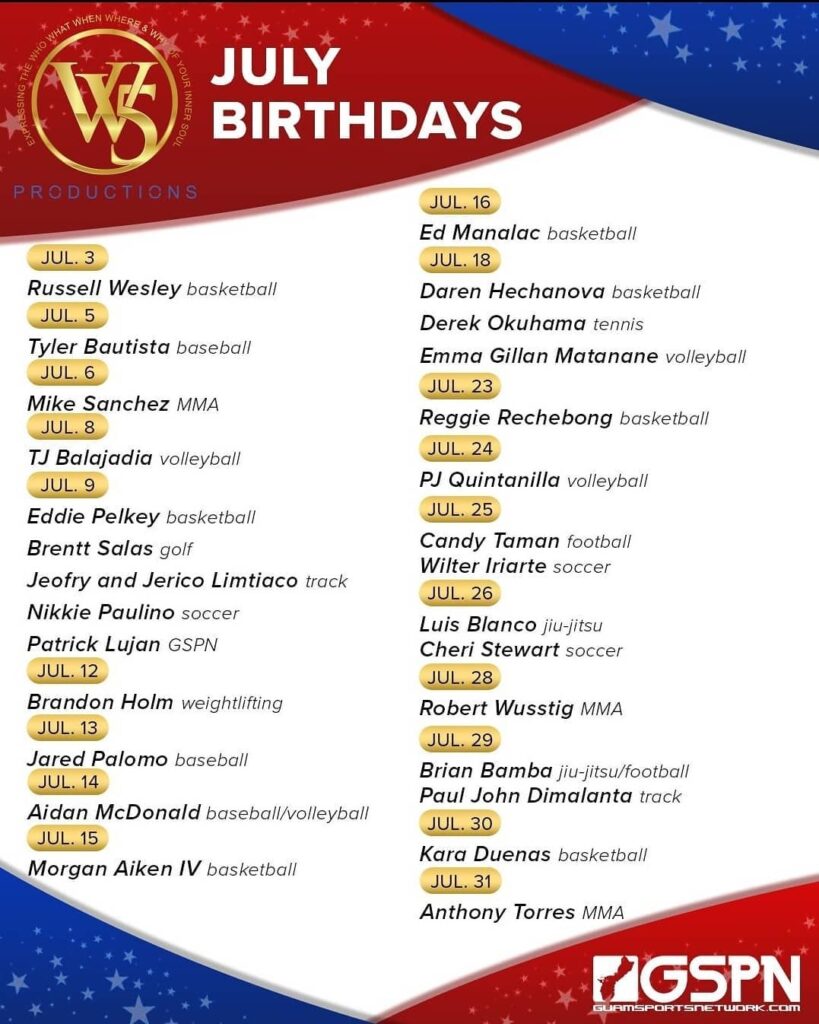 Foody's Fun Facts
Favorites From Year 2
COMING SOON …
2020 Tokyo Olympics
UFC Fight
Aug 1: Trevin Jones vs. Tony Kelley
QUICK HITS
——————————————————–
Guam's Joey Miranda met up with Chamorrita Softball Star Bubba Nickles and Olympic Teammates Dejah Mulipola and Aubree Munro out in Tokyo as we approach the Olympics!
Photo credit: GNOC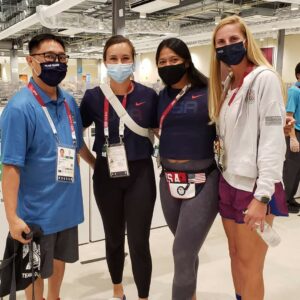 ——————————————————–
Former Guam resident Tre Taylor has committed to play cornerback for the Southwestern Junior College Jags.
Turner attended Harvest and FD before transferring to Hawaii where he played for Saint Louis, the 5th ranked team in the nation.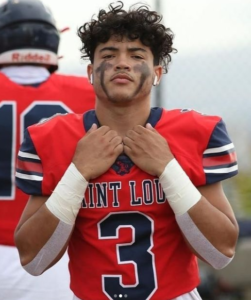 ——————————————————–
The big man Zach Banner getting to throw out the first pitch earlier today for the Pittsburgh Pirates!