[sixcol_five_last]
By Michael Cruz
The Road to Glory
While most four year olds were playing with toys, Peter Santos started wrestling.
"It was fun! I immediately fell in love with the sport because I'm such a competitive person," said Santos.
Peter Santos, Sr. was a wrestler and football player at Benicia High. He started coaching Peter, Jr. early and made sure it was all about wrestling in training. Back home, the Santos' instilled strong family values and academics.
Santos excelled in football and wrestling his freshman and sophomore years at Woodcreek High School. However, an early exit his sophomore year at the CIF made Santos refocus on wrestling. His new goal was to just wrestle and win a state title. He transferred to nearby Oakmont High School. Fast forward to 2013 wrestling season and Santos wins the league, division, and SJS Master Championships.
Santos had his chance at redemption in the 2013 CIF State Tournament. He pinned his first round opponent in three minutes. Santos shutout his next challenger 12-0. Alec Gamboa's streak came to end with Santos pinning him in less than two minutes. Peter kept going to another level. His semifinal opponent Jovan Villalobos was rendered scoreless in losing 15-0.
The finals were set and Peter faced a familiar opponent Cory Griego. Griego was the #1 ranked wrestler in the CIF. Here is what happened:
The Accolades
Peter Santos winning the CIF 2013 170 lb. wrestling title was only the start.  He finished ranked #8 nationally according to http://www.intermatwrestle.com/rankings/high_school/170 and #11 on FloRanking. Peter was also named Sacramento Bee's wrestler of the year and Male Athlete of the Year for Sport Stars Magazine:
http://issuu.com/sportstars/docs/sjxapril18x13/1
http://www.sacbee.com/2013/03/06/5242284/oakmonts-santos-a-gentleman-off.html
http://www.flowrestling.org/coverage/250778-Wrestling-Prep-Banquet-2013/video/712598-Santos-Ready-For-Some-Cake-Then-NC-State
He was next chosen to the prestigious California Dream Team and competed against other states at The Americas Cup. Peter went undefeated taking out the Idaho and Michigan state champions at The Americas Cup and helping CDT win it all. On National Signing Day he signed with the NC State Wolf pack wrestling team. On May 18, he was named to the All-American Wrestling Team.
The Future is Bright
Peter Santos is enjoying his last summer before college. He is ready to go cross-country and compete at the collegiate level. The young man is so likeable and humble. Maybe in four to five years we can see him on espnU at the NCAA Championships.   Or maybe we can dream for 2016 and beyond?
http://www.keepolympicwrestling.com/
[fbshare url="http://www.gspnlive.com/gspn/santos-pins-state-titles/" type="button"] [fblike url="http://www.gspnlive.com/gspn/santos-pins-state-titles/" style="standard" showfaces="false" width="450″ verb="like" font="arial"]
[/sixcol_five_last][useful_banner_manager_banner_rotation banners=53, 69, 38 interval=8 width=120 height=600 orderby=rand]

2022 GSPN I MÅS METGOT COMPETITION
I Mås Metgot Athlete Spotlight: April Flores
2022 GSPN I MÅS METGOT COMPETITION
I Mås Metgot Athlete Spotlight: April Flores
2022 GSPN I MÅS METGOT COMPETITION
I Mås Metgot Athlete Spotlight: April Flores
QUICK HITS
Guam boys Kekoa Toves and Matias Calvo went head-to-head on the rugby pitch as American International College took on Dartmouth College, both top-ranked men's rugby programs in the country.
Calvo (FD) is the captain of Dartmouth and scored, but Toves (Sanchez) and his AIC squad came away with the win in Springfield, Mass.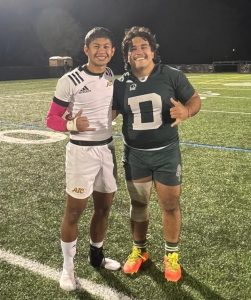 ———————————————–
1LT Belizabeth Nicole V. Rengiil is known to be the first female from Guam and Palau to make the All-Army Women's Rugby Team. She is an active duty Signal Officer with the US Army and is stationed at Joint Base Lewis-McChord in Washington.
Her team won the Armed Forces Women's Rugby Championship with a 4-0 record.
Belizabeth is the daughter of Edwin and Juliana Rengiil with siblings Johanna and Edwin-Isaiah Rengiil from Mangilao.