By Robert Balajadia
The Southern Dolphins opened the 2013-14 school year with a brand new gymnasium and auditorium. The first quarter sports for the Dolphins football team was a forgettable one having forfeited majority of their football games, but their girls made it all the way to the volleyball finals only to lose to the Academy Cougars in two sets.
Then came the second quarter where the Dolphins took three of the four quarter sports and also had one of the top wrestlers in wrestling.
One of the integral pieces of the sports program has been Southern High's Athletic Director (AD) Dean Castro, but you wouldn't know since he gives all the credit to the players, coaches, administration and most importantly his wife.
"Coaching has been the difference in all theses titles. Kevin Sanchez for basketball, Joe Cruz for soccer, and Ernie Lobaton for baseball. We've also been fortunate to have a very talented group of players," says Castro.
Talent goes wasted without eligibility to play, and that's where Castro excels. Castro always makes sure the players are eligible and makes sure that everyone lives along the lines of fair play and respect.
"It's a process, like other AD's I need to make sure the kids are eligible. That was the goal to accomplish, aside from how we are competing and we make sure no one breaks the rules and everyone does the right thing," added Castro.
Girls Basketball
The Southern Dolphins were not exactly flying under the radar nearly going undefeated all season. They were, however, in foreign waters playing against a Cougar team that was hoping to tack on their third straight championship.
The Dolphins were able to overcome a slow start and got a big lift in overtime from April Talledo to get their second ever girls title and Kevin Sanchez' first as a head coach.
"There were two important factors this season, we got our gym back and we still had a core group of girls. These girls already hang out outside of school and we now have a gym to call home. I just made sure the girls were keeping up academically because their education is important. Coach Sanchez has been doing a great job," said Castro on the program.
The girls basketball title was the first title of the night and received their second one an hour later.
Baseball
The Dolphins had a decent spot in the standings and took down a few power houses along the way.
They opened up the post season by beating the JFK Islanders, who had defeated them twice before in the regular season, and then took down the top seeded FD Friars to set up a finals match between the Sanchez Sharks, who were also aiming for a three-peat.
"Coach Ernie Lobaton is a great coach and it was only a matter of time before we won that. His coaching ethics were the difference and our guys (and girl) were hungry," admitted Castro.
The Dolphins got decisive wins over the Friars in the semifinals and Sharks in the finals to get their second sports title in less than an hour.
Boys Soccer
The top seeded Dolphins only suffered one loss all season, like the girls basketball team, so winning the title was not a complete surprise. The Islanders and Dolphins were the best in the league and it was only a matter of time before they settled the score after the Dolphins won their first meeting in the regular season.
The high paced offense of both teams was expected to be on display, but instead a defensive war had the Dolphins' going on to winning their third title in less than a week.
"Coach Joe Cruz was always there and a lot of these kids come from soccer families. The Southern Cobras represent the school in outside leagues and coach Cruz always has them prepared. Our boys just became hungrier," added Castro
The Surber bloodline that helped the girls capture the soccer title earlier in the year was rolling strong with Keith Surber and MVP star player Donny Reyes who cashed in big semifinals performances.
Football Program
As much success as the Dolphins have had in the second quarter this year, Castro has had his struggles with the Dolphins' football program which has appeared to be coming out flat for the past few years.
"Football is the number one thing we need to work on. We always have players that have interest from what I see, the biggest thing we need to fix is having more consistent coaching. We actually weren't using our football field and we need to start having consistent coaches and start working with outside organizations," said Castro.
The Dolphins could be looking to get in a wave of talent from the GNYFF teams as the program has been steadily getting the kids ready to play football at the high school level.
Second Half Sports
GIRLS SOFTBALL – The girls softball team has been the strongest sport for the Dolphins in recent years having won four straight softball titles and are in prime position to get their fifth straight.
BOYS BASKETBALL – The biggest news for the boys is that coach Sid Guzman will make his return to coaching and will be one of the pioneers in getting the boys ready to play ball.
Castro has maintained a great relationship with all the coaches and shares that each of them have gone above and beyond by digging deep in their pockets to ensure the sports programs are more than ready with equipment.
Castro also had special thank you message for the one person allows him to do all his work, his wife Liza Marie Castro.
"I need to thank one very important person, my wife, who has had to make major sacrifices. There are times I don't see my family until 9-10 p.m. and being a father and teacher along with the AD requires me to work long hours away from home," shares Castro.
The Dolphins have had a quarter to remember, but watch out for 2014 because they are not done yet.

Foody's 5 Fun Facts
Harvest Eagle Trinity Terlaje
DID U KNOW?
FD senior Matt Fegurgur first dunked a basketball in his freshman year when he was 6'4″. The now 6'9″ center looks to dominate high school hoops.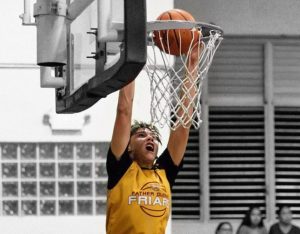 COMING SOON …
– Rizin 21: Aguon and Martinez
– FIBA Asia Cup: Guam vs. New Zealand, Feb 23
– Zach and Larry Return to Guam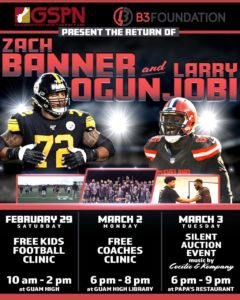 Brawl MMA March 13
QUICK HITS
190 runners took part in the 48th Hafa Marathon (half marathon).
Here are the top 5 finishers:
Ryan Matienzzo 1:13:17
Kris Lawrence 1:24:12
Taiga Sato 1:25:05
Chris Rasmussen 1:26:48
Carlos Leon Guerrero 1:28:46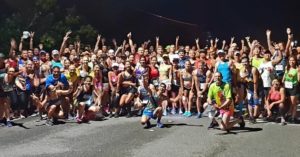 —————————————————-
Guam flags were waving in Clearwater, Florida in support of Bubba Nickles and Team USA in their Pre Olympics Softball Tour.