By Jesse Pinkston Santos
Every year for the past 15 years, volleyball players, coaches and parents look forward to the Shieh volleyball tournament to kick off the season, especially Dr. Tom Shieh himself.  This year was no exception.
The talent looked sharp and eager to commence the upcoming season.  Reigning champs, Academy Cougars claimed victory for the second year in a row after an exciting win over the Sanchez Sharks 25-15, 25-20.
Academy started out with a bang, taking a commanding 7-1 lead before the Sharks called a timeout.  Multiple unforced errors by the Sharks and a big Cougar front row allowed for the Cougars to have an easy 13-3 lead.  After another timeout, the Sharks woke up and went on a 10-4 run to get within 4 points.  More unforced errors plagued the Sharks as Academy took the first set 25-15.
The second set was a battle to the end.  Sanchez came alive but Academy was right behind them, fighting for each point.  After a missed serve by Sanchez, the set was tied at 6.  A kill and block by Academy's Kyra Lee put them up 8-7 and after a 5-2 run; Academy was leading 13-9.  Cougars stepped up their game even more; attempting slides and back set quicks.  The score quickly escalated to 19-13; however, the Sharks weren't going down without a fight.
An out of rotation and passing error by Academy, allowed Sanchez to come within two but at this point, both teams were making violations and errors back and forth.  Academy started to play reserved; holding back slightly, but after another Shark error, the Cougars saw the title within reach, with the score at 23-20.  A stellar serve by GSPN's Player of the Game, Senior Jasie Villanueva; the Sharks thought it was out, but the ball suddenly dropped on the deep corner line, to give Academy the go ahead point and capture the victory.
Spoken like a true champion, Villanueva talks about the upcoming season, "I'm really pumped, especially with winning the Shieh tournament.  I think [winning the tournament] boosts our confidence.  We also have to remain humble and there's always room to improve."
Second year head coach and passionate volleyball player, Manny Guarin, set no expectations for the tournament.  "We came out with no expectations, just play our hardest and we will let the results show.
We just wanted to play basic volleyball with good ball control.  The team that made the least mistakes won tonight.   This means that we're going to practice three times harder.  We lost 9 seniors so it's going to be a rebuild year for us and this was a good base.  We can only go up from here."
The tournament itself has a great history behind it.  Initially, Dr. Shiehs' two daughters got him into volleyball and after they graduated high school, people thought he would end the tournament, but he didn't.
Now the longest running volleyball tournament, he doesn't foresee it ending any time soon.
"I love doing this, I love kids. I think to kick off a school year; it's always in good spirits and helps get the butterflies out.  My motto for this tournament is always 'study hard, play hard'.  I want the kids to study hard, but they get to play hard as well and of course stay away from alcohol, drugs, and tobacco.  I think it's important for us to continue to foster that type of community event for the kids."
An upcoming goal for Dr. Shieh is to have a 20th year reunion.  "Hopefully on the 20th year we will have a big reunion of all the players from the very first tournament.  Imagine the first class that graduated and played in this tournament; they probably have their own kids who play.  That would be really awesome."

Foody's Fun Facts
Favorites From Year 2
COMING SOON …
SATURDAY
Boys Volleyball: Champion vs. Champion
Saturday 6 pm: FD vs. Tiyan
UFC Fight
July 25: Trevin Jones vs. Tony Kelley
QUICK HITS
Nadine Del Carmen graduated from Santa Clara University on June 11. She was named captain of the Santa Clara women's tennis team in her senior year and she will be attending Georgetown University in the fall to pursue her masters and will be playing for the Hoyas women's tennis team.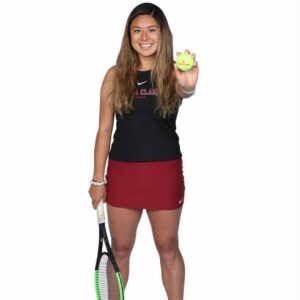 ——————————————————–
After a star-studded collegiate career at UCLA, Bubba Nickles turns her focus on the Tokyo Olympics with Team USA after the Bruins were eliminated in the College World Series. Nickles endured a broken arm on April 7 and worked her way back into the Bruins lineup for the WCWS. She will go down as one of UCLA's best softball players in its storied history.