[useful_banner_manager_banner_rotation banners=49 interval=5 width=120 height=600 orderby=rand]
By Asha Marie Robles
It was a battle between two of the top seeded teams in the Gadao Division as the Academy Cougars took on the George Washington Geckos for the second time in the IIAAG Girls High School Volleyball League Saturday night at the Geckos home court. In the fight, it was the Cougars who once again came out on top in an exciting and close three set match winning 25-20,14-25, 25-21. While the Geckos drop to 11-4, the Cougars add another win and remain in first place at 12-2.
"Tonight's game was very intense. We came out here knowing that GW was going to be a really tough competitor and that whoever wanted it more was going to come out on top, so we focused on keeping our intensity up and just playing like we do at practice", stated Cougar middle blocker Cydni Scott who was instrumental in the win.
During the first set of the night, the Cougars outplayed the Geckos in a close 25-20 win. The Cougars started off strong with a 7-3 lead behind kills by Cydni Scott and steady serves by Juliana Nelson. Though the Geckos had a few good plays, taking the lead seemed out of reach with Cougar powerhouse swing player Joie Blas as she added a few kills along with big blocks, keeping the Geckos from finishing strong.
Trailing 23-16, Geckos' Jasmine Almoguera tried to keep her team in the game with fast serves, giving the Cougars a tough time setting up plays until a kill was made by Jasie Villanueva that kept the Geckos down 24-19. With one point left to win the first set, Blas hammered down a fast spike to secure her teams win at 25-20.
After taking a beating during the first set, the Geckos put the pressure on the Cougars during the second set as they devastated them and their supporters 25-14. With the cheers from Gecko fans, the home team took the lead early on, behind Samantha Quinata's serves, leaving the Cougars behind 4-0.
Cougars' Scott would slam one down giving her team their first point. However, Geckos' Almoguera answered back with a big block, stopping the Cougars at one point.
"Going into the second set, I was telling everyone to be ready for GW to come back hard, which they did. They brought it, they wanted it more than us in the second set", said Scott.
The Geckos would continue to dominate play by play as they performed with better offense and defense in the second half leading them to the upset win and score of 25-14.
Cougar head coach Manny Guarin stated even though his team didn't come out with the win during the second set, as long as they brought that fighting momentum into the third set, they would be alright. "During our last timeout I was saying just play the last points. We were far behind and the likeliness of us winning that set didn't matter anymore, we just had to carry the momentum into the third set and I think that's what happened tonight. So good for them for listening to my advice, applying it and performing the best they could. I can't ask for more".
The Cougars were back in the game, starting off the third set with easy kills, blocks, and aces by Nelson, who gave her team the 5-0 lead. The Geckos wouldn't let down that easy though as they climbed back up the ladder to tie the points at 8-8 from several serves by Samyra Duenas. However, Scott ended the Gecko streak with a block and back-to-back kills getting her team pumped up and back in the game.
"Our coach always tells me to control what I can control and since I don't usually play back court, all I do is block and hit so I just come out trying to do the best that I can", stated Scott when asked about how she got back into a winning mentality during the third set.
The Cougars continued to play smart volleyball by placing tips and kills in unreachable areas from Villanueva, Scott, and Blas. Nonetheless, the Geckos put up a fight as they caught up from behind at 18-18, making it the second time both teams seemed equal. As the Geckos tried to gain the lead, Cougars' Scott would put it to an end with her famous blocking skills. Following her blocks, she would then add numerous kills helping her team take a 23-21 lead and with the last two plays ending with Gecko errors the Cougars would win the match and the game.
Scott added, "Honestly, GW is always a really tough competitor and we always have fun playing them. It's always a good crowd pleasing game".
PHOTO GALLERY BROUGHT TO YOU BY:

Foody's Fun Facts
Foody's Fun Facts with Arren Yatar
UOG Tritons Pitcher Arren Yatar shares some of his fun facts and tells us about his favorite YouTube channel!
Foody's Fun Facts
Foody's Fun Facts with Arren Yatar
UOG Tritons Pitcher Arren Yatar shares some of his fun facts and tells us about his favorite YouTube channel!
Foody's Fun Facts
Foody's Fun Facts with Arren Yatar
UOG Tritons Pitcher Arren Yatar shares some of his fun facts and tells us about his favorite YouTube channel!
COMING SOON …
Asia Pacific Little League
National Triathlon Championships
GML Makeup Games
FD Alumni Basketball Tournament (ongoing)
QUICK HITS
UOG hired Tatiana Sablan as the new volleyball coach. Sablan served as the original volleyball coach for UOG back in 2016 and she has been rehired to lead the more "beach" oriented program in 2022-23.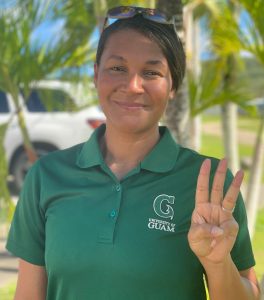 ———————————————–
Palau history: Outfielder Bligh Madris was called up by the Pittsburgh Pirates today to become the first Palauan to make it to the major leagues. The lefty Madris was batting .304 with five home runs and 20 RBI at Triple A before getting the Call Up!