[useful_banner_manager_banner_rotation banners=55 interval=5 width=200 height=200 orderby=rand]
By Robert Balajadia
Guam's Track & Field Association (GTFA) lined up nearly 20 members along the front of the Guam National Olympic Committees (GNOC) office in Maite to protest their current suspension from competing in national events like the South Pacific Games, Micronesian Games, and East Asian Games.
The parameters of the protest was to resolve a communication issue that the GTFA and GNOC have been having as GTFA's Napu Castro explained, "We just want our board members to sit down with their board members for a meeting on the record to resolve this issue."
GNOC had apparently suspended the GTFA in 2013 for allowing an "ineligible athlete who was not born on Guam and not residing in Guam to compete on behalf of Guam at the 2013 International Association of Athletic Federations World Championships," as stated in a GNOC press release on the matter.
Castro used to represent the GTFA as part of the Athletes Commission Board, but was kicked out early this year after their supposed suspension in 2013. Although, the GNOC press release sent out today, December 11, 2014, officially states that the GTFA's suspension, which confuses Castro as to why GNOC is only suspending the GTFA now.
"Why kick out an athlete from the board since the beginning of this year when their only giving us a letter of suspension now. If they're claiming in the press release that they've had open communications with us, then why kick me out of that meeting? They kicked me out, they kicked our board out and they never communicated with us again. If the discussion is open, they should've kept me in there to work something out," said Castro.
Issues Across The Board
Castro explained that GNOC told the GTFA to kick out their board members and elect new ones. The GTFA was hoping to work out the issues with their current board members, but the GNOC did not oblige.
"Why is that the first topic, kick out your board members? Rather than open the discussion, we were told to kick out our board. There should be some sort of recommendations or dialogue between us, and if it comes to that point then yeah, but don't start out off the conversation with 'kick out your board," added Castro.
Ric Blas Jr. had come to protesters and had a conversation with Castro on what the big issue was. Nearly 30 minutes into the protest, Blas Jr. handed the Castro the information he had coveted. On paper, GNOC highlighted the event at which the ineligible player competed in and, according to Castro, none of it matched up with the former allegations.
The highlighted event was from 2012, an event in Istanbul, Turkey on March 14 at the IAAF Indoor Championships.
"We didn't even send that athlete to this event!" said Castro upon reading the handout. "They're saying that this is the one we sanctioned it as an Olympic Qualifier, meaning that the athlete that we sent doesn't have to have that residency requirement of five years consecutively. Something as easily resolvable as this could have been discussed at any kind of meeting and this is what they're going to use to suspend us?!"
Here's the official Press Release from GNOC:

QUICK HITS
Guam MTB National Championship: Edward Oingerang and Jennifer Camacho are your 2023 MTB national champions. Oingerang finished the course in 1:13:24 while Camacho won her second straight title in 54:08.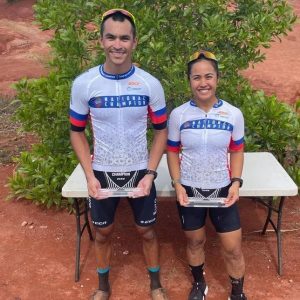 ——————————————
Kobe Miyashita, with St. John's coach Arvin Flores, was named the 2023 IIAAG Middle School Boys Volleyball MVP!