[useful_banner_manager_banner_rotation banners=9,17 interval=8 width=120 height=600 orderby=rand]
PRESS RELEASE – The Guam Visitors Bureau, along with the Pacific Islands Club Guam and the United Airlines are pleased to announce exciting new enhancements for the 2014 Guam International Marathon. The second annual Guam International Marathon will take place on Sunday, April 13, 2014. Event organizers announced the creation of an expo event to help in the two days prior to the vent.
The Marathon Expo will be held at the Pacific Islands Club, Pacific Pavilion and will also serve as the exclusive location for registered runners to pick up their race packets. The expo will induce vendor booths, local arts and crafts, food and beverage concessions, and live entertainment.
Other notable changes for the 2014 Guam International Marathon include an earlier start time for the Marathon event and an exciting pre-race party with music and live entertainment to energize race participants. Marathon organizers have also added race course aid stations and amenities to include water, Powerade and energy gel stations, live entertainment and cheering squads along on the race course and expanded Cool Zone locations.
A larger post-race Finisher's Festival will begin at 4 p.m. at Gov. Joseph Flores Memorial Park at Ypao Beach in Tumon, featuring food and beverage concessions, entertainment and an evening fireworks display. Other key sponsors of the Guam International Marathon include stations of KUAM, ASC Trust Corportaion, Bank of Guam, DFS Galleria, Docomo Pacific, Nanbo Insurance, SPPC/Circle K Taico, Powerade and TakeCare Insurance.
The Inaugural Guam International Marathon saw 2150 runners from around the world participate. "The even team and out community partners look forward to hosting another premier event with numerous new value added features, said Race Director ben Ferguson. "We encourage all of our resident runners to register either online or at Pacific Islands Club."
The Guam International Marathon media campaign is designed to promote not only registration but also provide training schedules and other pertinent information about the 2014 even via radio, print and television, as well as on the even instagram, Twitter and Facebook pages. Race updates and information can also be found on the official event Facebook page/guaminternationalmarathon or the vent website.
United Airlines is the official airline of the 2014 Guam International Marathon and is pleased to offer special discounts for race participants flying into Guam for the event. Visit www.guaminternationalmarathon.com/travel for details on the offer.
This Guam international Marathon event includes 5K, 10K, Half Marathon (13.1 miles) and Marathon (26.2 miles) race distances. All courses have been officially certified by the IAAF (International Association of Athletic Federations) and AIMS (Association of International Marathons and DIstance Races). This designation means that the marathon runners may use this as a qualifying event for the Boston Marathon. Complete event details and registration can be found on the official even website at www.guaminternationalmarathon.com

2022 GSPN I MÅS METGOT COMPETITION
2022 GSPN I Mås Metgot Competition Recap
2022 GSPN I MÅS METGOT COMPETITION
2022 GSPN I Mås Metgot Competition Recap
2022 GSPN I MÅS METGOT COMPETITION
2022 GSPN I Mås Metgot Competition Recap
COMING SOON …
Sat: Origin Power Lifting Meet 
ISA Girls Volleyball/Boys Soccer Finals
QUICK HITS
Guam runners complete London Marathon. Former Guam top runners Charlie Epperson and Aysha Perez Epperson along with Cameron ONeal completed the 42nd London Marathon.
Charlie 2:47:56
Cameron 2:59:49
Aysha 3:51:04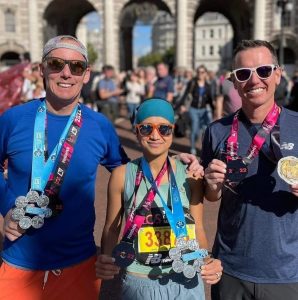 ———————————————–
Trevin Jones drops a unanimous decision 30-25, 30-27, 30-27 to Raoni Barcelos in UFC Fight Night 211 in Las Vegas.