[useful_banner_manager_banner_rotation banners=49 interval=5 width=120 height=600 orderby=rand]
By Patrick Lujan
It's not official until they say it is. Well, now they said it.
The Guinness Book of World Records officially notified Eddie 'Barefoot Bandito' Vega today that they have confirmed his place in the record books for the most barefoot marathons in consecutive days with 10!
This is their message to him:
Dear Mr Edward Vega, 

We are delighted to confirm that you have successfully achieved a new GUINNESS WORLD RECORDS title for 'Most barefoot marathons run on consecutive days (male)'. We would like to congratulate you on your record-breaking achievement. You are OFFICIALLY AMAZING. 
The Barefoot Bandito completed an astonishing accomplishment with these 10 marathons in 10 days.
1. Pacific Crest Marathon, Sunriver, Oregon (28 June 2014)
2. Summer 7 Day 2 Marathon, Marine Vista Point, California (29 June 2014)
3. Summer 7 Day 3 Marathon, Bayshore, California (30 June 2014)
4, Summer 7 Day 4 Marathon, Marine Vista Point, California (1 July 2014)
5. Summer 7 Day 5 Marathon, Bayshore, California (2 July 2014)
6. Summer 7 Day 6 Marathon, Marine Vista Point, California (3 July 2014)
7. Summer 7 Day 7 Marathon, Bayshore, California (4 July 2014)
8. Stars and Stripes Marathon, Beaverton, Oregon (5 July 2014)
9. Cook Park Marathon, Tigard, Oregon (6 July 2014)
10. Mars Day Marathon, San Antonio, Texas (7 July 2014)
Vega has one more Guiness Record to go, which he already has but is still building upon it until the end of the year. He's done 67 barefoot marathons so far and has broken the record since #50 on July 3rd.
Read all of GSPN's coverage on The Barefoot Bandito!

Athletes Birthdays by W5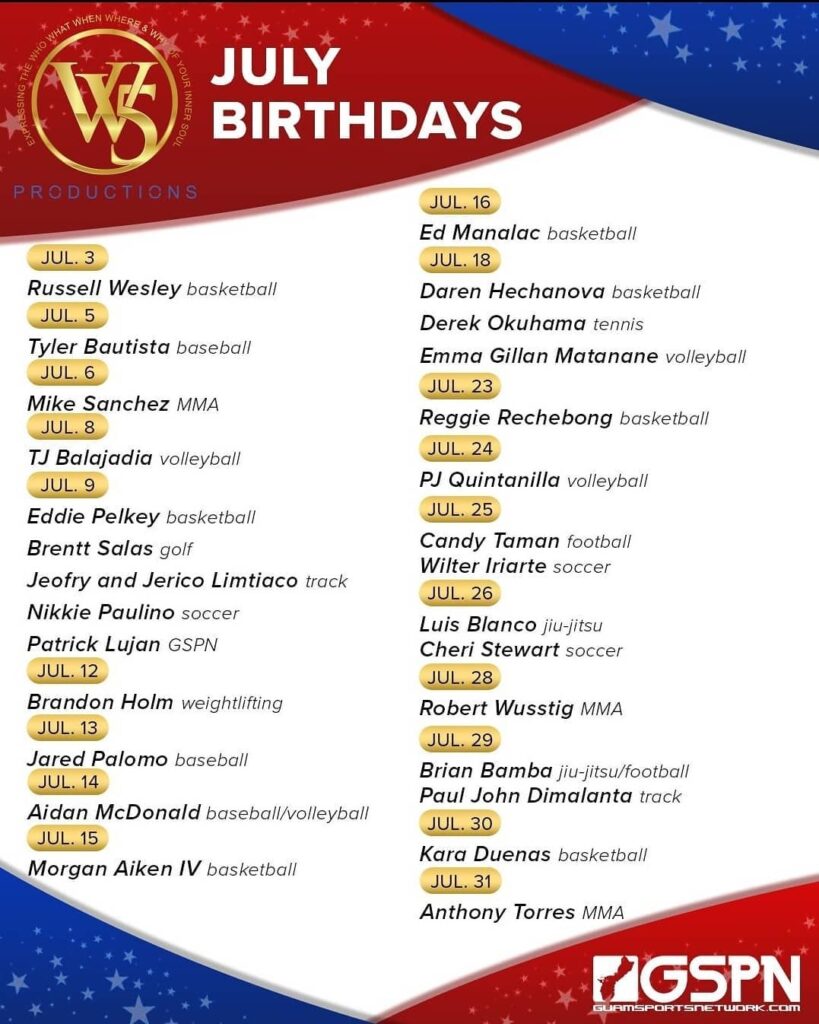 Foody's Fun Facts
Favorites From Year 2
COMING SOON …
2020 Tokyo Olympics
UFC Fight
Aug 1: Trevin Jones vs. Tony Kelley
QUICK HITS
——————————————————–
Guam's Joey Miranda met up with Chamorrita Softball Star Bubba Nickles and Olympic Teammates Dejah Mulipola and Aubree Munro out in Tokyo as we approach the Olympics!
Photo credit: GNOC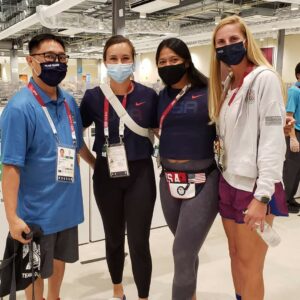 ——————————————————–
Former Guam resident Tre Taylor has committed to play cornerback for the Southwestern Junior College Jags.
Turner attended Harvest and FD before transferring to Hawaii where he played for Saint Louis, the 5th ranked team in the nation.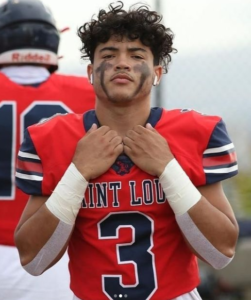 ——————————————————–
The big man Zach Banner getting to throw out the first pitch earlier today for the Pittsburgh Pirates!