A few members of the GSPN staff have taken the time to give thanks to everyone involved in yet another successful year! Happy Thanksgiving GSPN Fans!
Robert Balajadia – GSPN was given an award for the first time last night at the 11th Annual Fitness & Sports Banquet, the first award since the website's existence in November 2011. The month of November seemingly holds special for GSPN, not only because it's the company's launch month, but also since we get the opportunity to celebrate Thanksgiving and give thanks to everyone who's helped GSPN succeed!
Not that our gratitude is limited to one day out of the year, but we at GSPN will not shy away from the holiday festivities to take a break from our normal sports grind to just simply say, THANK YOU!
Everything we do is for the athletes and we are only able to keep going by your support. Fans of GSPN grow every day and there will never truly be enough thanks to go all around. We aim to be the best sports media on island and you fans give us reassurance that we're doing just fine!
Happy Holidays GSPN Fans!
Mike Nauta Jr. – Once a year the Thanksgiving holiday comes around and many of us take the time to reflect on all the things we are grateful for. From all aspects of life we all have something to be thankful for whether it be through our struggles or simply our happiest moments. A simple sign or gesture of thank you can go a long way. From the bottom of my heart I would like to send out a very special Happy Thanksgiving to the following family, friends, and supporters.
GSPN readers, followers, and fans: Thank you for your continuously supporting us as we work diligently to give you the best possible sports coverage on our island. It is that same support that I'm thankful for as it keeps me motivated to give you only top notch writing pieces.
Thank you to our athletes both young and old. From the gridiron to the links, no matter what sport you play I'm thankful for all you do to keep the sports life on Guam alive.
Mom, Dad, Mae Rose, Matt, and Maylynn: Saina ma'ase para hamyu todus. Thank you to my parents and siblings for all you do and who you are. Whether it's covering a game, playing, or coaching you have always supported me in one way or another.
They always say you save the best for last. A huge thank you to the love of my life, my wife Monessa Nauta. It's with no doubt that she has become my biggest fan and supporter in everything I do from the sports reporter world to all the coaching I do. Thank you for making time to be by my side even when your schedule is busy. Thank you for helping me with stats and information when I'm covering games, thank you for watching my games whether I'm playing or coaching. More importantly, thank you for being the best wife ever.
Si yu'us ma'ase, thank you, and Happy Thanksgiving Guam!
Jeff Ochavillo – Wishing you warm and heartfelt blessings this holiday season! Having to be alone this holiday season gave me time to reflect of what I'm really thankful for. Therefore, I am thankful for my parents who have been my angels on my shoulders, raising me to be the person I am today. I know I can be a stubborn kid but thanks for dealing with me!
Also, I am thankful for my best friend, and other half, my sister who has been my role model and has been a big influence on my life. Finally, I would like to thank all of our GSPN family, friends, and supporters because with you guys, we would not be where we are today and I would not be doing what I love. So, may the good things of life be yours in abundance, not only at Thanksgiving but throughout the coming year! Happy Thanksgiving and Happy holidays! 
Kyle Twardowski – This year I am mostly thankful for my family who supports me in everything I do, including putting in hours for GSPN. However, I wouldn't even be here if it wasn't for the support our network receives from its readers, so thanks you!  I also am thankful for Canon EOS cameras, which play a big role in what I love to do and also ensures that our readers and followers get a high quality product. So thanks for the support, and Happy Thanksgiving!

QUICK HITS
Guam MTB National Championship: Edward Oingerang and Jennifer Camacho are your 2023 MTB national champions. Oingerang finished the course in 1:13:24 while Camacho won her second straight title in 54:08.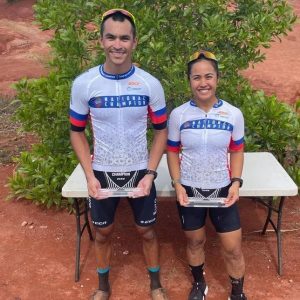 ——————————————
Kobe Miyashita, with St. John's coach Arvin Flores, was named the 2023 IIAAG Middle School Boys Volleyball MVP!