[useful_banner_manager_banner_rotation banners=9,17 interval=8 width=120 height=600 orderby=rand]
By Robert Balajadia
The upstart Bishop Baumgartner Obispos handed the unbeaten St. Athony Raiders their first loss of the IIAAG boys middle school basketball season in a defensive dominated 35-24 Obispo win Thursday night at the Bishop home court in Sinajana.
Tomas Calvo led the Obispos in scoring with 11 points, while leading a defensive charge in the second half that allowed just nine points.
"We had players on [Grape] at all times on him. We were always guarding him off picks and rotations. We had to throw in at least three to four defensive sets to defend him. We didn't contain him, but we did our best slow him down the best we could and fortunately we came up with the win," stated head coach Conrad Berg.
Bishop was heading into the fourth quarter with a comfortable 32-18 lead when the Raiders began to mount a comeback. The defensive pressure, along with a handful of Obispo traveling violations, allowed the Raiders a chance to trim the lead.
Raiders leading scorer Alschea Grape scored 17 points in the loss and struggled from the free throw line in the fourth quarter going just 5-11 from the free throw line. The Obispos had their troubles scoring as well getting their first points from Calvo with 1:28 left to play in the game.
The Raiders offense could not capitalize on their many chances due to the constant defensive pressure.
"We just guarded them the best that we can and our big men did what they can. We felt like we were on top of the world beating an undefeated team. We feel like we are a team beat," said Clavo.
The Obispos jumped out to an early lead after big buckets from Calvo, big man Jalen Delgado, and swing man William Camacho. Bishop took a 15-4 lead after a three pointer from Clayton Mitchell forcing the Raiders to take a timeout.
Bishop held a 20-10 lead after one.
Delgado had two buckets down low, including an and-one play, to pace the early offense. Delgado picked up three fouls in the first quarter which forced him out of action and two quick fouls in the beginning of the second half to disqualify him for the rest of the game.
Grape managed to cut the lead 20-14 in the second quarter, but Camacho hit a timely bucket to help stretch the lead 25-16 going into halftime.
The Obispos raised their defensive intensity allowing just two points in the quarter to jump out to the 32-18 lead.
The Obispos now improve to 4-2 on the season while the Raiders drop to 6-1. With his team now figuring out how to play together, Berg is optimistic on the rest of the season.
"We started the season poorly and most of it was mental. Now we're at a point where we're building confidence and we have to keep getting better and improving. We work on that everyday in practice. Today we came prepared and we came to play; today was just a good day for us."
Other Scores
Harvest 42, San Vincente 22
PHOTO GALLERY :

Foody's 5 Fun Facts
Harvest Eagle Trinity Terlaje
DID U KNOW?
FD senior Matt Fegurgur first dunked a basketball in his freshman year when he was 6'4″. The now 6'9″ center looks to dominate high school hoops.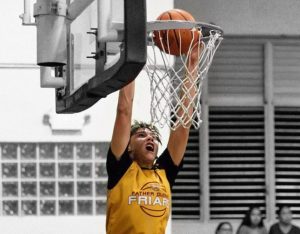 COMING SOON …
– FIBA Asia Cup: Guam vs. New Zealand, Feb 23
– Rizin 21: Aguon and Martinez
– Zach and Larry Return to Guam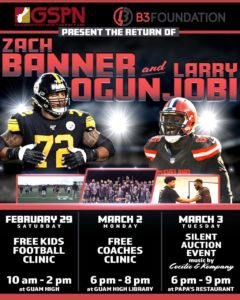 Brawl MMA March 13
QUICK HITS
190 runners took part in the 48th Hafa Marathon (half marathon).
Here are the top 5 finishers:
Ryan Matienzzo 1:13:17
Kris Lawrence 1:24:12
Taiga Sato 1:25:05
Chris Rasmussen 1:26:48
Carlos Leon Guerrero 1:28:46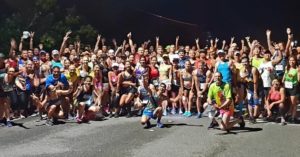 —————————————————-
Guam flags were waving in Clearwater, Florida in support of Bubba Nickles and Team USA in their Pre Olympics Softball Tour.