By Asha Marie Robles
Runners throughout the island of Guam came out Saturday night and participated in the 2nd Annual Parade of Lights 5k Run-Walk-Dance, which was held at the Paseo Riverside in Hagatna by Tropical Productions.
Runners, walkers, and dancers lit up the 5k night fun run throughout the islands capital village with complementary glow sticks and were treated to an after party when they crossed the finish line.
The event showcased people of all ages, as there were not only adults and young teens getting ready to race each other to the end, but also young children and pets eager to finish as well. Completing the race did not seem too hard as loud music could be heard from a distance, giving every runner that much more motivation to get to the after party.
"I feel like the vibe is a lot more active. Especially when people have the whole day to wake up and prepare themselves, they are definitely more energetic," stated 1st place overall winner Napu Castro. "Also because it is a night run, people get to wear glow in the dark necklaces and bracelets, which is a lot of fun and exciting."
This year's route started at the Paseo Riverside intersection and had participants running northbound with a view of the East Hagatna Bay. Runners then turned around at the half way mark, tracking back to Paseo.
First time Parade of Lights runner Yumika Sugahara says the entire event was new and refreshing to her, as she participates in almost all of Guam's 5ks. "It was so exciting before the race even started. I liked the crowd and it's the only big night time race on Guam with over a thousand people." Sugahara was the first female to cross the finish line.
Because the race took place when there was absolutely no sun light, Castro stated how next years event should be a little more lit up. "In the beginning of the race, a few runners and I actually almost got hit by either a cart or a small car. More lights around the route would be helpful and alert drivers that there are people running on the side of the road, the cones are sometimes just not enough."
With the Parade of Lights bringing thousands of runners throughout the island, Castro believes that as long as these types of runs continue to happen, the running scene will become more exciting since most are the usual 5am 5k runs that are more competitive and not as fun. "Keep these races going. The more diverse runs become will keep runners interested and get those who don't normally run wanting to try it out. Who knows, they might end up liking the sport."
PHOTO GALLERY:

QUICK HITS
3rd place: Big ups to the Para Todu Rugby Club for finishing 3rd out of 16 teams in the Manila 10's Rugby Tournament today. Biba Guam Rugby!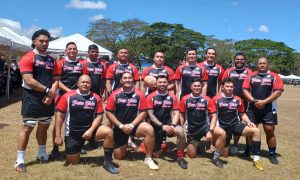 ——————————————
Guam MTB National Championship: Edward Oingerang and Jennifer Camacho are your 2023 MTB national champions. Oingerang finished the course in 1:13:24 while Camacho won her second straight title in 54:08.