By Robert Balajadia
After turning out an impressive 22 medal outing in the 2014 IBJJFAsian Open the Purebred Jiu-Jitsu Academy received an honorary certificate from the Government of Guam to commemorate their achievement as well as honoring the academy for their continued success.
"The Purebred Brazilian Jiu-Jitsu Academy has been an integral part of our island community, as they are the longest running jiu-jitsu school on Guam, since being founded by head coach Stephen Roberto in 1996. The Office of the Lt. Governor congratulates Purebred in their all achievements and look forward to more in the future. Congrats to the Purebred Jiu-Jitsu Academy!"
"We try not to put the pressure of winning medals in the mind of their athletes, but it's always in the back of their head. I'm really stoked that the team was able to achieve their individual goals as well as getting us the team title. We're putting Guam on the map and we're letting the rest of the world know just how serious Brazilian Jiu-Jitsu is on Guam and skies the limit," said Purebred's Steve Roberto on his team after dominating their 5th straight Asian Open.
Lieutenant Governor Ray Tenorio presented the award to Roberto, who was accompanied by wife Dara, his mother, and a few members of Purebred.
"It's nice to have the Government acknowledge what we do because it's a tireless effort. When the government recognizes stuff like this, it helps to really expose what these guys are doing by showing the island that it is a positive activity while representing the island well as well as representing jiu-jitsu well," added Roberto.
Asian Open Championship Awards
Open Double Gold Medalist – Brogan Walker, Mark Smith
Open Gold Medalist – Tracy Mantanane, Rebecca Tomada, Dina Salverian, Mark Pangelinan
Open Silver Medalist – Daniel Cayanan, Jade Blas, Michael Sanchez
Open Double Bronze Medalist – Glenn Bisxoe
Open Bronze Medalist – Eric Sian, Ivan Valencia, David Benavente, June Sun, Robert Gutierrez, Joshua Jerome, Jarred Pestones, Marlo Cruz, Derrick Ross
Other 2014 Purebred Accomplishments
– Best Gym (via PDN)
– World Absolute Champion/World Championship Gold Medalist (Jarron Gandioli)
– World No-Gi Championship Bronze Medalist (Lloydd Cubacub)
– Marianas Open Team Champion
– Copa De Marianas Team Champions

2022 GSPN I MÅS METGOT COMPETITION
I Mås Metgot Athlete Spotlight: April Flores
2022 GSPN I MÅS METGOT COMPETITION
I Mås Metgot Athlete Spotlight: April Flores
2022 GSPN I MÅS METGOT COMPETITION
I Mås Metgot Athlete Spotlight: April Flores
QUICK HITS
Guam boys Kekoa Toves and Matias Calvo went head-to-head on the rugby pitch as American International College took on Dartmouth College, both top-ranked men's rugby programs in the country.
Calvo (FD) is the captain of Dartmouth and scored, but Toves (Sanchez) and his AIC squad came away with the win in Springfield, Mass.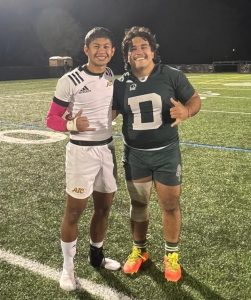 ———————————————–
1LT Belizabeth Nicole V. Rengiil is known to be the first female from Guam and Palau to make the All-Army Women's Rugby Team. She is an active duty Signal Officer with the US Army and is stationed at Joint Base Lewis-McChord in Washington.
Her team won the Armed Forces Women's Rugby Championship with a 4-0 record.
Belizabeth is the daughter of Edwin and Juliana Rengiil with siblings Johanna and Edwin-Isaiah Rengiil from Mangilao.