By Robert Balajadia
The St. Anthony Lady Raiders volleyball team (7-1) needed to win Tuesday night to secure sole possession of first place, and they did just that after dropping the (5-3) Santa Barbara Spartans in two sets 25-14, 25-16.
While rocking Christmas holiday socks, the Raiders were able to jump out to large leads in the both sets after strong serving produced runs that gave them momentum.
Battling in a close first set with the Spartans leading 6-5, Raiders Jackie Martinez then took over shaving off six straight points for her team as St. Anthony jumped out to an 11-6 lead. Spartans Mariana Tamayo had a hand on a kill that brought the Spartans back to get within 13-10, and errors by the Raiders added to the short Spartan run at 13-12.
Raiders Nicole Gandaoli then squashed the run with a pair of aces that turned into an 18-13 lead for the Raiders as they began to pull away. Raiders Rayven Benavente served up four straight points and Isabel Itliong-Cruz handed out the final kills to close out the first at 25-15.
Dharma Cooper served the Spartans to an early 4-1 lead in the second set, though the Raiders settled down midway through to recapture the lead with Gandaoli at the helm. Back-to-back aces by Gandaoli got the Raiders a 7-5 lead and they wouldn't look back.
Combined with errors by the Spartans, Itliong-Cruz cashed in on two kills that gave the Raiders a 16-11 lead. More errors allowed the Raiders to climb up to 20-12, capped off by an Itliong-Cruz ace.
Laressa Halladay gave the Spartans a brief spark for three straight points to cut the lead 22-15, but Raiders Monica Giger had her hand on the final point of the season for St. Anthony, getting a kill to land dead center of the Spartan defense to end the game 25-16 and secure first place.
The Raiders take first place over the St. John's Knights as they hold the tie-breaker after defeating the Knights, giving them their only loss of the season, in a big game last Thursday.
PHOTO GALLERY:

Foody's 5 Fun Facts
ND Royals Volleyball Setter Gabrielle Piper
DID U KNOW?
Guam National Track & Field sprinter and St. John's Cross Country/Track Star Madison Packbier is the daughter of former Track Star Tara Steffy granddaughter of GNOC's Bob Steffy.
COMING SOON …
– Marianas Open Aug. 31
– FIFA: Guam vs. Maldives Sept. 5
– Submit VI on Sept. 6
QUICK HITS
Former JFK All-Island lineman Christopher Parker transfers to De Anza College in Cupertino, CA. De Anza finished last season 10-1 and won the American Conference Championship Bowl. Good luck Chris!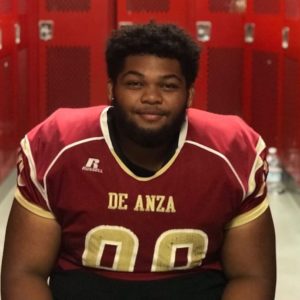 —————————————————-
Die-hard Rams fan Kenny Artero is in Hawaii to catch his beloved team play the Cowboys at Aloha Stadium in a preseason NFL game. Artero got a chance to meet Hall of Fame running back and Rams legend Eric Dickerson.