[useful_banner_manager_banner_rotation banners=49 interval=5 width=120 height=600 orderby=rand]
By Robert Balajadia
The St. Anthony Raiders girls basketball team sucked the offense right out of the Santa Barbara Spartans gym Thursday night as St. Anthony upended the Spartans 46-4 to improve to (4-1) on the season, dropping the Santa Barabra to (0-4)
The Spartans put forth a valiant effort as many of their shots hit evert inch of the rim except the bottom of the net. The two tallest Raiders, in Therese Fegurger and Monica Giger, wrecked defensive havoc on the Spartans making it difficult for the girls of Santa Barabra to get clean looks at the basket.
Both Fegurger and Giger led the team in scoring with seven points, while pulling down 10 rebounds each, majority of which were on the offensive end which led to easy buckets.
Fergurger credited their high level of defensive play to how hard they work in practice.
"We have a lot of scrimmages against each other and we don't take it easy. We play every game as if it were our last game, not only for us, but for our school and for the people who we respect the most," modestly said Ferguger.
The game was still within reach after the first quarter despite the Raiders going up 11-2 thanks to a five-point scoring outing from Nicole Gandaoli. St. Anthony got past their shaky free throw shooting in the beginning of the quarter to hit their final five foul shots of the first. Spartans Isabella Gonzales was the lone shot maker for her team in the quarter.
Crowd favorite Mikaela Bumagat gave the Raider fans plenty to cheer about in the second quarter, racking up three steals that led to two layups from both sides of the basket proving that she can sink a layup just as nicely with her left hand as she can her right. Teammate Reese Mong also got into the action scoring four points in the quarter to stretch the lead 25-2 at halftime.
Spartans Mara Tamaya ended the drought by hitting a running left hook shot early in the third quarter for Santa Barbara's second bucket, though it would unfortunately be their last.
The Raiders would go on to score 13 points in the final quarter with plenty of girls getting game time off the bench.
The big win was only shortly celebrated for the St. Anthony, as they now set their sights on Monday's big showdown against the unbeaten (4-0), defending champion Bishop Obispos.
"I'm very nervous, but I'm sure we will try our best," admitted Fergurger on the big game. "We have a lot of friends there too and we know that we're all going to support each other."
PHOTO GALLERY BROUGHT TO YOU BY:

Foody's 5 Fun Facts
Harvest Eagle Trinity Terlaje
DID U KNOW?
FD senior Matt Fegurgur first dunked a basketball in his freshman year when he was 6'4″. The now 6'9″ center looks to dominate high school hoops.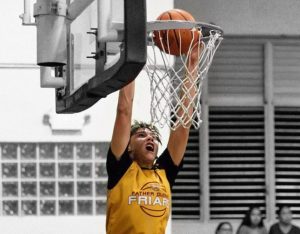 COMING SOON …
– FIBA Asia Cup: Guam vs. New Zealand, Feb 23
– Rizin 21: Aguon and Martinez
– Zach and Larry Return to Guam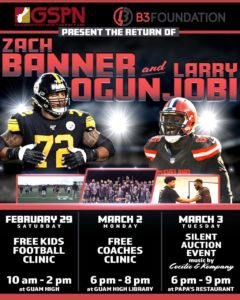 Brawl MMA March 13
QUICK HITS
190 runners took part in the 48th Hafa Marathon (half marathon).
Here are the top 5 finishers:
Ryan Matienzzo 1:13:17
Kris Lawrence 1:24:12
Taiga Sato 1:25:05
Chris Rasmussen 1:26:48
Carlos Leon Guerrero 1:28:46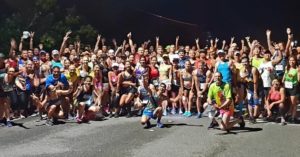 —————————————————-
Guam flags were waving in Clearwater, Florida in support of Bubba Nickles and Team USA in their Pre Olympics Softball Tour.