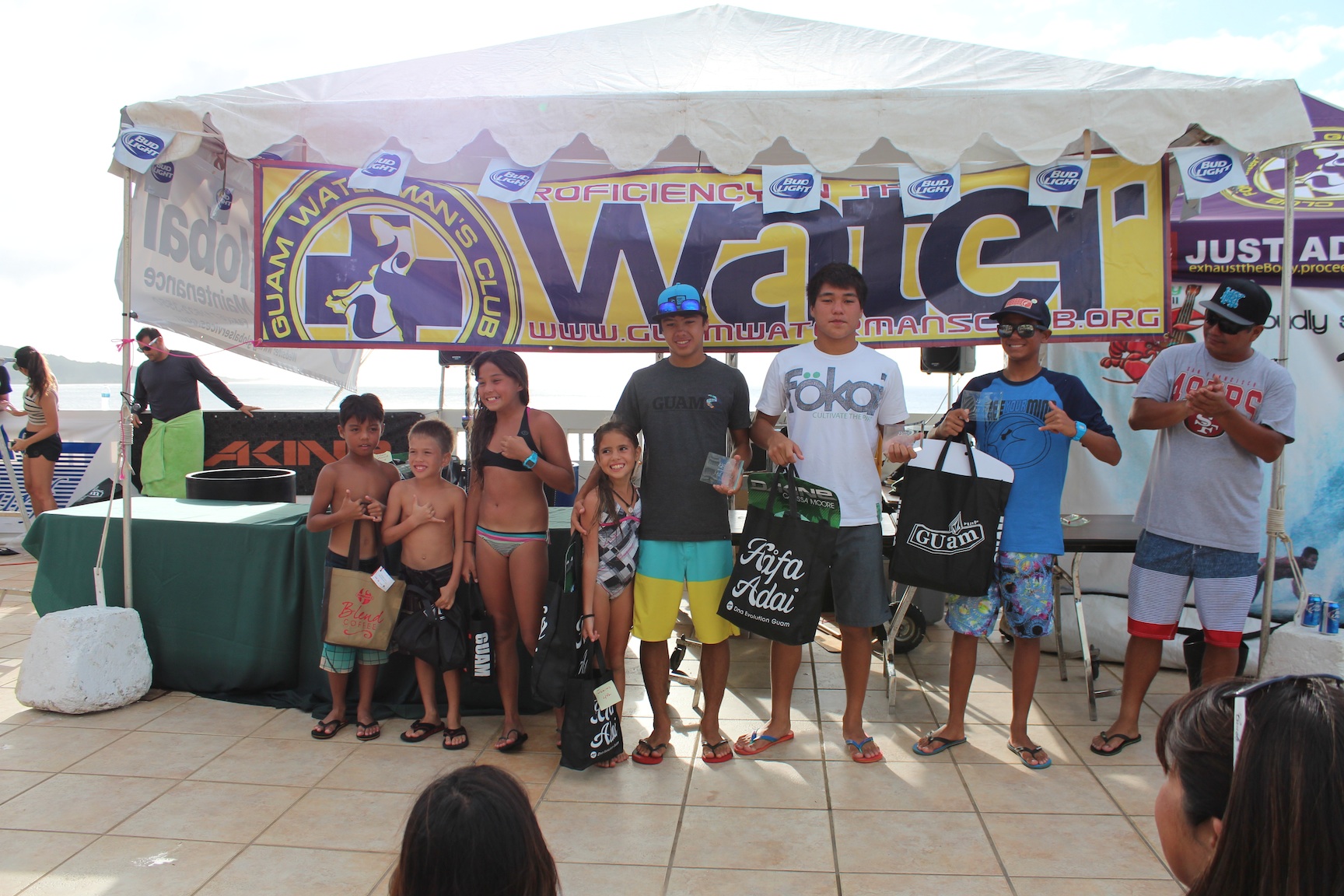 PRESS RELEASE – (Barrigada, Guam –– Sunday, March 9, 2014) A total of forty-eight surfing, body- boarding and stand-up paddling athletes, ranging from ages 8 through 63, took to the waves at Satpon Point or popularly known as Rick's Reef on March 9 to compete in the seventh annual Rick's Reef Classic competition organized by Guahan Napu Inc. The event was co-presented by SPPC 76 and Bud Light with Sheraton Laguna Guam Resort as the venue host.
"We were monitoring three different wave models throughout the week right up to the early morning hours of the event date. The surf forecast turned out better than expected with wave sizes of three to five feet," said contest director and Guahan Napu Inc.'s president, Willi Byerly.
The morning rounds saw seven juniors including four grommets competing in two junior surfing heats followed by five contestants in the single finals heat for the inaugural stand-up paddle surfing division. In the body-boarding category, 12 competitors battled their way through four heats while in the long board surfing division, seven contestants surfed their way in two heats to a four-man finals. The short board surfing category had the largest turnout of participants with 17 surfers competing through three rounds before four top contestants advanced to the finals.
Results are as follows:
Stand-Up Paddle Surfing
1st Place: Roman Dela Cruz
2nd Place: Luis "Kiko" Bustamante
3rd Place: Laurent Wainer
4th Place: Alan Pangelinan
Junior Surfing
1st Place: Jared Brandon Gogue
2nd Place: Napu Taimanglo
3rd Place: Misaki Cramer
Guahan Napu recognized the other four contestants with fourth to seventh place prizes. 10-year-old Minami Cramer placed fourth, 11-year-old Austia Mendiola came in fifth, 8- year-old Noa Mendiola came in sixth and 8-year-old Kenny Every Alexander placed seventh. All four grommets were first-time contestants in the Rick's Reef Classic event.
Body-Boarding
1st Place: Brian Cruz
2nd Place: Carlo De La Cruz
3rd Place: Jay Benton
4th Place: Jonathan Barber
Long Board Surfing
1st Place: Derrick Ikehara
2nd Place: Robbie Alexander
3rd Place: Gary Chester
4th Place: Mateo Catling
Short Board Surfing
1st Place: Joeito Santiago
2nd Place: Jared Brandon Gogue
3rd Place: Steve Shimizu
4th Place: Derrick Ikehara
Additional funding for Rick's Reef Classic VII was provided by First Hawaiian Bank and JJ Global Services. Prizes for the contest are contributed by Primo Surf Shop, DaKine, Fokai Industries, DNA Evolution, Lotus Surf, PROA Restaurant and Tumon Bay Lobster and Grill. The event was also made possible by the services of Shimbros Music, Gonzo Ink graphic designs and the Fishermen's Co-Op.
For more details about the 2014 Rick's Reef Classic VII competition, contact Willi Byerly at 483-1376, by email to gnipresident@teleguam.net or follow Guahan Napu on Facebook.

Athletes Birthdays by W5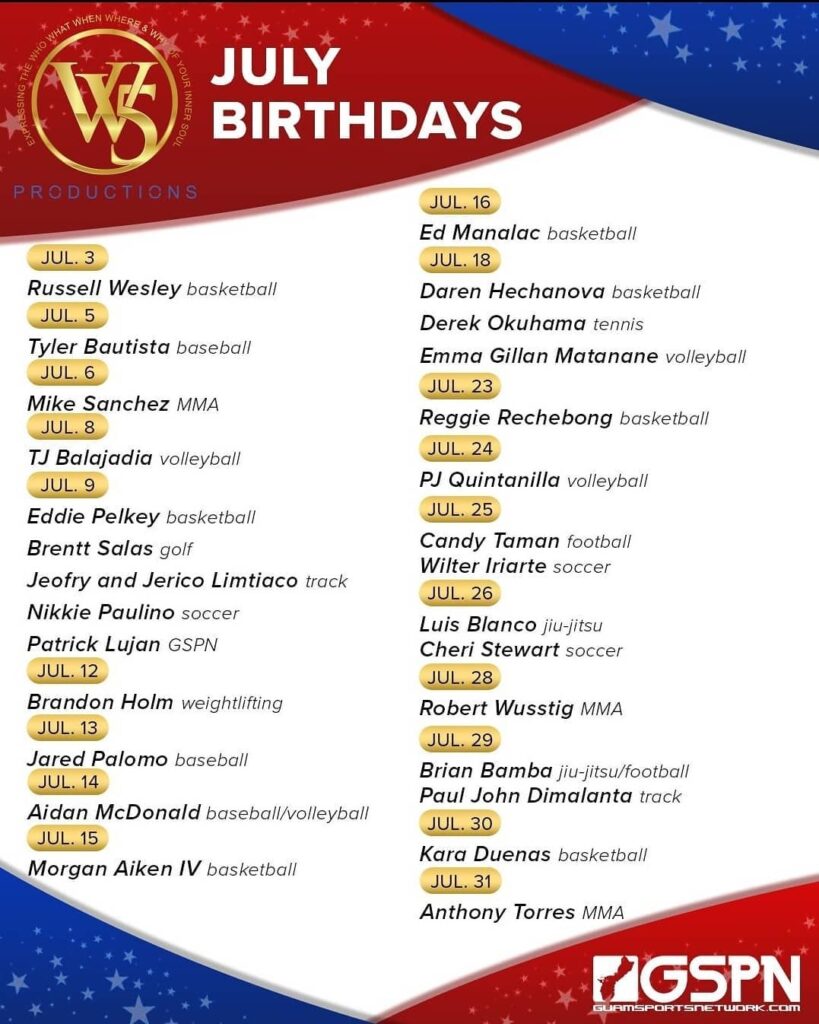 Foody's Fun Facts
Favorites From Year 2
COMING SOON …
2020 Tokyo Olympics
UFC Fight
Aug 1: Trevin Jones vs. Tony Kelley
QUICK HITS
——————————————————–
Guam's Joey Miranda met up with Chamorrita Softball Star Bubba Nickles and Olympic Teammates Dejah Mulipola and Aubree Munro out in Tokyo as we approach the Olympics!
Photo credit: GNOC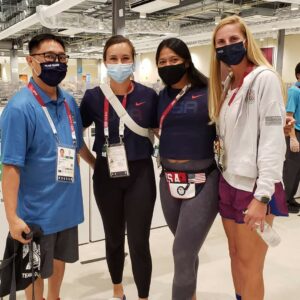 ——————————————————–
Former Guam resident Tre Taylor has committed to play cornerback for the Southwestern Junior College Jags.
Turner attended Harvest and FD before transferring to Hawaii where he played for Saint Louis, the 5th ranked team in the nation.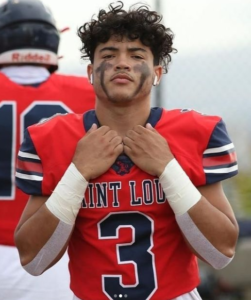 ——————————————————–
The big man Zach Banner getting to throw out the first pitch earlier today for the Pittsburgh Pirates!