PRESS RELEASE – With the conclusion of the Triple J Auto Group Robbie Webber Youth Soccer League, Wings Red forward Kaito Inoue looks forward to competing for another championship title in the IIAAG Boys High School Soccer League.
"I'm happy to help my youth club team – Wings Red – win the U17A championship title again," said Inoue, a senior a John F. Kennedy High School. "I still need to continue to play hard for JFK in the interscholastic league this year. We made it to the final last year after so many years, but we didn't win. This year, I want to help my school team make it to the finals again and if we do make it, I hope we play and win against Harvest (Christian Academy) for the title – it would be a really good match, with many of my Wings teammates playing for Harvest.
"It's been an exciting year of soccer for me and I give a lot of credit to my father (Takefumi) who's taught me so much about the game and also continues to help me with skill development," added the 17-year-old.
Kaito Inoue and his father play alongside each other for Guam Shipyard in Division I of the Budweiser Soccer League. The father-son tandem also teamed up for Guam Shipyard in this summer's Budweiser Futsal League.
In the U17A final of the youth league, Wings Red defeated their Black counterparts 7-4 with a trio of goals from Tooi Matsushita, two from Inoue and one each from Isiah Lagutang and Ricky Katsumata. Yuuta Calanda scored twice for Wings Black and teammates Phillip Caguioa and John Anthony Cruz contributed one goal each.
"It's always tough to play against another Wings team because we're all like family," Inoue said. "To win the championship though, we needed to play seriously, even though it was against the other Wings team."
In the battle for third place, Southern Heat defeated the Paintco Strykers 3-1 with two goals from Riley Jones and one from William Naden. Jude Cruz scored for the Strykers.
In other U17A matches, the ASC Trust Islanders defeated Quality Distributors Red 6-3 with four goals from Leon Bamba and one each from Devan Mendiola and Jeffrey Ho. Jason Kim scored twice for Quality and Andrew Baldwin also scored.
Community First Dededo Soccer Club defeated the Guam Shipyard Wolverines 4-2 with two goals from Michael De Leon and one each from Victor San Nicolas and Ariya Cruz. Lyle Quintanilla and Randi Jo Paulino scored for the Wolverines.
In the U14 division, the Paintco Strykers White finished with the best record for the division title, beating out the Wings on goal differential. The Strykers White blanked Dededo in its final fall season match with three goals from Anthony Moon and two each from Aidan Dickson, Rhys Paynter and Xavier Naputi. Jacob Herring, Vince Cruz, and Ethan Elwell also scored.
The Wings also won their final season match, defeating the Wolverines. Tyler Presto contributed a hat trick and Yae Kawauchi scored twice. Leon Morimoto, Takumi Odell, and Ryo Suzuki also scored.
The Strykers Red defeated the Sidekick SC 4-2 with all four goals from Joshua Calvo. Tomas Calvo scored both goals for the Sidekick SC.
The Islanders Betde defeated Quality 8-2 with two goals each from Adryan Gozum and Joshua Bamba. Shawn Sablan, Nyan Domingo, Jenna Han, and Isabella Bass also scored. Alan Thomas scored both goals for Quality.
The Islanders Asut edged the Southern Cobras 4-3 with three goals from Kein Artero and one from Bhradley De Leon. Trey Layson, Cody Maestrecampo, and Russell Perez scored for the Cobras.
PHOTO GALLERY:

QUICK HITS
Guam MTB National Championship: Edward Oingerang and Jennifer Camacho are your 2023 MTB national champions. Oingerang finished the course in 1:13:24 while Camacho won her second straight title in 54:08.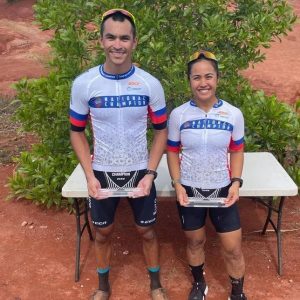 ——————————————
Kobe Miyashita, with St. John's coach Arvin Flores, was named the 2023 IIAAG Middle School Boys Volleyball MVP!