Adios Far East Tournaments.
What was the highlight of hundreds of Guam high school athletes since the 1960's, the Department of Defense Education Activity (DoDEA Pacific) has announced that Far East competition for all Guam schools – including its own Guam High School – for the exception of cheerleading.
DoDEA Superintendent of the Guam District, Dr. Steven Bloom, released an official letter on Friday explaining the reasoning behind the decision to stop the competition.
"I just know that Guam student-athletes are going to be hurt, badly, by this," Stars and Stripes Newspaper Sports Editor Dave Ornauer. "Guam has had a very long and successful partnership with DODDS Pacific and Far East tournaments, dating back decades. It's what helps make Far East such an enrichening experience, developing relationships, friendships, partnerships, lifelong memories.
"Saying the IIAAG postseasons suffice is absolutely farcical. That would be like saying the DODDS Japan or Kanto Plain tournaments would suffice for schools there, or the KAIAC tournaments would suffice there."
In an email to the media on Sunday, IIAAG President Marty Boudreau said, "The IIAAG did not receive any notification directly nor was the IIAAG asked to participate in the discussions that lead to the recent DoDEA decision. I received Dr. Blooms letter elsewhere."
Ornauer, who has covered the Far East tournaments since 1982, hopes the IIAAG can rebound from this sad news.
"I hope Marty (Boudreau) and the IIAAG are able to find the necessary support to put APIs on the map for all sports. That's something he and I talked about on the phone (on Saturday).
"People on Guam are hopping mad right now. Angry enough to spit nails. And I do not blame any of them. In the least. Saying Guam can't participate in Far East because of who they are? That would be like suggesting that Okinawa can't participate in the national baseball tournament at Koshien because of where they're located."
"For years, we've been able to reconcile the fact that Guam has four quarters and DODDS Pacific three. It hasn't been a problem … up until now."
FAR EAST SUCCESS
Big School Championships
1993 Oceanview Knights boys basketball
1983 JFK Islanders girls basketball
1982 GW Geckos girls basketball
13 Far East Girls Volleyball Championships (record 9 by the Academy Cougars)
Small School Championships
2011 St. Paul girls basketball
2001/04 St. Paul boys basketball
2004 Notre Dame girls volleyball
1998 Guam High boys basketball
Note: Far East tournaments take place in cross country, tennis, girls volleyball, boys and girls basketball, wrestling, baseball, softball, track and field and soccer.
Besides Guam High, schools from Guam have been regular participants in boys and girls basketball and girls volleyball.

Foody's 5 Fun Facts
Harvest Eagle Trinity Terlaje
DID U KNOW?
After winning the title with ND in 2019, Tiyan Titan head coach Conrad Kerber has the Lady Titans sitting at 2nd place in the league with one week left in the season, the highest placement the Titans have ever been.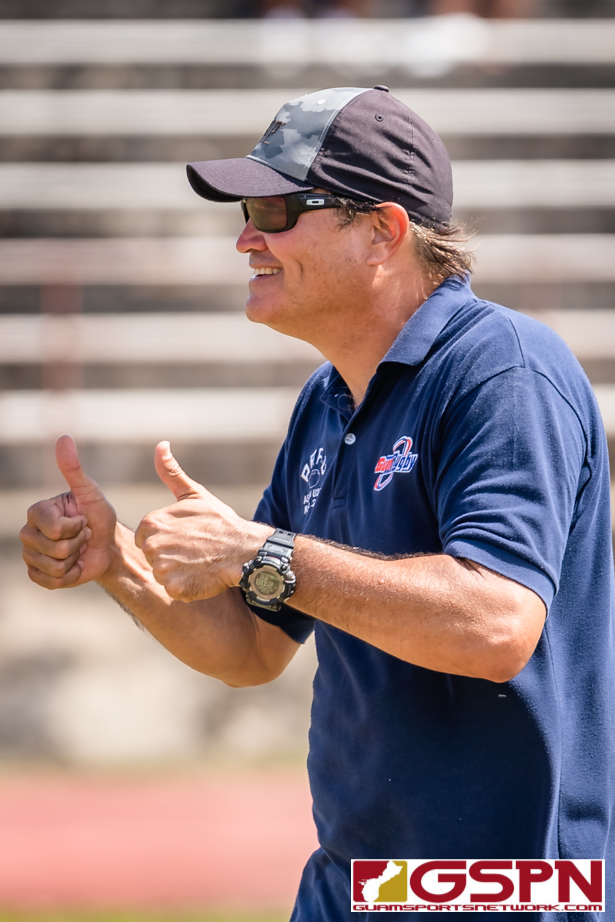 COMING SOON …
– Zach and Larry Return to Guam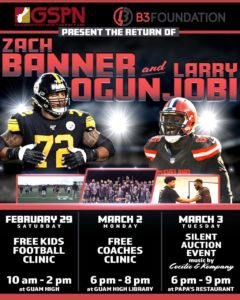 Brawl MMA March 13
QUICK HITS
One FC champion Brandon Vera and ambassador Miesha Tate visited the troops on Guam during a USO Tour.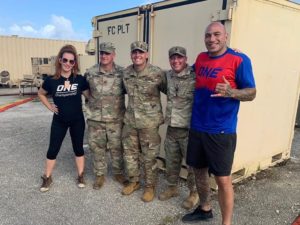 —————————————————-
190 runners took part in the 48th Hafa Marathon (half marathon).
Here are the top 5 finishers:
Ryan Matienzzo 1:13:17
Kris Lawrence 1:24:12
Taiga Sato 1:25:05
Chris Rasmussen 1:26:48
Carlos Leon Guerrero 1:28:46