By Robert Balajadia
Every parent of a high school athlete dreams of nothing more than to see their child excel at a certain sport with high hopes of seeing them win a title at some point in their high school sporting life.
For one parent, that dream became a reality and it unfolded on live television for all of Guam to see.
With the final point in volley for the 2014 Girls Championship game, setter Samyra Duenas laid a perfect pass to older sister Sia Duenas as the set up was anticipated loudly by one proud parent screaming, "Swing baby girl, swing!"
Duenas did swing, hitting the hands of Cougars' Joie Blas as she tried to make a block, going straight out of bounds for the 25th and final point that the Geckos needed to win the title.
"I was very excited and I'm very proud of both my girls from where they have come and how hard they've worked," said father of the girls Ed Duenas, who shouted for his girl to swing.
Ed Duenas celebrated the exact moment in a way that not many people could by seeing both his daughters play a hand, not only in the final point, but for a wealthy part of GW's dominant outing.
GSPN Captured the final point on Instagram (follow @guamsportsnetwork) with Duenas, clear as day, yelling on his girls as the final point played out.
"It gives me goosebumps as if it was an actual live reply of the exact moment," said Ed on watching the clip from Instagram.
"I watched the whole play happen and I've worked hard with the girls all season to have make 'Duenas to Duenas' happen and I was just happy, joyful, and I still have a big smile up to this day. I hugged my girls this morning and told my them 'you are the champions and have the right to call yourselves champions!'"
"I could hear his voice the whole game, I just didn't hear him on the last point," admitted Sia.
"No, I couldn't hear him," said the laser focused Samyra. "I don't pay attention to anything outside of the game."
Ed Duenas is no stranger to volleyball titles having won as a player for the Geckos in 88-89, becoming co-champions with the FD Friars, and winning as a head coach of the Geckos boys volleyball team in 2013. Though he did admit, out of all the ones he had been a part of, the 2014 title his girls won was his favorite.
"The most special was to watch girls win one. It's Nice to have both of them working together. 'Duenas to Duenas!'" he laughed.
The two sisters have downplayed their bond throughout the entire season never making the team, or the game, about each other. As Sia explained after winning the title, the girls love that they can play together, although they are not about to put their personal relationship ahead of the team.
The Supporting Cast
The girls, along with older sister Erin Duenas who played for GW from 2011-12, have always had a great supporting cast from each of their parents. Ed and step-mother Debbie Duenas are always involved throughout the girls season, like making sure they have their favorite beverages or necessary equipment, along with the in-game cheering. Their mother, Sophie Duenas, has helped encourage the girls throughout the season as well having once been under the coaching of Bobbi Quinata in her heyday.
The girls even got new shoes prior to the 2014 season, courtesy of dad, along with a simple life lesson that has proven to work.
"It started way before the season, I was very excited to order them volleyball shoes, the first time the girls would have actual volleyball shoes," said Ed. "They chose the brand Mizuno and we helped them out with the cost. I told them I'd pay for half of the shoes so that whatever they paid for they can appreciate that they worked for it so they know what the value of money is and what hard work is, which is also what it takes to win a championship."
"He notices every time I break down on the court, he pulls me to the side and he motivates me to tell me that 'I am the best' and 'I can do it,'" said Sia of her father.
"I think volleyball is our main connection, it's very easy for us to connect. He helps me to stay focused," said Samyra on her volleyball relationship with dad.
Samyra was the only sibling to be coached directly under her dad as a junior varsity member, though Sia has taken on the role of being the harder hitter, just like pops.
The Next Step
With both the Duenas girls set to return in 2015, With Sia heading into her senior year while Samyra will become a junior, the expectations will undoubtedly be high, though the Duenas girls are being told to just take it in stride.
"Everytime you win is bragging rights for one year. I've told them to enjoy a championship, next season is going to be competitive no matter what, but to be humble. I want to see them win a championship back-to-back, but I want them to play like they've been there before," said Dad.
Majority of the 2014 girls volleyball team will be returning which automatically makes them the favorites to win it all again.
The Geckos always bring a rocking crowd to any venue, but somewhere deep in the heart of the all Gecko echoes there will be a proud parent rooting for the Duenas girls on every play in every way. So, you should already know who it is if the cheers sound anything like "Swing baby girl, swing!"

Athletes Birthdays by W5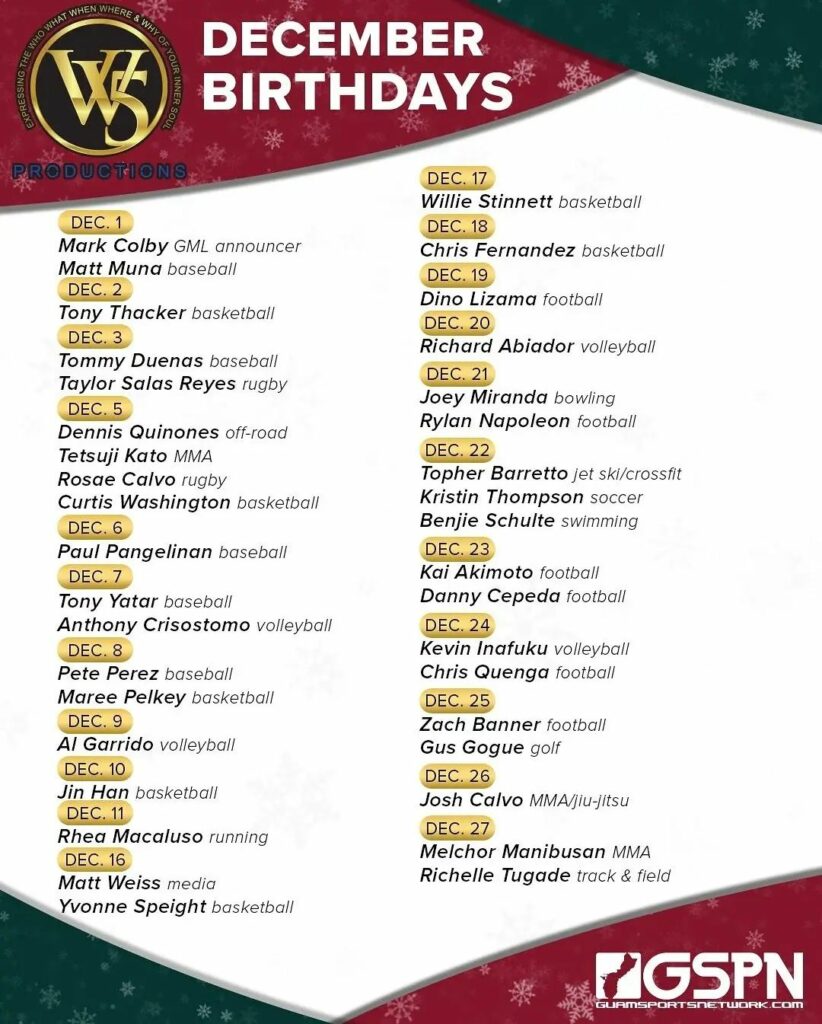 GPS Sports Calendar
SU

MO

TU

WE

TH

FR

SA
Events for December
5th
No Events
Events for December
6th
Events for December
7th
Events for December
8th
No Events
Events for December
9th
Events for December
10th
Events for December
11th
06:00 AM - 08:00 AM
Umatac
Events for December
12th
No Events
Events for December
13th
No Events
Events for December
14th
No Events
Events for December
15th
No Events
Events for December
16th
Events for December
17th
Events for December
18th
19

20

21

22

23

24

25
Events for December
19th
No Events
Events for December
20th
No Events
Events for December
21st
No Events
Events for December
22nd
No Events
Events for December
23rd
No Events
Events for December
24th
No Events
Events for December
25th
No Events
26

27

28

29

30

31

1
Events for December
26th
No Events
Events for December
27th
No Events
Events for December
28th
No Events
Events for December
29th
No Events
Events for December
30th
No Events
Events for December
31st
No Events
National Guard Athletes
Scott Eclavea
Scott Eclavea is a jiu-jitsu black belt and an accomplished MMA fighter. The Guard has given him an outlet in combatives to display his martial art skills, where he's become a head instructor for that program. Eclavea has served since coming out of high school and the Guard has only changed his life for the better.
COMING SOON …
LIVE FOOTBALL ON GSPN
Semifinals: #1 FD vs. #4 Southern (Friday 7 pm)
GSPN Preseason Basketball Tournament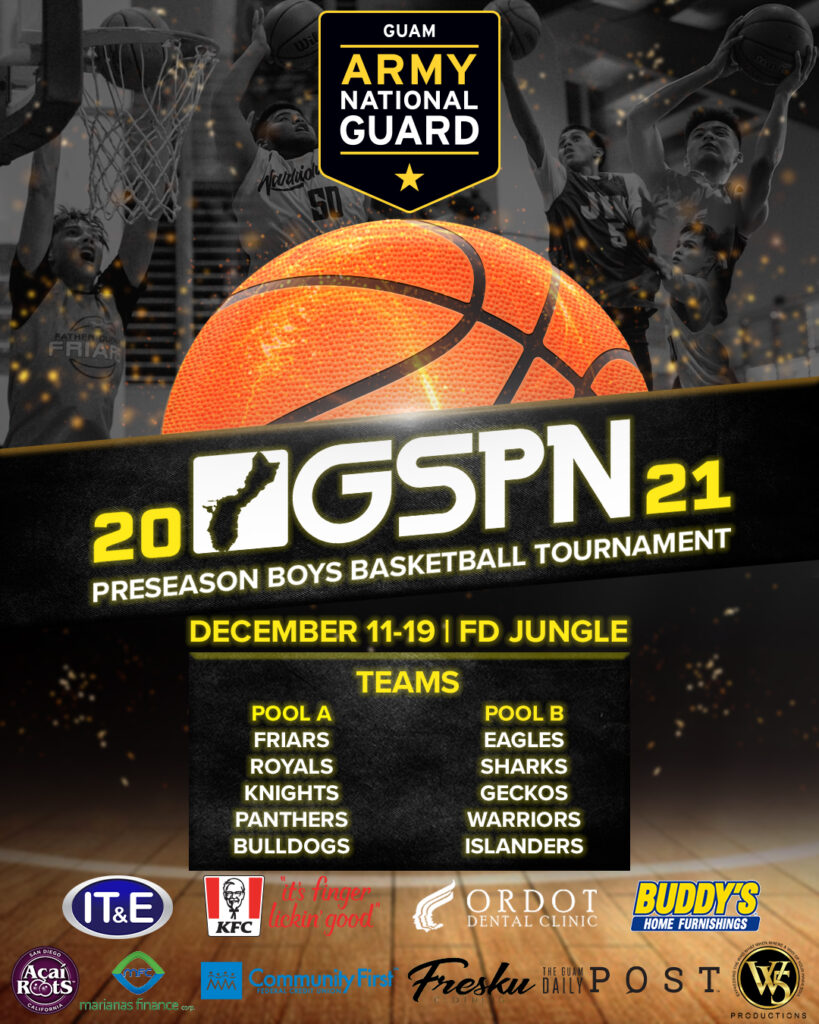 QUICK HITS
Robert Artero Maley recently captured the 182-lb. division of the Costa Mesa Classic, winning via pin in 4 out of 5 matches. Robert is a 4-year varsity wrestler at San Clemente HS (Tritons) and is currently ranked 15th in California's high school scene. He is the son of Jacque Artero Maley (AOLG 1991).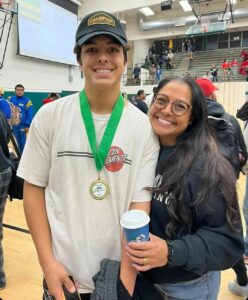 ——————————————–
Pat Taitano and Rich Abiador, teammates on the 1995 SPG volleyball team, have led their high school girls volleyball teams to the Washington State Championships in Yakima, Wa.
Taitano coaches Mt. Rainier High while Abiador leads North Creek High.
There for support is Dr. Mark Perez, a health professor at Central Washington University and a former UOG volleyball player.