By Patrick Lujan
Halfway through his initial UFC contract, Jon Tuck is coming off a big win and looks to take that momentum into his upcoming bout in UFC 178 against 21-year-old Kevin Lee (8-1) at the MGM Grand Hotel in Las Vegas on Sept. 27th.
Tuck (8-1), who turns 30 at the end of the month, has been home for about a month now, but with the announcement of his fight, he'll be heading back to his training camp in Arizona to prepare for his big battle in the UFC 178 supercard. GSPN caught up with Tuck before he heads back stateside.
GSPN: I know you were hoping to get on the Japan card, but this UFC 178 card is super stacked. Do you ever get star struck with the other fighters in your own card?
Tuck: I wanted to fight in Japan but I am really excited to fight at UFC 178, which is the biggest fight card to date. No, I do not get star stuck with any other fighters, I just look at everyone with the same respect because at the end of the day we all are hard workers trying to reach the same goal.
GSPN: You've been home for about a month. Now that you're fighting back in the states, how has that changed your plans?
Tuck: I've been home for a month and been keeping up on my training because I knew the opportunity would arise whether I would be fighting in Japan, China, Brazil or in Las Vegas.
GSPN: This is your first fight in Vegas. Is there a different thinking amongst UFC fighters when fighting in Vegas as opposed to anywhere else?
Tuck: Actually this is my second fight in Vegas being that I fought on The Ultimate Fighter. People may think differently when it comes to fighting in Las Vegas but I think of it the same way I think of every fight, like it is the Championship Fight for the World Title and like the fight could be my last by giving my all.
GSPN: This is your fourth fight in the UFC. Do you still get the butterflies or it's something you've grown accustomed to already?
Tuck: I don't get butterflies for any of my fights, I just get excited to seize the moment something that fighters can't control.
GSPN: How would you describe your game today as when you were making your debut in Macau?
Tuck: My game has change tremendously from my debut in Macau, China. Not only have I grown physically and skillfully, but the biggest growth of it all is my mental game.
GSPN: Your opponent is a talented up-and-comer. What do you have that he doesn't?
Tuck: Everything
GSPN: The last fight, you really broke out the Super Saiyan with the golden hair. Will we see that again this fight? If not, why?
Tuck: I have been getting a lot of good reviews about me coming out with my golden hair, but I will be keeping it a surprise on what I will be doing with my hair next. You will just have to tune in and watch.
GSPN: You're heading back to the MMA Lab this week for some fine tuning. Is the preparation going to change because of the short time to the fight and your opponent?
Tuck: I haven't lost time for this fight. I am already in great shape, so that when I do get to the MMA Lab my training will be focused not on getting in shape but working on all aspects of my game and peaking and fighting at my best come fight night.
GSPN: Once constant in all your fights has been Big John Calvo in your corner. That's a lot of trust and confidence in someone who's not there training with you in Arizona. Explain the relationship and why you've tapped him in all your fights so far.
Tuck: Big John has seen me grow in Martial Arts and has been there for me through some of the darkest times in my life whether it was on or off the mat. He still spends time with me on the mat, so he knows my game. He knows that I am in great hands being with John Crouch at The MMA Lab. Everything works out for the best!

QUICK HITS
The Guam Smokin' Hot women's softball team captured first place in the Asia Cup Softball Championships 2023 in Bangkok, Thailand.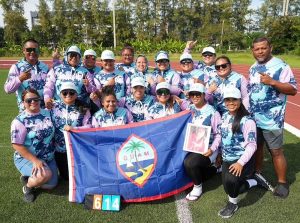 ——————————————————-
Roque Martinez gets the unanimous decision win Saturday night in his debut fight in South Korea's Black Combat promotions.
The 37-year-old controlled the tempo all three rounds and bloodied his opponent with some 3rd round ground and pound.