[useful_banner_manager_banner_rotation banners=9,17,18 interval=8 width=120 height=600 orderby=rand]
PRESS RELEASE – Incessant drizzle and rain showers halted all Sunday Quality Cup 2014 tennis tournament play with the exception of U14 Girls division matches played at the Pacific Islands Club indoor tennis courts.
The four visiting junior players from Saipan – Julia Ishikawa, Nathania Tan, Malika Miyawaki, and Grace Choi – dominated both singles and doubles play in the Girls U14 division. The foursome all played the semifinals of the singles division and the finals of the doubles division.
In Sunday's doubles matches, the pair of Ishikawa and Tan mixed up power, speed and consistency to defeat Alyssa Merletti and Victoria Smith 10-2.
"I was nervous going into the match – I didn't know how they were going to play," said Smith, who was playing in her first USTA Juniors points-earning event at the Quality Cup. "(On Saturday), we warmed up with them for a few minutes before it started raining. From the warm up and watching their other matches, I knew their serves were hard.
"Having the opportunity to play against them inspired me to further improve my game and also hit serves hard like them," the 13-year-old St. Anthony Catholic School student added.
In other other Girls U14 division doubles semifinal, Miyawaki and Choi also finished with a 10-2 victory, defeating Kanasta Abrams and Nozomi Yamasawa in a continuation of their doubles match that was stopped Saturday due to wet court conditions from the rain.
Ishikawa/Tan later defeated Miyawaki/Choi 8-1 in the U14 Girls Doubles final in a shortened eight-game pro-set.
Before the doubles final, Ishikawa defeated Choi in one of the singles semifinals 8-2 to set up a division championship match against Tan, who defeated Miyawaki 8-3 in the other semifinal match.
"I'd like to thank PIC for graciously providing an indoor venue for our Girls U14 division matches," said Joe Cepeda, Quality Cup tournament director. "The visiting players from Saipan enjoyed the tournament and were glad to have played out their remaining matches before having to head back home.
"We were hoping for some sun (Sunday) so all other players scheduled would be able to play their matches. With the rain all morning and through the afternoon, we had to cancel the matches," Cepeda added.
All other junior division matches and Men's Age singles matches will be rescheduled to a later time. A revised schedule will posted on the www.tennisacademyguam.com Web site.
Men's and Women's Skill singles and the High School Doubles events still are scheduled to begin Friday.

2022 GSPN I MÅS METGOT COMPETITION
2022 GSPN I Mås Metgot Competition Recap
2022 GSPN I MÅS METGOT COMPETITION
2022 GSPN I Mås Metgot Competition Recap
2022 GSPN I MÅS METGOT COMPETITION
2022 GSPN I Mås Metgot Competition Recap
COMING SOON …
Sat: Origin Power Lifting Meet 
ISA Girls Volleyball/Boys Soccer Finals
QUICK HITS
Guam runners complete London Marathon. Former Guam top runners Charlie Epperson and Aysha Perez Epperson along with Cameron ONeal completed the 42nd London Marathon.
Charlie 2:47:56
Cameron 2:59:49
Aysha 3:51:04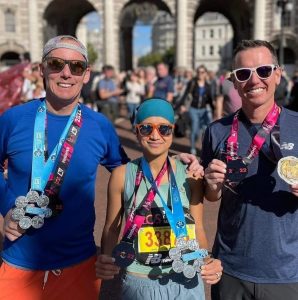 ———————————————–
Trevin Jones drops a unanimous decision 30-25, 30-27, 30-27 to Raoni Barcelos in UFC Fight Night 211 in Las Vegas.