By Robert Balajadia
[useful_banner_manager_banner_rotation banners=39,40,42,43,44 interval=5 width=300 height=300 orderby=rand]
POHNPEI – Guam got off to an early morning start during the second day of action here at the 8th Micronesian Games with the women's basketball team winning their first game of pool play, the women's volleyball team fell to Yap in a heartbreaker, the women's softball game between Chuuk got cancelled, and the men's softball team and basketball team prepare for evening action.
Yap Beats Guam In Heartbreaker
After going five sets with Palau in Monday's opener, the team appeared to be clicking early against Yap after grabbing a 2-0 set lead. Then something happened in between sets and Guam lost their composure dropping the final three sets to Yap losing 20-25, 15-25, 25-17, 25-15, 15-13.
Guam and Yap traded points early in the 5th set before errors allowed Yap to hold a 12-9 lead. Emma Gillan-Gatewood was mounting a comeback for Guam trailing 14-11 while getting a kill and a serve-ace to pull them within one, but her final serve sailed over the line as Yap just watched the flagman wave their final point giving Guam their first loss of the games.
Yap could have easily folded knowing they were down two sets, but the squad of six players pushed through and served Guam a monstrous comeback.
Substitutions were made to begin the third set and Yap took complete advantage of the switches jumping out to a 6-1 lead. Guam would eventually snap out of the funk as setter Leah Castro set up Mary Gillan for two big kills to get Guam back in the game eventually cutting the lead down 15-10.
Yap then resorted to playing mistake free volleyball allowing Guam to commit all the errors dropping the 3rd set 25-17.
The starters came back in for the 4th set but they too suffered from a slow start allowing Yap to jump out to a 14-5 lead. Guam was on the comeback trail with Gillan serving getting two kills, also orchestrated by Gillan, to cut the lead 20-13. Yap then closed the game on a 5-2 run to squash the comeback amidst the questionable calls from the line judge.
Guam Blows Out CNMI
A slow start by the women's basketball team turned into a runaway score by halftime as the Guam women defeated CNMI 86-35 at 8 a.m.
Kathryn Castro led the way for Guam with 18 points without needing to play much in the second half. Castro injured her ankle during the game which might cause her to miss some action, but her help in the first half gave Guam a much needed spark leading only 18-13 after the first quarter.
Guam then started to settle in to their defense making a mess of the CNMI offense, forcing an abundance of turnovers allowing CNMI just two points in the second quarter.
Destiny Castro capped off a 20-0 run with a fast break layup to end the quarter after her and teammate Kali Benavente stripped the ball away from CNMI at half court.
Guam then turned the 42-15 halftime lead to 69-25 as the team got a great deal of bench scoring from their subs. Each of the girls on the team scored at least one basket during the course of the game making the win a literal collective team effort.
CNMI scored 10 points in both the third and fourth quarter to amend their two-point second quarter, but the speed of Guam and defensive strategy put in place by head coach Eddie Pelkey got Guam off to a blazing 1-0 start in women's basketball.
Girls Softball Game Called Off
Due to the lack of players, Chuuk was forced to forfeit against Guam giving the team their second win of the Micro Games.
Upcoming Stories
– Men's Softball
– Men's Basketball vs. Kosrae
– Swimming Medals
PHOTO GALLERY:

Foody's Fun Facts
Favorites From Year 2
COMING SOON …
SATURDAY
Boys Volleyball: Champion vs. Champion
Saturday 6 pm: FD vs. Tiyan
UFC Fight
July 25: Trevin Jones vs. Tony Kelley
QUICK HITS
Nadine Del Carmen graduated from Santa Clara University on June 11. She was named captain of the Santa Clara women's tennis team in her senior year and she will be attending Georgetown University in the fall to pursue her masters and will be playing for the Hoyas women's tennis team.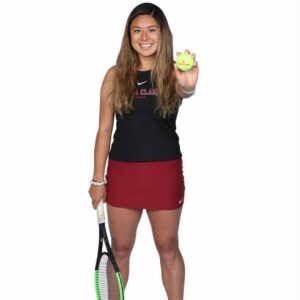 ——————————————————–
After a star-studded collegiate career at UCLA, Bubba Nickles turns her focus on the Tokyo Olympics with Team USA after the Bruins were eliminated in the College World Series. Nickles endured a broken arm on April 7 and worked her way back into the Bruins lineup for the WCWS. She will go down as one of UCLA's best softball players in its storied history.