PRESS RELEASE – The Guam Matao dominated possession against Macau for over 90 minutes in the home team's opening contest of the EAFF East Asian Cup Round 1, but as luck would have it, the opposition held on just long enough to evade a loss in front of a large crowd of spectators at the Guam Football Association National Training Center. (note: Guam ranked #174, Macau ranked #204 in FIFA rankings)
"I'm very disappointed with the result because it was a game we should have won – we controlled the match from the beginning," said Gary White, head coach of the Matao after the team's scoreless draw with Macau. "I'm happy, though, with their performance – the players really did everything we've asked them to do at training, but the only thing missing is the end product. I give credit to Macau also, as they came into this match more organized than before – just a few years ago, they would have eventually broken down defensively, but they managed to do everything they could to not concede any goals.
"The players have it in them to create and finish chances, so I'm not too worried going into the next game. We've got the quality to do what we need and the boys know now that they have to win both games to go through and they're ready for it.
"We're not worried, we're not panicking – we're a very strong team as seen tonight – now it's just a question of finishing off some of our chances," added White.
Macau goalkeeper Ho Man Fai may have had one of the busiest matches of his career, managing to punch out the ball on corner kick and free kick plays, recover quick enough to stop an onslaught of follow-up shots, and fill in the defensive holes created by his team.
One of Guam's best chances came in the second half when Shane Malcolm freed himself from Macau's last line of defenders taking a centering pass from Ryan Guy in stride, only to send his shot wide toward the right post. Minutes later, Ho managed to block a volley shot from Guy from inside the penalty box, then got up and leaped to push out the follow-up shot from Marcus Lopez in mere seconds.
The Matao continued to knock on Macau's door through the match, which included an extra 10 minutes of stoppage time in the second half, but the visiting team stayed content pushing its defenders to their limits to stop Guam's attack. The scenario is a complete 180-degree change from previous encounters, with more teams nowemploying five or more defenders in their backline, as Macau had done.
Before the opening whistle of the match, both teams assembled around the pitch's center circle for a moment of silence to recognize the late Sen. Ben Pangelinan, a major supporter of the sport of football in Guam.
In other tournament matches, Mongolia shut out the Northern Mariana Islands 4-0 with goals from Munkh-Erdene Tuguldur, Soyol-Erdene Gal-Erdene, Altankhuyang Murun and Bilegtii Dashnyam.
The men's teams take a break to make way for the second day of the EAFF Women's East Asian Cup Round 1, with the Guam Masakåda taking on Macau Tuesday at 5:30 p.m. If the Masakåda win against Macau, the team will move on to the semifinal round later this year in Chinese Taipei regardless of the match result of the final day of the women's tournament.
There is no admission fee to watch the matches.

QUICK HITS
Guam MTB National Championship: Edward Oingerang and Jennifer Camacho are your 2023 MTB national champions. Oingerang finished the course in 1:13:24 while Camacho won her second straight title in 54:08.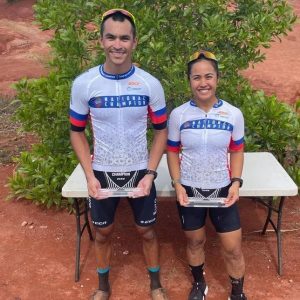 ——————————————
Kobe Miyashita, with St. John's coach Arvin Flores, was named the 2023 IIAAG Middle School Boys Volleyball MVP!