By Robert Balajadia
Guams future of basketball for boys and girls are in Saipan to take part in the 15U Micronesia Basketball Tournament. The boys division team consists of three Saipan Teams, one from Guam, and one from Palau.
The tourney stars Sunday July 12th and will end Saturday July 18th.
Boys 15U
Head coach Brent Tipton continues to build on his coaching resume by leading a strong group of 15U boys who have meshed well together given their skill set.
"The strength of this team is we have every position filled by, not just one player who is highly skilled at their position, but we have two players highly skilled at their positions. Our team of all 12 guys can come in and perform at a very high level," said Tipton.
The boys got to display their talents to Guam earlier this year when they opened for the first ever GSPN Wendy's All-Star Basketball game. They know how to deal with each other, but more importantly know how to deal with the competition.
"We're pretty familiar with our competition because we compete against them almost every summer," added Tipton.
Tipton also shared that the boys have displayed positive work ethic and have a great attitude in response to his coaching.
"The only things we can control on the court is attitude and effort, and they accept the role whatever it may be and they compete very hard every practice. They are great teammates and are always making the extra pass on offense and are always looking to create 'our' shot as opposed to looking for 'my' shot," continued Tipton.
Boys Roster:
1. De'Aundre Cruz
2. Holden Barcinas
3. Takumi Simon
4. Napu San Luis
5. Michael Min
6. Cloyd Rosas
7. Alschea Grape
8. Dreyven Salas
9. Mark Temerowski
10. Tomas Calvo
11. Shane Terlaje
12. Tony Hsieh
Head Coach – Brent Tipton
Girls 15U
The girls have a winning roster from head coach to players which only bodes well for their run in the Saipan tourney. Head coach Jimmy Yi has not lost a high school junior varsity basketball game he has coached for almost a year and standing in the center of it all will be Mia San Nicolas, who went undefeated during her final year with the Bishop Opispos.
Girls Roster:
1. Mia San Nicolas
2. Chloe Miranda
3. Rosita Duenas
4. Bila Aguon
5. Meaghan Cruz
6. Caylani Estoi
7. Daphanie Manibusan
8. Pauline Mendiola
9. Elysiz Perez
10. Johnia Suguenza
11. Monica Gieger
12. Haley Senne
Head Coach – Jimmy Yi

QUICK HITS
Guam MTB National Championship: Edward Oingerang and Jennifer Camacho are your 2023 MTB national champions. Oingerang finished the course in 1:13:24 while Camacho won her second straight title in 54:08.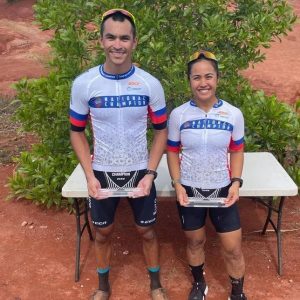 ——————————————
Kobe Miyashita, with St. John's coach Arvin Flores, was named the 2023 IIAAG Middle School Boys Volleyball MVP!