By Jay Leon Guerrero
Coming fresh off breaking the Guam National 100m and 200m sprints earlier this year, teenage sprinting phenom Regine Tugade will take her talents to two World Championship events for Track and Field. Tugade will travel to first to Cali, Columbia, for the World Youth Championships from July 15th-19. After the World Youth, Tugade will come back to Guam and train for the adult World Championships to be help in late August in Beijing, China.
Tugade will leave Guam this Sunday for Columbia as the lone Guamanian qualified competitor for the Championships.
"I'm running the 200m on Thursday, I leave Sunday morning with two other athletes from Saipan and the FSM," said Tugade.
After the high track season, Tugade kept busy in the summer training with the track club GCAC (Guam Central Athletics Club).
Under the wing of her high coaches Jay Antonio and Andrea Bowman, Tugade has been preparing herself to compete in the 200m sprint which she will run next Thursday.
In major world track events, qualifying times are required to attend the championships but exemptions are made for smaller countries. In the past, Guam has sent some athletes with unqualified times to fill slots in certain events based on a GTFA point system.
Tugade's Guam record breaking time in both sprint events were good enough for her to compete. "I actually qualified for both the 100m and the 200m but I chose to just do the 200m," said Tugade.
For the (adult) World Championships, Tugade said her time in the 200m sprint was far from qualifying so she will do the 100m in Beijing, China in August.
Why not the Pacific Games
After GTFA was permitted to join the Pacific Games earlier this year, Tugade met qualifying time for the event, but due to the late notice she had to decline her participation.
Although she said she would have loved to compete in Papua New Guinea with team Guam, her commitments to the World Championships were done.
"It was a late notice and if I wanted to go I would have to raise $2000 on my own," said Tugade.
With the lack of financial support to the Pacific Games for all athletes, Tugade and the other athletes had to decline their participation. GTFA was able to send Justin Andre who will compete in the second half of event in PNG.
Tugade is scheduled to leave Sunday, July 12th with what she calls the 'Oceania Team'. She will go with an athlete from FSM and Saipan and will be coached and managed by officials from Australia.
"I've been training since the high school season ended but it's been a little less intense because I needed to tone down in order to peak during competition," said Tugade.
"This is my first World's competition and I'm really excited! I know the competition is extremely high so all I'm aiming for is just to have a solid run, which would hopefully be a personal record. I want to run 24's for the 200m already."
Giving thanks
Tugade said that there were many people that she would like to thank in her journey to the World Championships:
"First and foremost, all glory to God for this blessing. Thank you to GTFA for choosing me to take part in this huge opportunity, and thank you to coach Antonio and Bowman. Also, I want to thank my teammates for bringing me this far, and my family and fried a for their continued support."

QUICK HITS
Guam MTB National Championship: Edward Oingerang and Jennifer Camacho are your 2023 MTB national champions. Oingerang finished the course in 1:13:24 while Camacho won her second straight title in 54:08.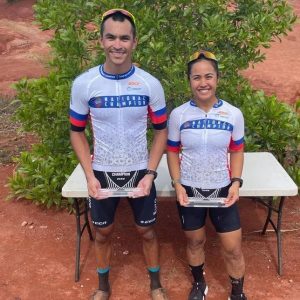 ——————————————
Kobe Miyashita, with St. John's coach Arvin Flores, was named the 2023 IIAAG Middle School Boys Volleyball MVP!