[useful_banner_manager_banner_rotation banners=72 interval=5 width=120- height=600 orderby=rand]
PRESS RELEASE – Karen Norden and Michelle DeHighden of Gymnastics Australia, visited Guam last week to work with the newly established Guam Gymnastics Federation. Federation President, Jayne Flores welcomed the duo representing the Oceania Gymnastics Development Plan, a project supported by the International Gymnastics Federation. The goal is to provide support, resources and funding to expand the Olympic sport across the nations of Oceania.
Both Michelle and Karen have over 30 years of gymnastics coaching experience. Some of Michelle's achievements include coaching on the Australian National Team, placing gymnasts in Olympic squads, Commonwealth Games and World Championship teams.
Karen is an international judge and works closely with the Gymnastics Australian board. They also are sisters, coming from a family with a long history of gymnastics participation and coaching.
During the visit, gymnast clinics, coaches education workshops and board governance workshops were conducted. It was a busy and productive week, the visit included a meeting with the Guam National Olympic Committee and a visit from Guam governor's chief of staff, Mark Calvo. Gymnasts were offered the opportunity to try new drills and coaches were able to extend their knowledge through training.
Island Twisters Gymnastics coach Derrick Heath commented: "Great experience for coaches and gymnasts on Guam. We were blessed to have 2 national team coaches from Australia come and teach gymnastic clinics and coach education seminars. It's exciting to know that Guam is a priority to them in developing gymnastics in the Oceania region. We are looking forward to Australia working with the Guam Gymnastics Federation to grow the sport to an even higher international level."
The missions of the Guam Gymnastics Federation include improving health related behaviors in the community through participation in gymnastics and increasing the number of local and international gymnastics exhibition and competition opportunities.
Short term goals are to host international gymnastics competitors and attend expanded international event opportunities. The longer term goal is Olympic representation.
Michelle DeHighden said that, "Guam has an abundance of talent in athlete and coaching potential. They are primed, with the support of Gymnastics Australia to do some fantastic gymnastics."

QUICK HITS
Guam MTB National Championship: Edward Oingerang and Jennifer Camacho are your 2023 MTB national champions. Oingerang finished the course in 1:13:24 while Camacho won her second straight title in 54:08.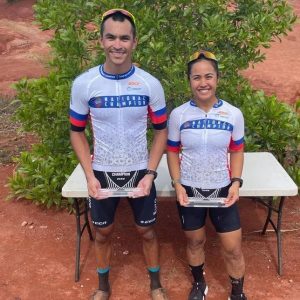 ——————————————
Kobe Miyashita, with St. John's coach Arvin Flores, was named the 2023 IIAAG Middle School Boys Volleyball MVP!