*due to technical difficulties game photos could not be provided
By Robert Balajadia
The last time the Okkodo Bulldogs traveled to the FD Phoenix center was in 2014 where they left with the IIAAG boys volleyball title with a three set victory over the home team Friars. Their 2015 meeting didn't hold the carry the same weight of a championship game, but that didn't stop both teams from putting on a great 2nd set of championship potential.
The Friars were celebrating senior night, though outside hitter Gary Aromin and the Okkodo Bulldogs were the ones celebrating their ninth straight win  in the end to stay unbeaten Friday night in two sets 25-19, 28-26.
"Our team always has this thing where we put ourselves into a hole, but I'm just glad we executed and dug our way out of the hole and we didn't let the crowd get to us," said Aromin.
Bulldog head coach Don So was tending to religious confirmation duties leaving assistant coach Alvin Alvarez in charge. After the Bulldogs trailed 21-18 in the second set, Alvarez called for time to regroup the boys to make a final push to close the game, and they responded.
"We needed to control the ball," Alvarez said he stressed in the timeout. "Without ball control then we wouldn't have been able to do anything we set out to do. I tried to get them to think clearly and how they wanted to defend against the offense. It's harder for high schoolers to develop that kind of thing, but I give all the credit to these boys. They've been playing together for a long time and tonight they pulled it off."
Okkodo then went on a 3-0 run to tie the game at 21 after a big block by Tristen Gonzalez and Ian Ilagals, which would set up a wild finish.
Friars Kole Ada got free for a side-splitting power shot to give the Friars a 23-22 lead. The Friar crowd rallied behind their boys who were two points away from forcing the decisive third set. Bulldogs Aiden Ferrara responded with a kill of his own to tie the game at 23.
Leon Shimizu hit a distant ball that bounced just inside the left corner of the court to give FD a 24-23 lead. A service error by Eric Ada allowed the Bulldogs back in to a tie, but Ferrara messed up on his serve to give advantage back to the Friars.
Friars De'Aundre Cruz then got a clean set for the set point, but Bulldogs Aromin and Bryan Crow got two hands in to deny Cruz to save the point. Aromin then went upside on a kill from the right to go up 26-25.
Kole Ada was quick to respond with a pounding shot in the middle of the defense to once again tie the game. Aromin wouldn't let up, knocking in another lead changing kill to go up 27-26. Okkodo's blockers Crow and Ilagas had the final say blocking Ada's kill attempt to end the game.
"Going undefeated this season would be nice, but our team is focused more on the bigger picture. We have one goal, which is to win the championship," added Aromin.
The Friars came out strong in the first set after celebrating senior night taking a 4-1 lead with high intentions to defend home court. The Bulldogs took the lead 5-4 after a kill from Crow. Okkodo then stretched a two-point lead to a five point advantage with Aiden going strong for his first kill of the contest at 22-17. Okkodo won the set off a Friar service error.

QUICK HITS
3rd place: Big ups to the Para Todu Rugby Club for finishing 3rd out of 16 teams in the Manila 10's Rugby Tournament today. Biba Guam Rugby!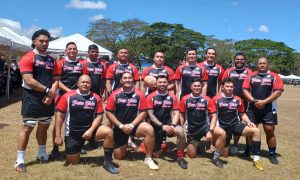 ——————————————
Guam MTB National Championship: Edward Oingerang and Jennifer Camacho are your 2023 MTB national champions. Oingerang finished the course in 1:13:24 while Camacho won her second straight title in 54:08.