[useful_banner_manager_banner_rotation banners=58 interval=5 width=200 height=200 orderby=rand]
By Robert Balajadia
The FD Friars boys basketball team were down by double digits entering the final quarter against the GW Geckos, but a big offensive outing by guard Nick Clark along with suffocating team defense allowed the Friars to gut out the victory in the closing seconds 72-67 at the Gecko gym Friday night.
Friars' Clark scored all 12 of his points in the final period, including the go-ahead bucket to put FD up 72-67 with 14 seconds left in the game. The Geckos weren't able to convert on their last shot attempts with Clark grabbing the final board to complete the comeback.
"It's indescribable, you can't do those things all the time," said Clark after his 4th quarter performance."After not playing at all in the first half I just felt like I needed to do something. We trust each other, we're brothers, that's what it means to go to FD," added Clark.
"[Nick's] job is to stop whoever he is guarding. His role is to stop whoever is keeps driving to the basket and he did that. The offense is just gravy," said Pelkey on Clark's big night.
Clark scored off free throws and then drilled a three pointer from the left wing to go on a personal 5-0 run to get the score 56-51in the beginning of the 4th, the closest the Friars had been after trailing by double figures midway through the 2nd quarter.
Geckos' Kyle Gaitan broke the cold field goal streak with a nifty spend-around jumper to go up 59-53, but Clark's second three-pointer immediately afterwards brought the Friars within a single possession, 59-56.
FD finally managed to match GW on the scoreboard at 61 points with less than three minutes left in the contest after a fast break layup through two defenders by Friars' Jeff Ochavilo.
Friars Devin Sudo then caught the Geckos sleeping on the inbound pass and converted on a left-hand finish after the interception to give FD their first lead of the second half 63-61.
With FD leading 68-65, Geckos forward Devin San Agustin got fouled on his three-point attempt with under a minute left which a chance to tie the game. San Agustin missed his first free throw, but hit his second and third to pull within 68-67.
Friars center Justin Dimla answered back with a pair of clutch free throws of his own, and the Geckos tried to immediately respond with a three-pointer from Mathew Soto, but the shot sailed over the rim. The Friars then fired a full court pass to Clark who made a snap decision to pull up for a jumper in the lane that put the Geckos away.
"We played with a purpose, we played together. The entire first half we just let one guy beat us all the way to the rim. When we finally played together, that changed the game. Our game plan is simple every game, get defensive stops which would lead to easy offensive opportunities, it doesn't matter who's on the other side of court," said Pelkey.
Soto led the Geckos with 19 points and teammate San Agustin scored 17 in the loss.
The Geckos were firing on all cylinders in the first half after capturing a large lead through the first two quarters 36-23. FD had a stronger offensive quarter in the third by doubling up on their first half score, but still trailed 56-46 before taking over in the final period.
Both teams were heading into the contest unbeaten after FD (5-0) received a win via a Southern High Dolphins forfeit. The Dolphins had an ineligible player enter the game in their win over the Friars which garnered their forfeit.
The Geckos (3-1) were playing strong after winning the GSPN pre-season boys basketball tournament winning their first three games before their loss Friday night.
Other Scores
JFK 54, St. John's 47
Okkodo 39, Sanchez 36
ND 54, Tiyan 42
St. Paul def. Harvest
PHOTO GALLERY:

Foody's 5 Fun Facts
Harvest Eagle Trinity Terlaje
DID U KNOW?
FD senior Matt Fegurgur first dunked a basketball in his freshman year when he was 6'4″. The now 6'9″ center looks to dominate high school hoops.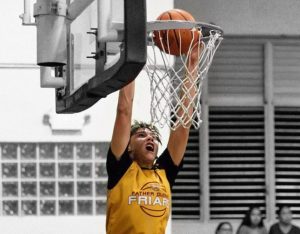 COMING SOON …
– Rizin 21: Aguon and Martinez
– FIBA Asia Cup: Guam vs. New Zealand, Feb 23
– Zach and Larry Return to Guam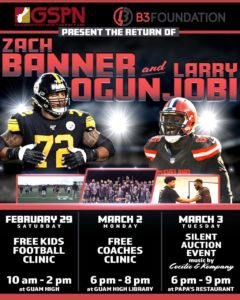 Brawl MMA March 13
QUICK HITS
190 runners took part in the 48th Hafa Marathon (half marathon).
Here are the top 5 finishers:
Ryan Matienzzo 1:13:17
Kris Lawrence 1:24:12
Taiga Sato 1:25:05
Chris Rasmussen 1:26:48
Carlos Leon Guerrero 1:28:46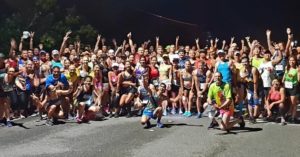 —————————————————-
Guam flags were waving in Clearwater, Florida in support of Bubba Nickles and Team USA in their Pre Olympics Softball Tour.