By Jose Terlaje
Week 2 of IIAAG Varsity Rugby got underway this Saturday at the GW Football field in Mangilao with the FD Friars and AOLG Cougars hosting the games for the week. In the third game of the day the Friars took on their rugby rivals, the Southern High Dolphins. This is a much anticipated match-up every year due to both teams seeming to compete on a different level when they face each other. The Dolphins and Friars usually meet in the championship game but in the past two seasons each team has taken turns playing for the title with both falling short.
FD was able to squeeze by and win this highly contested battle 8-7 and improve to 2-0 while Southern drops to 1-1 in the season. The Friars' Joshua Lujan scored on a deep penalty kick that ultimately decided the game and gave his team the win.
"I was just thinking, 'get it through.' I have a very supportive coaching staff and all my brothers are out there handling the pressure with me," said the first year varsity player, when asked how he was able to deal with the pressure of kicking that very vital penalty kick over 30 yards out.
The game started with Southern High receiving a kick-off from the Friars but a penalty gave the Friars a tap-and-go from half field. FD's Alex Shinohara tried to carry the ball down the field and get something going for his team but the Dolphins would stop the Friars time and time again, forcing them back.
The two opponents traded possessions throughout the first few minutes and both teams were often forced to kick the ball down the field in order to keep each other out of scoring range. Both teams were playing solid defense, denying each other big runs early in the match until the Dolphins were able to push the Friars a few yards back from half field. After gaining possession of the ball from winning a ruck, FD's Joshua Lujan kicked the ball deep down the field with teammate Joaquin Mesa trailing the ball.
The kick caught the Dolphins off guard and FD's Mesa was able to recover the ball from two southern players, breaking a tackle and running like he stole something, as he took the ball 25 yards into the Southern High try-zone. The Friars ended up only getting a 5-0 lead after a failed conversion kick by Lujan.
After the kick-off, the Dolphins picked up the pace to try to get some points on the board, showing a lot more aggression on the field. Southern High's 8-Man, Keenan Quinata came up big for the Dolphins, leading and winning almost every ruck for his team, keeping the ball in their possession. After a bad lineout by FD, the Dolphins' Tyler Topasna ran the ball 30 yards down the field, breaking numerous tackles as he made his way just 15 yards out from the Friars' try-zone.
The Dolphins looked to sneak in a try but the Friars ended up getting the ball back, giving it to Lujan to punt it down the field. The Friars would then be penalized multiple times for not releasing the ball after being tackled down, giving Southern free possessions to run the ball down the field. After gaining some good field position and once again getting into scoring range, the Dolphins lost the ball and FD's Christian Reyes picked it up and took it 40 yards down the field to bring his team within scoring distance but moments later the clock ran out and the half ended with the Friars up 5-0.
In the second half, the Dolphins were plagued with numerous penalties for making illegal tackles or diving in the ruck. This put the Friars in good field position and after another penalty called on Southern High, the Friars elected to take a penalty kick 30 yards out. FD's Lujan sent the ball straight through the goal posts and put the Friars up 8-0 early in the second half.
After gaining an even bigger lead, the Friars began to run on the momentum built up from their scoring drive, winning rucks more often and executing plays. The score would not bring the Dolphins down though as Southern's Napu Topasna picked up big yards on a number of runs to try to set the pace for his team.
Topasna would continuously bring his team within scoring range but they could not make anything of it. The Friars then regained possession of the ball and after faking out a defender, FD's Joseph Gumataotao was able to run the ball 11 yards before a penalty was called on the Dolphins that gave the Friars another penalty kick. FD's Lujan wasn't so lucky this time as his kick went wide right of the goal post.
The missed kick gave Southern High a 22-drop but the kick went straight out of bounds, causing a scrum at Southern's 22 yard line. After a penalty called on the Friars, Southern High capitalized on a tap-and-go and Tyler Topasna sparked a scoring drive for his team with a 15 yard run that was followed by 12 yard run from Quinata.
The Dolphins continued to pick up the ball and run and were finally able to break through with Cory Duenas picking up some short yards and the try to put some points on the board for his team. The conversion after by Napu Topasna was good and the Dolphins got themselves within one, trailing the Friars 8-7. The try came a little too late for Southern High as time ran out shortly after and the Friars held on to win the match.
FD Head Coach Paul Claros said that he was glad his team was able to take advantage of the strong winds by kicking the ball whenever the opportunity arose. Claros went on to say he was proud of his team, especially the boys that were filling in for those out with injuries or had other priorities and couldn't make it to the game. They played a big role in executing on the Friars' set pieces and helped the team get the win.
PHOTO GALLERY BROUGHT TO YOU BY:
Weekly Rugby Results
Tuesday January 27, 2015 at Okkodo
Hosts: Okkodo
TIME
VISITORS
HOME
BOYS/GIRLS
5:20pm
GW
20
St. Johns
0
Boys Junior Varsity
5:40pm
Sanchez
0
St. Pauls
5
Boys Junior Varsity
6:00pm
Southern
17
FD
0
Boys Junior Varsity
6:20pm
Guam High
24
Okkodo
10
Boys Junior Varsity
6:40pm
St. Pauls
14
GW
12
Boys Junior Varsity
7:00pm
St. Johns
29
FD
0
Boys Junior Varsity
7:20pm
Sanchez
0
Okkodo
5
Boys Junior Varsity
7:40pm
Southern
0
Guam High
15
Boys Junior Varsity
Thursday January 29, 2015 at Okkodo
Hosts:  Okkodo
TIME
VISITORS
HOME
BOYS/GIRLS
5:20pm
GW
0
Academy
15
Girls Junior Varsity
5:40pm
Sanchez
0
ND
10
Girls Junior Varsity
6:00pm
Tiyan
0
Okkodo
22
Girls Junior Varsity
6:20pm
ND
10
GW
10
Girls Junior Varsity
6:40pm
Academy
0
Okkodo
10
Girls Junior Varsity
7:00pm
Sanchez
12
Tiyan
5
Girls Junior Varsity
7:20pm
GW
10
Okkodo
10
Girls Junior Varsity
7:40pm
ND
12
Tiyan
0
Girls Junior Varsity
8:00pm
Academy
7
Sanchez
5
Girls Junior Varsity
Saturday January 31, 2014 at GW
Hosts: FD/Academy
TIME
VISITORS
HOME
BOYS/GIRLS
9:00am
Okkodo
5
GW
35
Boys Varsity
10:30am
Guam High
12
Tiyan
19
Boys Varsity
12:00pm
FD
8
Southern
7
Boys Varsity
1:30pm
Sanchez
7
JFK
7
Boys Varsity
3:00pm
ND
5
GW
29
Girls Varsity TACKLE
3:20pm
Academy
12
Okkodo
0
Girls Varsity TACKLE
3:40pm
Guam High
19
Tiyan
0
Girls Varsity TACKLE
4:00pm
Sanchez
26
JFK
17
Girls Varsity TACKLE
4:20pm
GW
12
Okkodo
0
Girls Varsity TACKLE
4:40pm
ND
28
Tiyan
5
Girls Varsity TACKLE
5:00pm
Academy
0
Southern
12
Girls Varsity TACKLE
5:20pm
Guam High
5
JFK
20
Girls Varsity TACKLE
5:40pm
Tiyan
0
GW
20
Girls Varsity TACKLE
6:00pm
Okkodo
10
Southern
12
Girls Varsity TACKLE
6:20pm
ND
5
JFK
7
Girls Varsity TACKLE
6:40pm
Academy
5
Sanchez
17
Girls Varsity TACKLE

GPS Sports Calendar
SU

MO

TU

WE

TH

FR

SA
25

26

27

28

29

30
Events for May
2nd
No Events
Events for May
3rd
Events for May
4th
Events for May
5th
Events for May
6th
Events for May
7th
No Events
Events for May
9th
No Events
Events for May
10th
Events for May
11th
Events for May
12th
Events for May
13th
Events for May
14th
No Events
Events for May
15th
Events for May
16th
No Events
Events for May
17th
No Events
Events for May
18th
Events for May
19th
08:00 AM - 06:00 PM
Events for May
20th
Events for May
21st
Events for May
23rd
No Events
Events for May
24th
No Events
Events for May
25th
Events for May
26th
Events for May
27th
Events for May
29th
30

31

1

2

3

4

5
Events for May
30th
No Events
Events for May
31st
No Events
Foody's Fun Facts
JFK Islander Track & Field Star Maria Calvo
DID U KNOW?
Four of the six starters on the 2020 Middle School Volleyball Champion Untalan Wildcats met for the first time since winning a title together as the Tiyan Titans took on the Okkodo Bulldogs in the first game of the ISA Boys Volleyball Season. (#7 Samuel Carino, #9 Lance Mupas, #15 Nicholas Santos, #17 Nash Ericsson)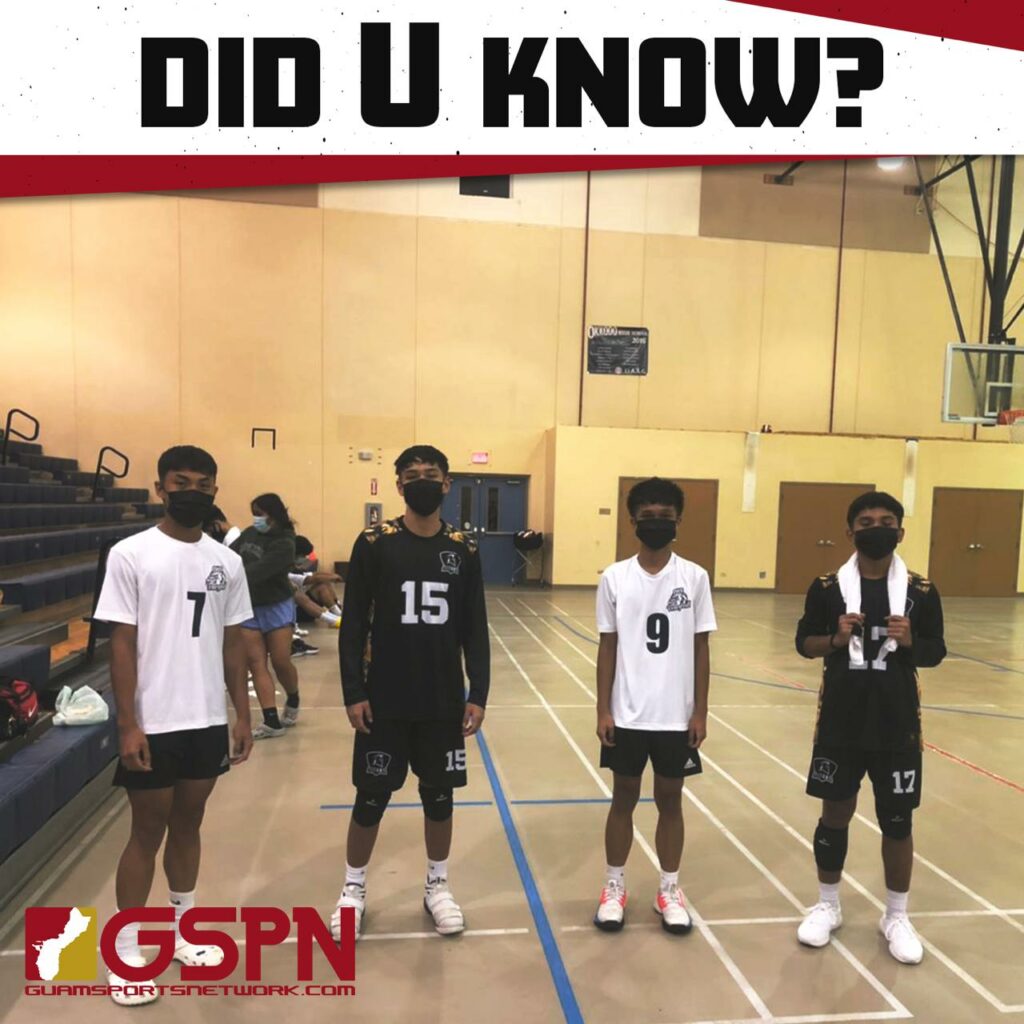 COMING SOON …
FIBA Asia Cup Qualifiers
June 16: Guam vs Hong Kong
June 18: Hong Kong vs. Guam
UFC Fights
June 13: Frank Camacho vs. Matt Frevola
June 20: Roque Martinez vs. Josh Parisian
July 25: Trevin Jones vs. Tony Kelley
QUICK HITS
Ivan Sablan took home the Mel Davis Junior Golf Tournament title (Boys 15-18) with rounds of 78-73. Markus Nanpei (77-78) and Eduardo Terlaje (79-74) followed behind two strokes back at GICC.
Photo L – R:  Mel Davis (GJGL Coach), Nanpei, Sablan, Terlaje and Jovy Lacson (GJGL Tournament Director)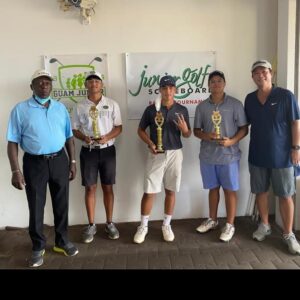 ——————————————————–
Pro rugger Zach Pangelinan suffered a leg injury on his way to a try in the Houston SaberCats match vs. the L.A. Giltinis on Saturday in Major League Rugby action. The 32-year-old fullback in his fourth year with Houston is recovering and said he will be back on the pitch soon.