[useful_banner_manager_banner_rotation banners=77,74,72 interval=10 width=120- height=600 orderby=rand]
By Tricia McDermott
LOS ALAMITOS – On October 11 at Conde Koma Jiujitsu Academy, jiu-jitsu teams from throughout southern California came together to raise money for four-year-old Teiya Van Meter who is a resident of Guam. She is currently in Los Angeles seeking medical treatment. Teiya is battling Medulloblastoma a childhood brain cancer and has braved four brain surgeries and countless therapy sessions along with chemotherapy.
A Roll for Teiya started off with a seminar taught by Leo Vieira and Luiz Panza. It was such a beautiful sight to see different teams come together on the mat in support of Teiya.
We weren't competing against each other like in a jiu-jitsu tournament. We came together as one. We came together as Team Teiya.
The seminar had over 50 people with 10 black belts in attendance. Some familiar local black belts were present. Shoyoroll owner Vince Quitugua, Conde Koma instructors Chris Guiterrez ,Justin McDermott and UFC fighter Jon Tuck. The day consisted of an open mat to all teams, refreshments, over 45 prizes donated and just over 100 people in attendance.

This event wasn't just to raise monies but to bring awareness. I printed handouts about the importance of donating blood. Blood donations are lifesaving to a cancer patient. I appropriately titled it "Roll your sleeves up". I wanted to be able to reach out to the jiu-jitsu community. The flyer will be a constant reminder and will encourage them to seek out their nearest donation center and give blood.

When I created the event via Facebook and with the power of social media, Teiya's gofundme page was shared and so many people donated. The day of the event we had people just stop in to drop a donation. You could see her beautiful pictures on her banner hanging from a distance with her signature shaka sign. A Guam seal patch was designed with the colors gray for brain tumor and Gold for Childhood awareness cancer and all proceeds went directly to Teiya.


Upon Teiya's arrival her parents were filled with so much emotion to see all these people gather in support of them. Her grandparents were there to enjoy the day with her as well.
We were blessed to have Teiya there. She is usually in the hospital. Her counts were good so she was able to attend. Teiya enjoyed calling out the winning numbers for the raffles, danced and played with all her friends. Grapple TV shot a video and interviewed Teiya's father BJ Rolinski as he was holding her.

As I watched Teiya enjoy being a kid and laugh so much, I was overwhelmed with so much emotion. She has come so far.
My husband Justin and I would visit her in the hospital. We have seen her improve so much.
Teiya has touched so many hearts. She will be starting her sixth round of chemotherapy. Please keep her in your prayers. Teiya, I need to thank you for reminding us what life is about. Too many times we get consumed in our daily tasks . She reminds us to cherish one another and enjoy life.

I have so many people to thank. So many helped from donating food items to assisting during the event. Thank you to Conde Koma owners Chris & Laura Guiterrez for opening your hearts to host this charitable event.

Teiya's parents share their daughters story with all of you with the hope of raising awarness of childhood cancer.

Teiya has a gofund me account and if you would like to donate here is the link:
https://www.gofundme.com/teiyacamille

To see video of " A Roll for Teiya " check out Grapple TV's
https://youtu.be/ZtALdIRNAt4

QUICK HITS
Guam MTB National Championship: Edward Oingerang and Jennifer Camacho are your 2023 MTB national champions. Oingerang finished the course in 1:13:24 while Camacho won her second straight title in 54:08.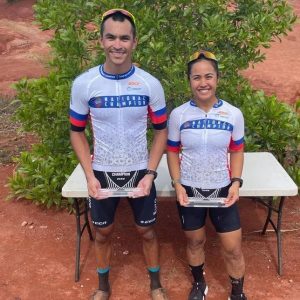 ——————————————
Kobe Miyashita, with St. John's coach Arvin Flores, was named the 2023 IIAAG Middle School Boys Volleyball MVP!