By Robert Balajadia
The Southern Dolphins softball team are chasing after a historic six-straight girls softball title and their 2015 campaign is getting off to a good start. Wednesday's game against the JFK Islanders provided plenty of runs with Southern getting enough offense late to hang on to a 14-10 win.
Southern had jumped out to a 9-2 midway through the 3rd inning, but a furious rally by the Islanders allowed them to score six runs in the bottom of the 3rd to get within just one run at 9-8.
Dolphins' junior pitcher Myah Quenga threw a complete game, but the six runs did get the best of her in the inning. Instead of pulling her out, Southern allowed Quenga to work herself out of the rut and she managed to put together three straight scoreless innings before the late game push by JFK.
"Our coaches always tell us to just keep our heads up, and I did that. I knew that it was just one inning and that the game wasn't over and I wasn't about to give up on my team either," said Quenga.
The Islanders proved a tough opponent for the Dolphins, who didn't start to create separation until the 6th inning behind big bats from Dariana Lujan and Elise Pocaigue with a stlim 9-8 lead. JFK missed a golden chance to end the top of the inning on a fly ball after catcher Kawehi Morton and pitcher Audrey George had a miscommunication on who was going to pull the ball in.
Instead, the ball fell to the ground inside the field of play which allowed runners to load the bases. Lujan then got a good lick on the ball that went straight through the right side of the defense to complete a 2RBI double to go up 11-8. Pocaguie then imitated Lujan's efforts by getting a 2RBI double of her own to go up 13-8 to recapture momentum of the game.
"I just believed in myself, I knew I had it in me, I wasn't going to give up on my team," said Lujan on her big at bat.
The Dolphins managed to score one more run in the top of the 7th inning while racing daylight to go up 14-8, but the Islanders put together one final run that fell just short in the bottom of the final inning.
With two outs away, George got a base hit to delay the games ending. JFK then got another base hit, but an error on a fielders choice allowed George to score. Islanders F. Leon Guerreo then got a huge RBI triple to get the score 14-10 to put some panic into the Dolphins as they tried to lock up the evening.
"That final inning was nerve wrecking, but I still believed in my team," admitted Quenga. "We have a bunch of new girls and they're showing everybody that they have a heart for the game and that they want to play."
Southern would get the final out with Quenga scooping up a short ball and tossing it to first base to secure the Dolphins unbeaten record. It was only the second game for the Dolphins after suffering a series of rainouts on opening week, though they are a perfect (2-0). The Islanders suffer their first loss at (3-1).
PHOTO GALLERY BROUGHT TO YOU BY:

QUICK HITS
Guam MTB National Championship: Edward Oingerang and Jennifer Camacho are your 2023 MTB national champions. Oingerang finished the course in 1:13:24 while Camacho won her second straight title in 54:08.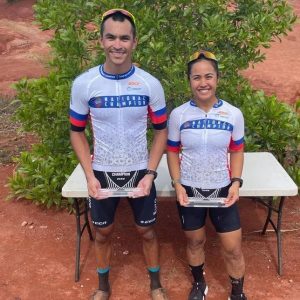 ——————————————
Kobe Miyashita, with St. John's coach Arvin Flores, was named the 2023 IIAAG Middle School Boys Volleyball MVP!