By Robert Balajadia
The defending champion Southern Dolphins and Guam High Panthers entered Thursday evening's girls soccer showdown without a loss. That all changed after the Dolphins went score-happy defeating the Panthers 5-2 at the Panther field with all of Southerns coming from their three shining stars.
The last time Dolphins April "Speedy" Talledo played on the Panther turf was during the regular season in 2014 where she left the field on a stretcher. Talledo was knocked down twice through out the course of the game, but she was the one dealing the punishing blows scoring her first of two goals just seven minutes into the game.
"I just play my game, this is a really physical sport so I know what to expect on the field," admitted Speedy.
Talledo, a well known basketball star, is accustomed to taking deep shots. Her range in soccer was also well on display after scoring both goals from over 20 yards out thanks to an alumni of the sport.
"One of our former players from the boys team, Keith Surber, he was training me last night saying that not many goalies will go up and jump to block for shots so I might was well keep shooting those shots," laughed Talledo.
Talledo scored her second goal in the 29th minute to go up 3-1 before the half.
Two more goals for the Dolphins came at the feet of Colleen "The Score-cerer" Naden at the 20th minute to go up 2-1 and again at the 70th minute to put the game out of reach to go up 5-1.
This was the first time the Dolphins were playing the Panthers this season but Naden was all too familiar with the defensive sets Guam High was running from an insiders perspective.
"There was a bunch of strategy put into this win," said Naden. "Coach Fred [Panthers head coach], used to coach me when I was little. He taught me defense, and I didn't know he was going to be coaching this year, and I was just able to figure it out. We really took in what they were throwing at us."
The game started and ended physical with injuries and yellow cards present between both teams. The physicality and crowd reactions can often rub the on-field athletes the wrong way, expect for Naden.
"I love high school soccer. It's the most physical and everyone plays to gain advantage," smiled Naden. "I love it more when the crowd gets into it, it pumps me up!"
Dolphins Zoe Surber was also got into the action scoring her goal just three minutes into the second half to go up 4-1.
The Panthers responded shortly after Talledo's first goal with a shot from Clarissa Albalos off a free kick at the 14th minute. Guam High would hit a scoring drought until the 78th minute off a penalty kick from Harmony Yatar after being fouled inside the goal box, but the comeback was well short.
Southern improves to (4-0-1) while the Panthers fall to (3-1-2).
The Dolphins are chasing a three-peat and Naden said that the soccer glory is not an afterthought.
"A championship is always on our mind. We always want to get that next win and we always want to finish strong. That tie we had to ND was really depressing, it hurts to feel that way."
PHOTO GALLERY:

QUICK HITS
Guam MTB National Championship: Edward Oingerang and Jennifer Camacho are your 2023 MTB national champions. Oingerang finished the course in 1:13:24 while Camacho won her second straight title in 54:08.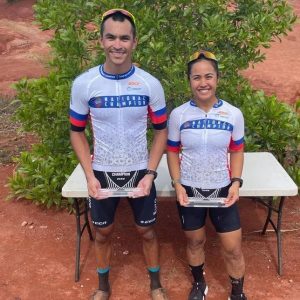 ——————————————
Kobe Miyashita, with St. John's coach Arvin Flores, was named the 2023 IIAAG Middle School Boys Volleyball MVP!