By Jose Terlaje
Although it rained a few times throughout the day, it didn't stop or slow down the games at Jimmy Dee's Beach during this year's Heineken Beach Rugby Tournament.
The touch tournament was 5-on-5 and co-ed but each team must have had one girl playing at all times. Games consisted of two five-minute halves with a one-minute half time. The games were played on the beach in an area that was roughly 40 yards. The tournament had been going on every year for the past two and a half years and had always been sponsored by Heineken.
"The main reason for the tournament is to get people in that don't play rugby or have limited knowledge of the sport to come out and have fun and learn more about the game and hopefully gain more interest in it. It also gives veteran rugby players a chance to experience a different aspect of the game because it's co-ed and touch which is completely different from every other rugby tournament. It's just a good time for everyone," said Matt Sgro, tournament coordinator.
Sgro also added that a great part of the tournament was the camaraderie. In tackle rugby, although everyone is friends, things sometimes get a little heated during those matches and things get too serious. In the beach tournament everyone has a good time whether you're a rugby veteran or someone that is playing for the first time, you can see that everyone is having fun.
Sgro also went on to say that his favorite part of the event is seeing people that have never played rugby giving it a shot. Sgro says he loves to see the game grow and expand on the island because he and many of his peers started playing at the very beginning of rugby on Guam when the Rugby Community was very small.
Cup Match
The Cup match for 1st and 2nd place was between Team Bae Watch and Team Don't Touch My Heine. It was an intense match that had the 2015 IIAAG Co-MVP Matthew Sojo (Bae Watch) pitted up against USA National 7s player Zach Pangelinan (Don't Touch My Heine) both who are graduates of Simon Sanchez.
At the start of the match, Bae Watch caught their opponents off guard and scored literally second into the half and picked up a 1-0 lead. The speedy DTMH answered immediately with a try by Zeb Howser after some stellar passing and movement from teammates Jesse Manglona and Randy Mendiola. Moments later though, Bae Watch's Matt Sojo broke away through a gap and took the ball into pay dirt to take a 2-1 lead. With the half coming to the end, the quick movement of DTMH's Zach Pangelinan was too much for Bae Watch as he tied up the game 2-2 before halftime.
In the second half Bae Watch's Sojo looked to get things going and was quickly able to score once more to give his team the lead again at 3-2. DMTH answered back with another try by Howser though tying up the game 3-3. The teams then went back and forth with possession of the ball with neither team being able to break through each others' defensive lines.
With just second left, DMTH got back into rhythm and used their ball movement to get Mendiola open for the game winning try, crowning Don't Touch My Heine the Heineken Beach Rugby Tournament Champions.
Ultimately the tournament was a fun time for all the players and spectators and the event is something that many in the rugby community look forward to each year.
Event Coordinator Matt Sgro would also like to give a special "Thank You" to Heineken and Tropical Productions for always supporting the local rugby community and sponsoring many of the events throughout the year. He also thanked the players, their friends and their families for always coming out and supporting the game that we all love.
Plate Game
In the match for 3rd and 4th place, the Muddy Buddies took on Team Custom Fitness.
The Muddy Buddies scored right off the bat on their first possession with Adrian Atalig scoring a try after Zavier Damian found him wide open on the left with a sweet behind-the-back pass, putting the Muddy Buddies up 1-0.
Custom Fitness would answer became almost immediately though with Shane Concepcion running the ball into the try zone to tie the game up 1-1. After a turnover by the Muddy Buddies, the solid passing of Custom Fitness earned them another try to extend their lead 2-1. As the half came to a close Muddy Buddies' Jarred Meno tied the game up 2-2 after dodging a touch and running the ball home.
In the second half, Custom Fitness got the lead back with another try by Concepcion early to give his team a 3-2 lead. Custom Fitness then held down the Muddy Buddies and stopped them from scoring for a good amount of the half until Bel Flores received a short pass from Meno and dove into the try zone to equalize the match at 3-3.
Time started to wind down in the half and both teams were looking to score. The Muddy Buddies regained possession of the ball. Brandon Braley then sent a laser pass to the left and found Meno who scored a try for the Muddy Buddies in the final seconds to put them up 4-3 and win the match and the Plate.
Bowl Game
In the Bowl Game for 5th and 6th place, the Proa Assasins took on the Tropic Thunder.
The wet sand took a toll on both teams early in the first half with almost every player stumbling through the terrain. Team Proa then settled down and was knocking on Tropic Thunder's door but couldn't score. Tropic Thunder then caught the Assassins off guard and put in a quick try to take a 1-0 lead. Proa answered back quickly and evened up the score at 1-1 almost immediately after receiving the kick-off.
As the half came to an end, Tropic Thunder snuck in another try to go up 2-1.
At the start of the second half, the Proa Assassin's kicked it into gear with Gerard Aguon scoring early to tie up the game at 2-2. The two teams looked like they were going to play to a stalemate but in the final minutes Tropic Thunder scored two quick tries to gain a lead and hold on to victory, earning the Bowl.
PHOTO GALLERY:

Athletes Birthdays by W5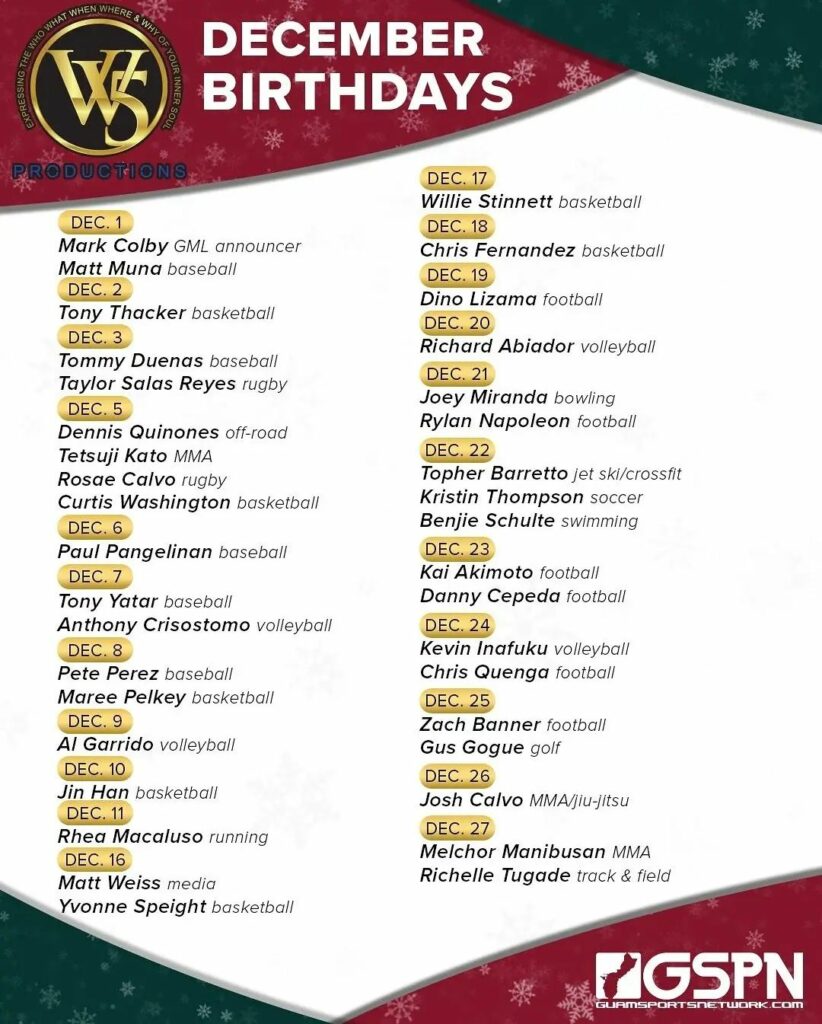 GPS Sports Calendar
SU

MO

TU

WE

TH

FR

SA
Events for December
5th
No Events
Events for December
6th
Events for December
7th
Events for December
8th
No Events
Events for December
9th
Events for December
10th
Events for December
11th
06:00 AM - 08:00 AM
Umatac
Events for December
12th
No Events
Events for December
13th
No Events
Events for December
14th
No Events
Events for December
15th
No Events
Events for December
16th
Events for December
17th
Events for December
18th
19

20

21

22

23

24

25
Events for December
19th
No Events
Events for December
20th
No Events
Events for December
21st
No Events
Events for December
22nd
No Events
Events for December
23rd
No Events
Events for December
24th
No Events
Events for December
25th
No Events
26

27

28

29

30

31

1
Events for December
26th
No Events
Events for December
27th
No Events
Events for December
28th
No Events
Events for December
29th
No Events
Events for December
30th
No Events
Events for December
31st
No Events
National Guard Athletes
Scott Eclavea
Scott Eclavea is a jiu-jitsu black belt and an accomplished MMA fighter. The Guard has given him an outlet in combatives to display his martial art skills, where he's become a head instructor for that program. Eclavea has served since coming out of high school and the Guard has only changed his life for the better.
COMING SOON …
LIVE FOOTBALL ON GSPN
Semifinals: #1 FD vs. #4 Southern (Friday 7 pm)
GSPN Preseason Basketball Tournament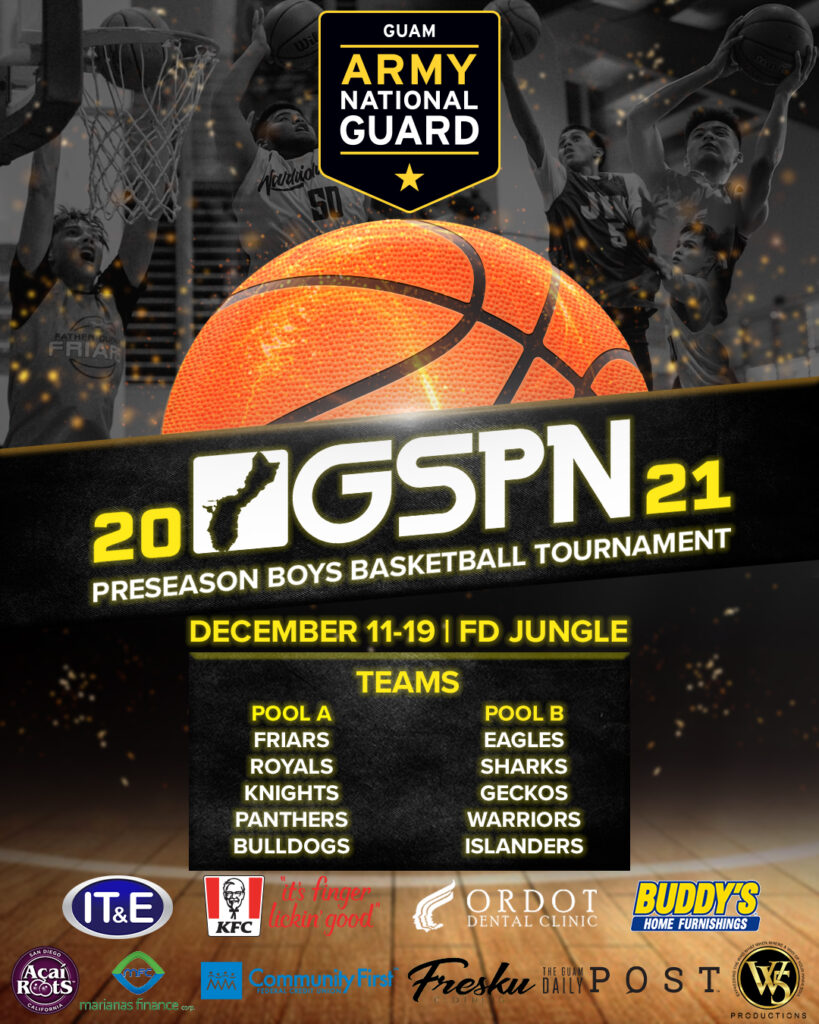 QUICK HITS
Robert Artero Maley recently captured the 182-lb. division of the Costa Mesa Classic, winning via pin in 4 out of 5 matches. Robert is a 4-year varsity wrestler at San Clemente HS (Tritons) and is currently ranked 15th in California's high school scene. He is the son of Jacque Artero Maley (AOLG 1991).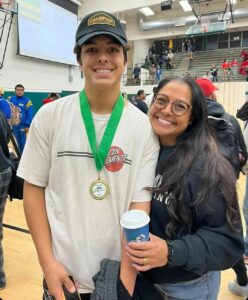 ——————————————–
Pat Taitano and Rich Abiador, teammates on the 1995 SPG volleyball team, have led their high school girls volleyball teams to the Washington State Championships in Yakima, Wa.
Taitano coaches Mt. Rainier High while Abiador leads North Creek High.
There for support is Dr. Mark Perez, a health professor at Central Washington University and a former UOG volleyball player.