[useful_banner_manager_banner_rotation banners=72,74,79 interval=10 width=120- height=600 orderby=rand]
By Robert Balajadia
The Harvest Eagles are headed back to the boys soccer championship game with a 1-0 win over the St. Paul Warriors Wednesday evening at the GFA Training Facility in Harmon, part of the semifinals double-header.
The Warriors were knocking on the Eagles door for 80+ minutes, but keeper Sean Evans turned them away every single trip. Evans had a total of 15 saves, 10 of which coming in the second half, to bolster the Harvest defense while surviving a furious Warrior rally.
"I'm close friends with three of the attackers on the Warriors and I knew that they were going to come out desperate in the second half. Once I saw [Daniel Kim] coming up I told my defense to stay tight. That game was tough, especially the last four minutes of extra time," said Evans.
Evans was playing with added motivation with his older brother Marlon watching on in the stands. Marlon, the former Eagle standout just a year ago, had a promising first year of collegiate soccer for North Greenville University cut short due to a complete tear of is ACL.
"I want to win this for my team of course, but my honest #1 goal is to win this whole thing for my brother. Him suffering that injury earlier this year and having to go through surgery has just served as my motivation to win this whole thing," said Evans.
Eagle Sam Larkin broke the scoreless affair after getting his left knee in perfect position off a corner kick pass from teammate Konta Terai, to tap the ball in before it ever touched the ground in the 16th minute.
"I just saw two defenders jump up higher than me and they missed the header so I just got my knee in there. It feels great to make that play, but it's not just me. My entire team played well today, especially [Evans] for making all those saves," said Larkin.
The Eagles attempted nine shots at goal in the first half despite netting just one goal. The second half proved a much tougher time for Harvest attempting just five shots at goal with only one coming from 2015 MVP Ricky Katsumata.
The Warriors defense made the evening a frustrating one for Katsumata after defending him well every time he touched the ball. Katsumata's frustrations became evident when he drew a yellow card for kicking the ball while Warriors goalie Sean Sablan had dove on top to secure it in the second half.
Though, the Warriors led the physical contest in yellow cards with four, three coming in the second half.
St. Paul's 13 second half shots at goal kept the 6'1 Evans on his toes after having to leap for high balls five times in the second half alone while diving for three highlight-reel saves against Warrior strikers shooting from inside the box.
During four minutes of extra time in the second half, the Warriors were on the offensive and had just put a ball in play from out of bounds inside the Eagle goal box. An Eagles defender saw the Warriors were offside which prompted him to pick up the ball with his hands, but the official never blew the whistle causing a free kick for St. Paul.
The mistake was near costly with the Warriors Jason Kim getting a good look on a through ball from just 10 yards out, but Evans jumped in Superman-Style and punched the ball away for his 15th and final save of the contest.
The FD Friar defeated the GW Geckos (1-0) in the late game setting up an Eagle vs. Friar Title match Saturday night at the GFA field at 7 pm.
"We weren't mentally ready to handle being in the championship game last year. Having lost in the semis two years ago and losing in the finals last year has made us more hunger than we've ever been. We're glad we won tonight which puts us right back where we were last year. I thank God for another chance," ended Evans.
PHOTO GALLERY BROUGHT TO YOU BY:

Athletes Birthdays by W5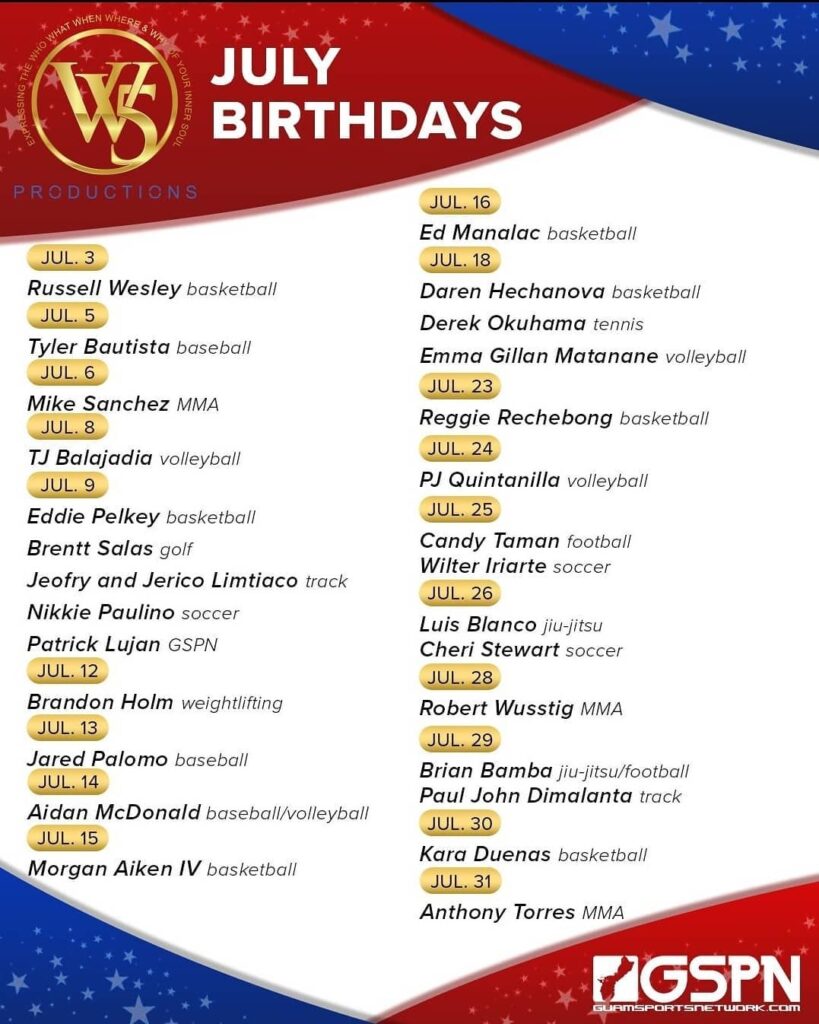 Foody's Fun Facts
Favorites From Year 2
COMING SOON …
2020 Tokyo Olympics
UFC Fight
Aug 1: Trevin Jones vs. Tony Kelley
QUICK HITS
——————————————————–
Guam's Joey Miranda met up with Chamorrita Softball Star Bubba Nickles and Olympic Teammates Dejah Mulipola and Aubree Munro out in Tokyo as we approach the Olympics!
Photo credit: GNOC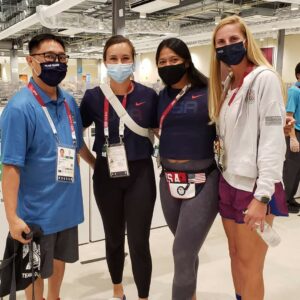 ——————————————————–
Former Guam resident Tre Taylor has committed to play cornerback for the Southwestern Junior College Jags.
Turner attended Harvest and FD before transferring to Hawaii where he played for Saint Louis, the 5th ranked team in the nation.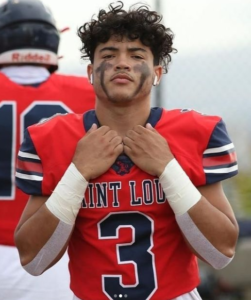 ——————————————————–
The big man Zach Banner getting to throw out the first pitch earlier today for the Pittsburgh Pirates!