By John Baza
With everything set into place and both teams ready to battle, the atmosphere was intense and tensions were high. Okkodo outside hitter Aiden Ferrara and his teammates knew what they were going up against and how much this final game would mean to their perfect season.
Holding an undefeated record throughout the season, Ferrara admits to the pressures. "In all honesty, I felt an abundance of pressure. We all had to play each game like it were our last."
"During the championship game, the only thoughts that were running through my mind is taking this game one point at a time and hoping we take each set with a victory", replied Ferrara on the thoughts running through his mind before the game.
But despite the pressure felt, he and his teammates remained composed and focused; "I believe my team and I were able to achieve our ultimate goal by staying focused throughout the season. We played every game with heart."
If you were able to catch this year's boy's volleyball championship, it was by no means an easy road for the Bulldogs. As the game unfolded it would be the bulldogs taking the first two closely contested sets, while the GW Geckos squeezed by in the third.
Action would ensue and go down to the wire with Bulldogs hammering in a hit to take the set and bring home the championship trophy once again.
After winning the championship in 2014, the Okkodo Bulldogs were able to pick back up where they left off as they dominated the regular season going undefeated and repeating as champions once again for the 2015 season.
Not only was Ferrara named to the First Team All-Island squad, he also posted notably his best game of the season in that championship game as he hammered in 14 kills to go along with 2 blocks and 2 aces.
Just finishing up his Junior year of high school, the Bulldogs standout already holds an impressive resume in sports as he is a multi-sport athlete.
"For every sport I play, I just always try to do my best and to not let my team down."
Ferrara's involvement in volleyball started from his humble beginnings in middle school at the southern private school of Mt. Carmel Catholic School. He claims the athletic director, Mr. Camacho, motivated him to join the sport that he has since grown and flourished in.
Indeed it takes a coach to dictate and inspire his players to achieve a feat like this, Ferrara specifically credits his coaches for their role in reaching perfection thus far.
"We listened to our coach; he guided us to victory every game. Helped us just stick to the basics and focus on team work."
"I would like to thank my middle school coach, Marvin Sablan, and my high school coaches, Dohn, Alvin, & Estoy", replied a thankful Ferrara on who he credits for his development thus far.
"I would like to thank our fans, our coaches, and God and one individual who did pass away but always was there with us spiritually. He was our motivation to get that championship. Thank you, Mikeyboy. This championship was for you!"
Memorable Year for Ferrara
Along with winning a second straight volleyball title for the Okkodo Bulldogs, Ferrara was well involved in two other strong sports seasons for the Bulldogs in football and in basketball.
He was one of the three Bulldogs selected into the first ever Wendy's All-Star high school basketball game and even earned a victory with Team Supreme under coach Pelkey over his Bulldog teammates Karl Melencio and Vern Gustilo.
The Bulldogs made it all the way to the semifinals in basketball having lost by just one-point against the FD Friars.
Ferrara displayed his multifaceted sports abilities by helping the Bulldogs get as far as the semifinals in 2014. They lost to the Geckos in a close contest, but Ferrara's ability to play on both sides of the ball was big for the Bulldogs.
Aiden still has one more year of high school left and he's ready to suit up for another big year of sports.

Foody's Fun Facts
Favorites From Year 2
COMING SOON …
SATURDAY
Boys Volleyball: Champion vs. Champion
Saturday 6 pm: FD vs. Tiyan
UFC Fight
July 25: Trevin Jones vs. Tony Kelley
QUICK HITS
Nadine Del Carmen graduated from Santa Clara University on June 11. She was named captain of the Santa Clara women's tennis team in her senior year and she will be attending Georgetown University in the fall to pursue her masters and will be playing for the Hoyas women's tennis team.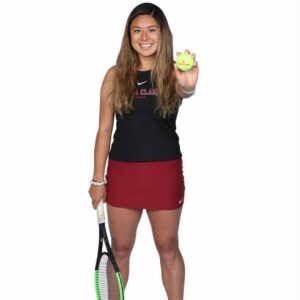 ——————————————————–
After a star-studded collegiate career at UCLA, Bubba Nickles turns her focus on the Tokyo Olympics with Team USA after the Bruins were eliminated in the College World Series. Nickles endured a broken arm on April 7 and worked her way back into the Bruins lineup for the WCWS. She will go down as one of UCLA's best softball players in its storied history.