[useful_banner_manager_banner_rotation banners=72,74,79 interval=10 width=120- height=600 orderby=rand]
By Michael Cruz
The 4th Annual GSPN High School Cup standings determine the best all-around athletic program in the IIAGG for the 2015-2016 season. The cup counts football, cross-country, golf, volleyball, soccer, basketball, baseball, wrestling, softball, tennis, rugby, track & field, and paddling (not counted was flag rugby or junior varsity sports).
The FD and AOLG programs did even better during the 2nd quarter after a rocking 1st quarter. First, the Lady Cougars rolled through the basketball season undefeated and put the cherry on top with a championship win over the ND Royals on Friday night.
The final Saturday of 2nd quarter sports played out as the Friars wrestling team won the boys title, baseball team clinched the 3rd place game, and finally the boys' soccer team clinched the championship with a 1-0 win over the Harvest Eagles.
The rally was good enough to earn the Friars/Cougars 23 points in the standings. Other champions included GW baseball and Sanchez Sharks girls wrestling.
The point system is as follows: 5 points for All Island Champions and 1 point per playoff victory, as well as a 1 for a first round playoff BYE.
First Quarter Results
Football- FD 8, GW 2, Guam High 2, Southern 1
Boys Cross Country – Sanchez 5
Girls Cross Country – JFK 5
Boys Golf- Harvest 5
Girls Golf- AOLG 5
Girls Volleyball- GW 8, ND 2, Okkodo 2, Academy 1, Harvest 1, JFK 1, Southern 1, St. John's 1
Second Quarter Results
Girls Basketball – Academy 8, ND 3, Southern 3, St. Paul 2, Guam High 1, JFK 1, Okkodo 1
Baseball – GW 8, JFK 2, FD 2, Southern 1
Boys Wrestling – FD 5
Girls Wrestling – Sanchez 5
Boys Soccer – FD 8, Harvest 2, St. Paul 2, GW 2, St. John's 1, Guam High 1, Southern 1
Standings after 2nd Quarter
1. FD/AOLG 37 points – Can they continue this momentum? The third quarter looks promising with a chance to win championships in rugby, tennis, basketball, and softball.
2. GW 20 points – Geckos were the favorites to win the baseball title and they rallied to win the championship over JFK. The soccer team won two games in the playoffs.
3. Sanchez 10 points – Girls wrestling wins 4th straight title
4. JFK  9 points – The Islanders had playoff wins in basketball and baseball.
5. Harvest 8 point – The Eagles made the boys soccer championship game for second straight year.
6. Southern 7 points – Dolphins had playoff wins in basketball, soccer, and baseball.
7. ND 5 points – The Royals basketball team only lost three games this season, but all to AOLG.
7. Guam High 4 points – Panthers had playoff wins in basketball and soccer.
8. St. Paul 3 points – Warriors get on board with playoff wins in soccer and basketball.
8. Okkodo – 3 points – A first round BYE in girls basketball is as good as a playoff win!
9. St. John's 2 points – The boys soccer won a playoff game. *The middle school girls team did win the volleyball title.

QUICK HITS
Guam MTB National Championship: Edward Oingerang and Jennifer Camacho are your 2023 MTB national champions. Oingerang finished the course in 1:13:24 while Camacho won her second straight title in 54:08.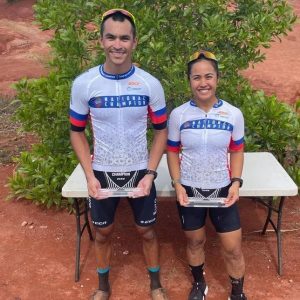 ——————————————
Kobe Miyashita, with St. John's coach Arvin Flores, was named the 2023 IIAAG Middle School Boys Volleyball MVP!