[useful_banner_manager_banner_rotation banners=72,74,79 interval=10 width=120- height=600 orderby=rand]
By Jay Leon Guerrero
After two days of competition and a total of 450 matches, the 2015 IIAAG All-Island Wrestling Meet is in the books. The boys undefeated regular season champion FD Friars clinched the rights to host the two event coined the 'Rumble in the Jungle' held at their gym known as 'the Jungle'.
The IIAAG girls wrestling meet took place Friday night and carried over to Saturday morning. The boys' matches were held all day Saturday with the gold medal matches starting later in the evening at about 10pm.
The results were announced before midnight with Simon Sanchez Sharks winning the girls title and the FD Friars winning the boys title.
Girls Meet
It was a three way race heading into the contest for the girls championship between three strong teams. The Sharks were 10-1-1, the GW Geckos were 10-2 and the Tiyan Titans were 10-2. After all matches were completed, experience conquered all with the Sharks winning their fourth consecutive championship to continue the dynasty.
Mia Aquino finished her high school career undefeated for the Sharks, winning four consecutive all-island golds and helping her team win four straight titles. Aquino pinned her opponent in 13 seconds in the first round of the 138-lbs division to end a phenomenal high school career.
Tony Aquino, the Shark head coach and father to Shark wrestlers Mia and Rckaela, said that he was proud of his daughters for both winning gold.
"They both work really hard, waking up early in the morning and practicing twice a day. They are juggling their workouts for the high school season and training for the Oceania Championships in March," said Tony Aquino.
According to Tony Aquino, everyone on the team did a phenomenal job, not just his daughters. "We were able to take seven of our girls into the gold medal matches with six of them winning golds in the weight classes."
There were doubts in the Sharks this year because they didn't have a complete team all season, but they used their experience to pull through at the all-island edging out the Geckos.
Here are the results for the girls events:
Simon Sanchez, 104 points
George Washington, 85 points
Tiyan Titans, 84 points
Guam High School, 73 points
Okkodo High School, 58 points
John F Kennedy, 42 points
FDMS Girls, 29 points
Southern High School, 17 points
"I'm super proud of all of our girls, we are still a young team," said Mia Aquino. Younger sister Rckaela Aquino also won gold in her weight division which eluded her last year.
"Our matches were going on simultaneously, so i put in an effort to finish up my match so I could watch the rest of her match," said Mia Aquino.
Mia Aquino won the award for fastest pin which was in 13 seconds in the gold medal match, she was able to watch her sister win her gold in the 132 lbs division.
Boys match
The FD Friars barely squeezed by the GW Geckos to finally celebrate a wrestling title. The Friars had more wrestlers making the gold medal and third place consolation matches, but the Geckos took home more gold medals to rack up the points.
"We were able to take home 5 golds, 2 silvers and 2 bronze. We came in the season knowing we were underdogs, my team needed to give in 110 percent to have a shot at the all-island championship," said GW coach Luis Ting.
Gecko team captain Justin Pangelinan finished the season undefeated with a gold medal win in the 106 lbs division. The Geckos did not win the title, but have improved dramatically in the last couple of years. "We all wrestle with our heart. We all grew stronger as a team. We know how it is to win and lose as a team and as our coach says 'our team comes first'," said Pangelinan.
After the final match, there was much suspense with neither the Friars or Geckos knowing the score tally. After the final numbers were announced, the Friars cheered and breathed a long sigh of relief with only three wrestlers winning gold.
Here are the results for the boys events:
Father Duenas, 104 points
George Washington, 91 points
John F Kennedy, 83 points
Simon Sanchez, 77 points
Okkodo High School, 37 points
Southern High School, 29 points
Guam High School, 19 points
Tiyan High School, 11 points
"It never goes as expected in all-island meets," said FD assistant coach Jose Cruz III. "Some of our wrestlers lost by pins, some won by pin. I'm just glad we were able to pull it off."
"I'm excited for next year, we are going to graduate a good group of seniors but we also have good freshman, sophomores and juniors that will return next season," said Cruz.
Cyril Maravilla is one of those seniors. Maravilla won his weight division by pin and leaves his high school career undefeated for three consecutive years. "I have awesome teammates that push each other everyday. Yes, I had a good season but I'd rather put my team before myself. With me leaving next year, I'm leaving it up to them to continue the legacy," said Maravilla.
Results for each weight class can be viewed online at:
http://s300.trackwrestling.com/tw/TWHome.jsp?loadBalanced=true
Step 1: Ater going online, click "Events" on the toolbar
Step 2: this will bring you to another page, click "Search Events"
Step 3: A box will open, click governing body in the drop down menu and look for "Guam High School Athletic Association"
Step 4: once in this page, click on 2015 IIAAG boys or girls all island tournament and enter as viewer
Step 5: click the weight class to view he brackets for either boys or girls matches

QUICK HITS
Guam MTB National Championship: Edward Oingerang and Jennifer Camacho are your 2023 MTB national champions. Oingerang finished the course in 1:13:24 while Camacho won her second straight title in 54:08.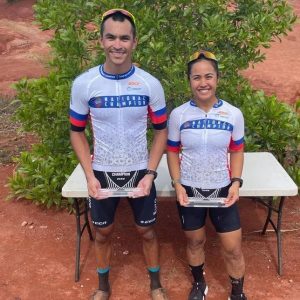 ——————————————
Kobe Miyashita, with St. John's coach Arvin Flores, was named the 2023 IIAAG Middle School Boys Volleyball MVP!