[useful_banner_manager_banner_rotation banners=72,74,79 interval=10 width=120- height=600 orderby=rand]
By Mike Nauta Jr.
On Saturday night, the 2015 IIAAG High School Boys Soccer League came to a close, but not before the league's two best teams battled one another for this season's title. In front of hundreds of cheering fans, the FD Friars and Harvest Eagles laid everything out on the pitch in their final meeting.
After two intense halves and 80 minutes of action, only one team could walk away as champions. With the scoreboard showing a 1-nil score in their favor, it was the Friars who celebrated victory over the top-seeded Eagles.
"Hard work, perseverance, and a bunch of boys who wanted it the most proved to be the difference," said the Friars' Jake Benito. "Winning tonight is a great feeling, to be able to come out and win against a tough Harvest team is great. We knew it wasn't going to be easy, but we held our own and played Friars soccer till the final whistle."
Early in the match, things seemed evenly matched up as both teams came out looking to gain the early momentum. Superb defense in the first ten minutes of the game had both teams struggling to find a clear shot on goal.
It wasn't until the 15th minute of play when Father Duenas' Tomas Calvo looked to end the dry spell only to have his shot sail over the crossbar. Moments later, teammate Jeffery Ho had a go with a laser shot of his own but to no avail.
The Eagles created opportunities of their own late in the opening half. After an overly aggressive defensive play by the Friars, Harvest was awarded a free kick right outside the goal box. Hoping to take the game's first lead Ricky Katsumata took a shot that targeted the top right corner of the goal only to miss by mere inches.
The Eagles had another golden opportunity when Kanta Terai took another free kick attempt but his shot ended up right into the hands of FD goalkeeper Cameron Miles.
As the opening half began to near its end, the intensity continued to rise by both teams. However, it was the Friars who made something happen as Benito managed to work his way through the Eagles defense eventually creating a shot that he finished to give his team a one goal lead.
With less than a minute left in the half, the Eagles were awarded a penalty kick after a handball was called against the Friars. Looking to equalize the game, Katsumata took the penalty kick only to be greeted by the waiting arms of Miles who denied the goal.
"After scoring that goal, it gave us a bit of breathing room. We still knew that the game was far from over and then for me to deny the penalty kick goal just added to our confidence," said Miles.
Second half action was filled with aggressiveness from beginning to end by both teams. In ten minutes of play, both teams combined for four yellow cards. It was apparent that one team looked to up their lead, while the other was looking to even things.
The Eagles had chances of their own but just couldn't find the back of the net to end their drought. Father Duenas nearly built a two-goal lead after being awarded a penalty kick. However, a Tevin Pangelinan kick hit the upright keeping the score 1-nil.
The remainder of the game was a see-saw match as possession seemed almost equal. When the final whistle was blown to end the match it was the Friars who celebrated the win. Benito and teammate Miles were named GSPN/Wendy's Players of the Game.
"Great way to end a season and most especially against a team who beat us earlier in the year," said Benito. "Everyone on our team played a big role on us becoming champions."
PHOTO GALLERY BROUGHT TO YOU BY:

2022 GSPN I MÅS METGOT COMPETITION
2022 GSPN I Mås Metgot Competition Recap
2022 GSPN I MÅS METGOT COMPETITION
2022 GSPN I Mås Metgot Competition Recap
2022 GSPN I MÅS METGOT COMPETITION
2022 GSPN I Mås Metgot Competition Recap
COMING SOON …
Sat: Origin Power Lifting Meet 
ISA Girls Volleyball/Boys Soccer Finals
QUICK HITS
Guam runners complete London Marathon. Former Guam top runners Charlie Epperson and Aysha Perez Epperson along with Cameron ONeal completed the 42nd London Marathon.
Charlie 2:47:56
Cameron 2:59:49
Aysha 3:51:04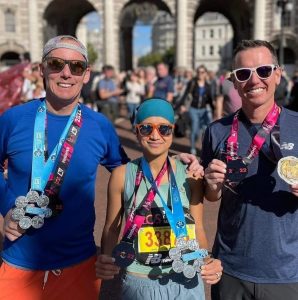 ———————————————–
Trevin Jones drops a unanimous decision 30-25, 30-27, 30-27 to Raoni Barcelos in UFC Fight Night 211 in Las Vegas.