By Jeffrey Ochavillo
After a weekend full exhilarating games and events, Guahan Soldier and the Guam National Volleyball team worked together by taking volleyball outdoors. Together they sponsored the first ever Grassroots Volleyball Tournament on Sunday topping off the weekend by bringing in various players and groups to compete in a friendly co-ed competition of outdoor grass volleyball here at Adelup field.
Instead of playing in the usual gym floors or out in the beach, the coordinators swapped that and brought back the old fun of playing out on the grass. Despite the oddly breezy cold weather and slight rain, players were not faced by those problems and continued to enjoy a cool four-on-four competition for bragging rights.
Steve Pangelinan, main coordinator of the event and currently the head coach of the Guam Volleyball National Team, when asked about the event he replied, "it was great seeing all these people show up and enjoy themselves playing volleyball out in the open. Thinking that this was the first time actually bringing it out for a wider audience, we would think it would start off small. But the turnout today was great to see."
Being the first ever outdoor grass volleyball tournament, according to Pangelinan, it had taken a lot of preparation and organization. A couple of months prior to Saunday's event, the national team held a smaller but similar tournament to was used a trial to see what was needed for a tournament like this to be held in a bigger. Quoting Pangelinan, "by the looks of the turnout today, we will definitely hold it again next year and expect even a bigger turnout then."
Eric Ada, currently playing for the Jr. Nationals as a middle, said, "for being it's first year, I am very happy with the turnout out. I was able to play against former and current teammates and it was fun playing out on the grass again." He continued, "I knew before how often grass tournaments used to be and I guess our coaches wanted to bring them back, and I am very happy about that. Hopefully it will continue like this for the following years."
The tournament consisted of 19 teams total. Teams were placed in either two divisions, recreational and competitive. There were 12 teams competing in the competitive divisions that had groups from the Guam Jr. Nationals and other outside league teams. In the recreational division, it had a total of 7 teams mainly consisting of middle school groups and families and friends who wanted to compete in some Sunday fun.
The game would be decided by the first teams to reach twenty-one and instead of having each team exchange sides every quarter, they would exchange in every five serves.
However, at the end of the day, Team Haggan won the competitive division and Old's Cool won in the recreational division.
According to Pangelinan, this tournament is actually a fundraiser for the Boys Jr. National Team to help them pay for their trip in the summer. They will be competing in a very competitive league called the International Boys Jr. National Championship, which will be held in Ohio in June 2015.
Results
Competitive Division
1st place Team Haggan: Dan Hattig, PJ Quintanilla, BJ Balajadia, Jonene Terlaje, Derrick Wahl, Luis Mesngon.
2nd place Glory Days: Mike Meno, Jay Cruz, Rhoda Bamba, Shelly Taisipic, Leon Bamba, Myron Guerrero.
Recreational Division
1st place Old's Cool
2nd place Calvo's
PHOTO GALLERY BROUGHT TO YOU BY:

QUICK HITS
Guam MTB National Championship: Edward Oingerang and Jennifer Camacho are your 2023 MTB national champions. Oingerang finished the course in 1:13:24 while Camacho won her second straight title in 54:08.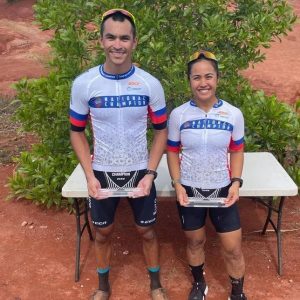 ——————————————
Kobe Miyashita, with St. John's coach Arvin Flores, was named the 2023 IIAAG Middle School Boys Volleyball MVP!