PRESS RELEASE – The Guam Track and Field Association (GTFA) will be hosting an open qualification meet for participation in the 2015 Pacific Games held in Port Moresby, Papua New Guinea. The qualification meet will be held on Saturday, May 2, 2015 from 12:00 pm to 4:00 pm at Okkodo High School track in Dededo. The event is free to participants. The Pacific Games will be held from July 4-18, 2015.
All potential athletes for the Pacific Games MUST meet the minimum performance standards per individual event, based on the 2015 Oceania Athletics Association senior level qualification standards for men and women (attached).
Acceptable performances are valid from October 1, 2014 to May 3, 2015. Any performances prior to or after the time frame are not acceptable. If an athlete is on island then the athlete must tryout at the qualification meet. If an athlete wishes to represent Guam and is unable to participate at the qualification meet then the athlete must provide an acceptable excuse. The athlete must be able to provide proof of inability to participate. Acceptable excuses are off-island "in-school" students who meet the GNOC eligibility requirements and those traveling for work or military training. The athlete must provide documented proof. Minimum standards must be met at the qualification meet. If an athlete is off-island for acceptable reasons, the athlete will be given an opportunity at a trial hosted during a team training session to garner if the athlete is able to meet the minimum standards.
Only 3 athletes per event will be accepted by the Pacific Games. In the event of multiple qualifiers in the same discipline, the selection/nomination committee will use the most recent IAAF scoring tables and other considerations, such as recent performances, to determine the selected athletes.These individuals will be nominated to the Guam National Olympic Committee for final selection.
To be eligible for selection, an athlete must meet the Residency Guidelines as set forth by the GNOC. The Residency Guidelines will be handed out to each individual at the tryout/qualifying event. The applicant must be in Good standing with the Federation, the GNOC, and the community. Athletes with criminal convictions will not be eligible.
Each athlete must also fill out ALL required documents provided them by GNOC and must also submit:
•    Police and court clearance (original documents/ no earlier than April 2015 and must be from place of residence),
•    a clear copy of a current U.S. Passport (Must not expire prior to January 20, 2016), no time will be given to renew or apply for new passports.
•    (2) 2 x 2 Passport Photos (Must be on white or off-white background, facing forward; no hats, scarves, sun glasses, etc.; If they wear glasses there cannot be any glare obstructing their face area).
•    Clear Copy of Physical which they get from their physician/clinic; must have physician's signature, clinic stamp and  indicate that they are cleared to participate at the 2015 PG. Date of exam cannot be earlier than January 20, 2015.
*Off island athletes must send notification that they are interested in participating at the 2015 PG.  They can send copies of the documents above, but must mail all original documents immediately for submission. Training/Competition schedule must be provided and signed by off island coach.
GNOC Residency Requirements of Athletes born on Guam must have at least 5 CUMULATIVE years of residency on Guam prior to start of the 2015 PG.  Athletes NOT born on Guam must at least 5 CONSECUTIVE years of residency on Guam prior to start of the
2015 PG.
FOR ATHLETES NOT BORN ON GUAM: Must provide a GovGuam Rev & Tax Certification that they have filed 5 consecutive years of taxes on Guam (2009-2013 or 2010-2014).  If an athlete is a minor they must provide their parent(s)/guardian(s) 5 consecutive years tax certification (2009-2013 or 2010-2014).  If an athlete has met the 5-year residency requirement, but has been/is off island for more than three months for school, military deployment, or medical illness they must also provide supporting documents for whichever three he/she is off island.
All documents and qualification standards MUST be submitted by MAY 3, 2015. ANY POTENTIAL ATHLETE MISSING DOCUMENTS WILL NOT BE ACCEPTED.

QUICK HITS
Guam MTB National Championship: Edward Oingerang and Jennifer Camacho are your 2023 MTB national champions. Oingerang finished the course in 1:13:24 while Camacho won her second straight title in 54:08.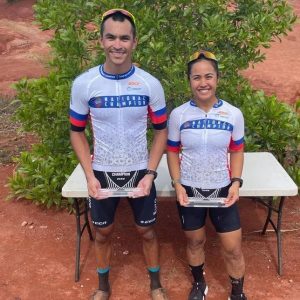 ——————————————
Kobe Miyashita, with St. John's coach Arvin Flores, was named the 2023 IIAAG Middle School Boys Volleyball MVP!