By Robert Balajadia
GSPN's 2014 Athlete of the Year Eddie "Barefoot Bandito" Vega is already a Guiness Book of World Records holder, but even he experienced a first at the 2015 Guam International Marathon Sunday morning. The 2015 draw was the biggest in GIM history and it also happened to be the first ever marathon on Guam that Vega has participated in.
"Oh man, it was pretty tough today. The course got really hot during the second half of the race and the humidity was tough, but it was an overall great experience for me and I'm so glad to finally run a marathon on Guam," said Vega.
Vega ran the marathon barefoot, as usual, but his stay on the island was primarily just for the event itself. Vega will catch a plane Sunday night (the night after the Marathon) to the Philippines after arriving just a day ahead.
The GIM also featured a few XTERRA competitors from Saturday in UK's Jacqui Slack, who took first place in the women's 5k division, and even Switzerland's Reneta Bucher came up strong grabbing 2nd place in the women's 10k.
OFFICIAL GIM PRESS RELEASE
PRESS RELEASE – (Tumon, GUAM) – Sunday, April 12, 2015 – The Guam Visitors Bureau, along with the Pacific Islands Club Guam and United Airlines hosted the 2015 Guam International Marathon today, welcomed runners from around the world and exceeded previous participation. The third annual event was the largest international road race to take place on Guam. Over 3,240 runners from Guam, CNMI, Japan, Korea, Philippines, Hong Kong, Macao, Taiwan, Switzerland, Netherlands, Palau, the United Kingdom and the United States took part in a 5K, 10K, half marathon and full marathon.
Yusuke Inose from Japan won the men's division in the marathon with a time of 2:41:22 and Sung Hwa Ryu from South Korea won the female division in 3:08:42. Derek Mandell and Rhea Macaluso were the first local male and female to cross the marathon finish at 2:50:53 and 3:32:29, respectively. Sho Matsumoto from Japan won the male half marathon in 1:11:43 and Manami Iijima from Maite, Guam took the female half marathon.
Hiroo Tonegawa from Japan won the male 10K in 33:20 and Yukie Tamura from Japan took the female 10K in 40:32. Yasuhiro Tago from Japan won the male 5K in 16:17 and Jacqui Slack from the United Kingdom won the female 5K in 19:24, both setting 5k course records. Race results are posted on the Marathon website and can also be found at http://results.chronotrack.com/event/results/event/event-9326?lc=en
576 runners took part in the marathon, 785 in the half marathon, 798 in the 10K and 1085 runners in the 5K. Runners participated in start parties featuring a light tunnel, DJ Oz, Urban Fitness & Studio dancers, PIC Pacific Fantasies Dance Company fire show and inspirational remarks from Acting Governor Ray Tenorio before each race. 
Guam International Marathon proceeds benefit the Tourism Education Council, the Island-wide Beautification Task Force and the Guam USO.
"A GVB Signature event, the Guam International Marathon exemplifies our commitment to sports and events tourism and is critical to the success of the Tourism 2020 plan. In the third year of the event, GIM continues to bring in economic benefits and valuable exposure for our island community," said Nathan Denight, Guam Visitors Bureau General Manager. "As we welcome our international participants, their families and supporters and we thank our local partners, participants and volunteers for bringing GIM's '42k of Håfa Adai' to life."
"On behalf of the Guam International Marathon, we congratulate and thank our participants, volunteers, media partners, supporters and sponsors for a successful event. From the expo, to our new light tunnel and start parties, to the energy along the race course, the Fiesta aid station all the way back to the Finisher's festival, the whole community came together and truly made this event 'more than a run, a Håfa Adai experience'. We're thrilled to have another year of record participation and we encourage everyone to join us again for the 4thAnnual Guam International Marathon on April 10, 2016," said GIM Event Director, Ben Ferguson.
The Guam International Marathon is also sponsored by ASC Trust Corporation, Bank of Guam, T-Galleria by DFS, Docomo Pacific, Powerade, SPPC/76 and Circle K, TakeCare, Taico, A.B. Won Pat International Airport Authority – Guam, RIM Architects, and the stations of KUAM.
TOP FINISHERS
Marathon Male:
1. Yusuke Inose (Japan) 2:41:21
2. Yasukazu Miyarato (Japan) 2:44:43
3. Derek Mandell (Guam) 2:50:52
Marathon Female
1. Sung Hwa Ryu (Korea) 3:08:41
2. Rhea Macaluso (Guam) 3:32:28
3. Kaori Akagawa (Japan) 3:41:53
Half Marathon Male
1. Sho Matsumoto (Japan) 1:11:43
2. Satoshi Kato (Japan) 1:13:59
3. Benny Volkmann (Guam) 1:37:13
Half Marathon Female
1. Manami Iijima (Guam) 1:35:46
2. Minami Aizawa (Japan) 1:37:14
3. Yumiko Hansen (Japan) 1:39:22
10k Male
1. Hiroo Tonegawa (Japan) 33:19
2. Munetoki Kumaoka (Japan) 33:33
3. Koki Kawauchi (Japan) 35:08
10k Female
1. Yukie Tamura (Japan) 40:31
2. Renata Bucher (Switzerland) 42:08
3. Peri Bowman (Guam) 42:53
5k Male
1. Yasuhiro Tago (Japan) 16:15
2. Yoshiyuki Kubodera (Japan) 17:05
3. Naoaki Aizawa (Japan) 17:15
5k Female
1. Jacqui Slack (UK) 19:23
2. Saya Niwase (Japan) 20:20
3. Alison Bowman (Guam) 21:50
PHOTO GALLERY:

QUICK HITS
3rd place: Big ups to the Para Todu Rugby Club for finishing 3rd out of 16 teams in the Manila 10's Rugby Tournament today. Biba Guam Rugby!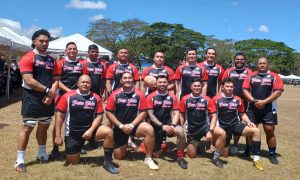 ——————————————
Guam MTB National Championship: Edward Oingerang and Jennifer Camacho are your 2023 MTB national champions. Oingerang finished the course in 1:13:24 while Camacho won her second straight title in 54:08.