By Robert Balajadia
There are no superstitions quite like a baseball players superstitions. The amount of rituals baseball players commit to have become second nature, so much so that it is a part of who they are and how they play.
Some players have to kick the dirt a certain amount of times before stepping into the batters box and some players have to tap the plate with the bat a certain way for a specific amount of times before they are mentally checked into the play.
Baseball and it's immense amount of superstitions are no different for the likes of Laurence "Lots" Idelbong.
Idelbong has been around baseball since middle school and now spends his swings playing for the Guam Major League and even in the Masters League. The seasoned veteran does have in-game superstitions, but his biggest is the most noticeable and the most interesting.
Idelbong never plays a game without a pair of his cotton with red-slap on paint and hardened goo gloves. It's most commonly known on Guam as construction/gardening gloves, but to Idelbong the glove is truly a mutli-purpose masterpiece.
"Back when I was in middle school I wanted to play baseball so bad but we couldn't afford a glove for me to use. My dad then brought out the construction glove and I started using it since. It's become the biggest superstition of mine and I don't even want to play a game if I don't have one," said Idelbong.
The only time the glove comes off during the game is if he were needed at the mound as the umpires always direct him to de-glove. Even still, his glove is in his back pocket and is slipped on as soon as he's allowed to wear it. When not on the mound pitching, Idelbong wears the glove underneath his baseball mitt, which is legal of course.
Aside from the superstition, Idlebong is just being resourceful and it's not like the glove does not provide any performance benefits! It's also cheap enough that Idelbong can afford to wear a new pair every game, but he simply chooses not to.
"A pair of these can last me at least four to five games and I always have spares in my car just in case. It gives me a good grip on the bat and I have tried on other gloves, but I prefer my usual gloves," added Idelbong.
Idelbong's use of the gloves have also sparked the interest of his teammates, noting that they too would sometimes opt to use the construction-red than the latest performance brand.
The gloves do have a history of hardware with Idelbong being a part of three GML championships and most recently a gold medal win in the Goodwill Masters Baseball tournament that took place on Guam.
Idelbong still has a bunch of good baseball years in him and you can catch him almost anywhere baseball is being played at the plate, in the outfield, or even in the stands red-handed and ready.

QUICK HITS
Guam MTB National Championship: Edward Oingerang and Jennifer Camacho are your 2023 MTB national champions. Oingerang finished the course in 1:13:24 while Camacho won her second straight title in 54:08.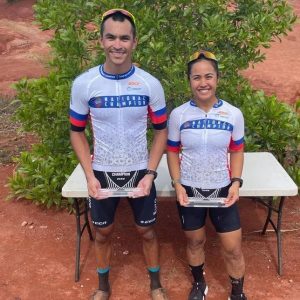 ——————————————
Kobe Miyashita, with St. John's coach Arvin Flores, was named the 2023 IIAAG Middle School Boys Volleyball MVP!