By Robert Balajadia
The Guam Women's National Volleyball team for 2015 doesn't quite feature a whole lot of Pacific Games experience, let alone off-island competition experience. The young roster has three ladies still in high school and a few who had just graduated.
The team itself features plenty of alumni from the Academy Cougars and ND Royals, who were stars in their own right. The toughest part of the process hasn't necessarily been team chemistry given the girls are all around the same age, but instead the refinement of basics and finding a practice venue.
"We just had to take all of the talents of each of our girls and put it together given that many of the girls are coming from rivalry schools. More than anything, they just have to be mentally prepared to deal with the skill level of the girls we are going to be challenging," said head coach Marvin Sablan.
"Hopefully we can find our game after the first time jitters, but I feel they'll respond regardless of what they see on the other side of the net," added Sablan.
It's been nearly a year since former Cougar and 19-year-old Leah Castro was just preparing to make her first trip to Pohnpei as a member of the Women's team for her rookie run. They ended up winning gold with Castro getting valuable minutes and experience throughout the process.
Her role on the team quickly changed in 2015 from rookie to veteran as she now finds herself leading a bunch of first timers who have never been a part of off-island competition.
"I see this group more as friends so I use that approach when constructing them rather than the 'listen to me' leader type. I have a lot more empathy with them given it's their first time and I try my best to be a good role model for them," said Castro on being one of the teams leaders.
Castro is one of three veterans on the squad along with Joneen Terlaje and big-time middle blocker and team captain Maria Wahl Haynes. Castro is reuniting with fellow Cougar teammate in Erin Wong and the last time the two played on a volleyball game together was when they brought a 2013 title to the school.
"Erin and I have a really good chemistry and we feed off of each other through out the game and it's just good to have a player from the team of my senior year back," said Castro on Wong.
One of Leah's biggest understudy's is soon-to-be senior in Cougar Mya Sanchez, who is also playing setter. Though young, Sanchez is in high spirits since many members of the team are not too much older than her and that she has some history of playing volleyball with them.
"Our chemistry is going to be a great advantage and we are ready and focused. I don't feel like so much of a newcomer, but I am learning a lot from the veterans on the team," said Sanchez.
The women's team will have some added fire power in 2014 MVP outside hitter Jasie Villanueva from the Academy Cougars. The soon-to-be college freshman is having a busy summer preparing for both the games and college in a couple of months.
"Balancing school and volleyball is important. School is priority, then comes volleyball. That is why I already registered and I will be taking classes this fall at UOG. Volleyball is a big part of my life, once I step on the court, it's strictly volleyball," added the reigning MVP.
Although she can be considered on the of the teams most talented players, Villanueva admitted that she was facing a different kind of pressure before even showing up to a practice.
"The experience was slightly new to me, it was like trying out for the first time as a freshmen. During my first tryout, everything was moving so quickly, I had to be able to think fast and do it. I got a new perspective from playing with some of the girls from various high schools," admitted Villanueva.
But then again, it's not like she's not excited for the challenge!
"Regarding the games,  I feel that playing against the teams that are out there is going to bring an entirely new perspective of how volleyball is played. I'm excited to play against the high caliber teams and I know that our team has the heart, determination, and the skill to make it in PNG," she added.

2015 Girls Volleyball Team
Marvin Sablan – Coach
Aaron Parker – Asst Coach
Maria Wahl – Captain – outside hitter
Joneen Terlaje – outside hitter
Leah Castro- Setter
Erin Wong – Middle Hitter
Sheri Stanley- Middle Hitter
Mya Sanchez – Setter
Dawn Makio – Right side hitter
Jasie Villaneuva – Outside hitter
Adriana Chang – Libero/Right side hitter
Demie Brennan – Right Side Hitter
Muneka Taisipic – Right side hitter
PHOTO GALLERY:

2022 GSPN I MÅS METGOT COMPETITION
2022 GSPN I Mås Metgot Competition Recap
2022 GSPN I MÅS METGOT COMPETITION
2022 GSPN I Mås Metgot Competition Recap
2022 GSPN I MÅS METGOT COMPETITION
2022 GSPN I Mås Metgot Competition Recap
COMING SOON …
Sat: Origin Power Lifting Meet 
ISA Girls Volleyball/Boys Soccer Finals
QUICK HITS
Guam runners complete London Marathon. Former Guam top runners Charlie Epperson and Aysha Perez Epperson along with Cameron ONeal completed the 42nd London Marathon.
Charlie 2:47:56
Cameron 2:59:49
Aysha 3:51:04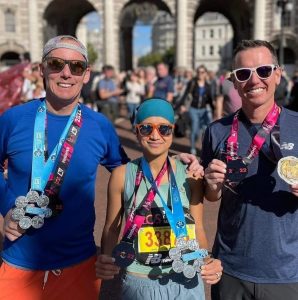 ———————————————–
Trevin Jones drops a unanimous decision 30-25, 30-27, 30-27 to Raoni Barcelos in UFC Fight Night 211 in Las Vegas.