By Robert Balajadia
Guam's biggest concert for the second straight year took over the Paseo Stadium for the weekend from June 6-7 and the issues of the field have been a hot topic on social media.
While the concert did bring in a large crowd, the biggest crowd the Stadium seems to draw on a yearly basis, it did force back the GML season while leaving some areas of the field muddy and torn apart, which was also in part of the inclement weekend weather.
Some of Guam's current Guam Major League players and fans related shared their concerns with the future of the field via social media.
"I'm sick and disgusted, I love that field. This is no longer the field of dreams, it's the field of nightmares," said the voice of the GML Mark Colby.
"Why can't they just have it at another venue like Guam Greyhound? I don't see why Guam Baseball is the one who has to suffer," said another member from the baseball community.
But for the second straight year, Guam Visitors Buerau (GVB) and the parties involved have had a plan to restore the once fabled land-mark for baseball since scheduling the concert dates.
GVB General Manager Nathan Denight released an official statement saying:
"The second annual Lotte Duty Guam Live International Music Festival was a massive success over the weekend and the Guam Visitors Bureau thanks our local residents and visitors for supporting this signature event.
"This is a great example of how we are taking tourism outside of Tumon and promoting different sides of our island paradise for everyone to enjoy. In terms of the Paseo Stadium, GVB will restore the grounds back to its original condition, just as we did after last year's Guam Live.
"As a world-class visitor destination, we want our facilities to look its best. The weather conditions, of course, played a factor. However, since the event just ended, assessments to Paseo Stadium are currently being made to start the restoration work.
"Additionally, Governor Eddie Baza Calvo selected the Paseo grounds as the site for the Festival of Pacific Arts in 2016. Millions of dollars are being invested in Paseo over the next year in preparation for this prestigious event. The renovations will not only benefit the baseball community, but everyone else that patronizes this public facility.
"More so, GVB provides much support to the Department of Parks and Recreation. About a million dollars goes to DPR annually from the Tourist Attraction Fund for maintenance of public parks and recreational facilities. GVB also gives thousands of dollars in sports grants to different groups and sporting organizations. This is part of our commitment to work with everyone so we can all make Guam a better place to live, work and visit."
The Argument
Pictures of the field and it's current muddy state were shared all across social media, which even garnered attention from Senator Tony Morrison – a former Guam National baseball pitcher. In response to all the feedback the senator was facing on the issue, he will currently be working to introduce a bill to limit the restrictions of the use of the Paseo Stadium as stated in a public press release.
Senator Morrison will be working closely with the stadium's restorations after hearing the plans of the GVB restoration project.
There is no secret that the Paseo Stadium has been in need of repairs for more than a decade and it seems that those repairs are finally coming at the expense of a delayed season not many baseball players are willing to pay forward.
Tropical Production's CEO EJ Calvo assured that the construction team is taking all the necessary steps when off-loading from the concert site.
"The landscaping experts have been doing their due diligence since the concert was over to make sure the field was leveled and brought back to the original playing state. There was no way that GVB nor TPI were going to use the venue and not restore it once finished," said Calvo.
The plans to rebuild the stadium do come at the cost of closing it down for repairs, which in turn means the field will not be available for a GML season during its repairs. There was also not many points of entry into the field so a mixture of the weather and tear produced the damage.
It also leaves the Guam National team without a stable venue to practice for a big tournament in Saipan for 2016.
The increase of annual events at the Paseo Stadium do mean that the field will be used for reasons other than baseball, but some fans stated publicly that, "Paseo should be used only for baseball."
Without the recent popularizing of the Stadium for bigger events the issue for the Stadium would be finding funding to repair areas outside of just the field. Though, the more immediate fixes have come at the expense of the event organizers.
"We've went through and cleaned out the restrooms and fixed the scoreboard that was broken all of last year," added Calvo.
"It's really bittersweet. We need the repairs, but we just have to wait. Some of guys are getting ready to retire soon," said baseball slugger Mike Bautista.
Baseball Woes
The sport itself is hurting and has been hurting for a long time. The attendance numbers for Guam's premiere league has dropped dramatically in the past decade and continues. Check out other GSPN related baseball stories below
The Baseball Season No One Saw – by Robert Balajadia
Where's The Love For Baseball? – by Patrick Lujan

Athletes Birthdays by W5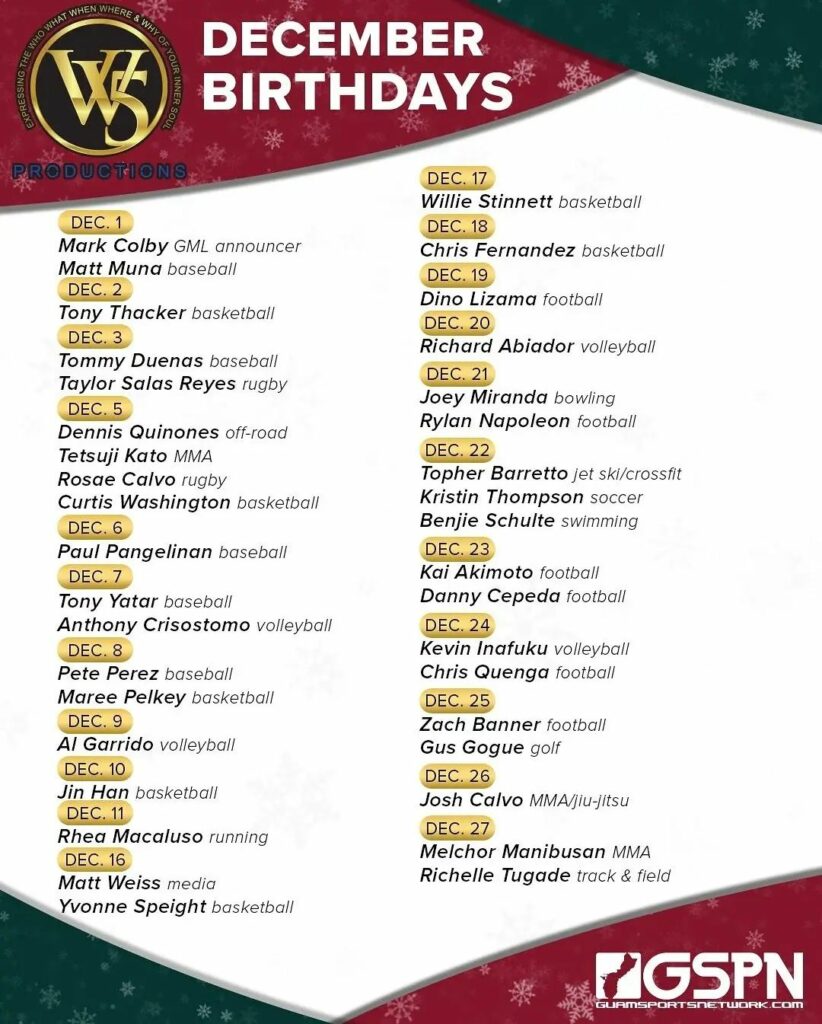 GPS Sports Calendar
SU

MO

TU

WE

TH

FR

SA
Events for December
5th
No Events
Events for December
6th
Events for December
7th
Events for December
8th
No Events
Events for December
9th
Events for December
10th
Events for December
11th
06:00 AM - 08:00 AM
Umatac
Events for December
12th
No Events
Events for December
13th
No Events
Events for December
14th
No Events
Events for December
15th
No Events
Events for December
16th
Events for December
17th
Events for December
18th
19

20

21

22

23

24

25
Events for December
19th
No Events
Events for December
20th
No Events
Events for December
21st
No Events
Events for December
22nd
No Events
Events for December
23rd
No Events
Events for December
24th
No Events
Events for December
25th
No Events
26

27

28

29

30

31

1
Events for December
26th
No Events
Events for December
27th
No Events
Events for December
28th
No Events
Events for December
29th
No Events
Events for December
30th
No Events
Events for December
31st
No Events
National Guard Athletes
Scott Eclavea
Scott Eclavea is a jiu-jitsu black belt and an accomplished MMA fighter. The Guard has given him an outlet in combatives to display his martial art skills, where he's become a head instructor for that program. Eclavea has served since coming out of high school and the Guard has only changed his life for the better.
COMING SOON …
LIVE FOOTBALL ON GSPN
Semifinals: #1 FD vs. #4 Southern (Friday 7 pm)
GSPN Preseason Basketball Tournament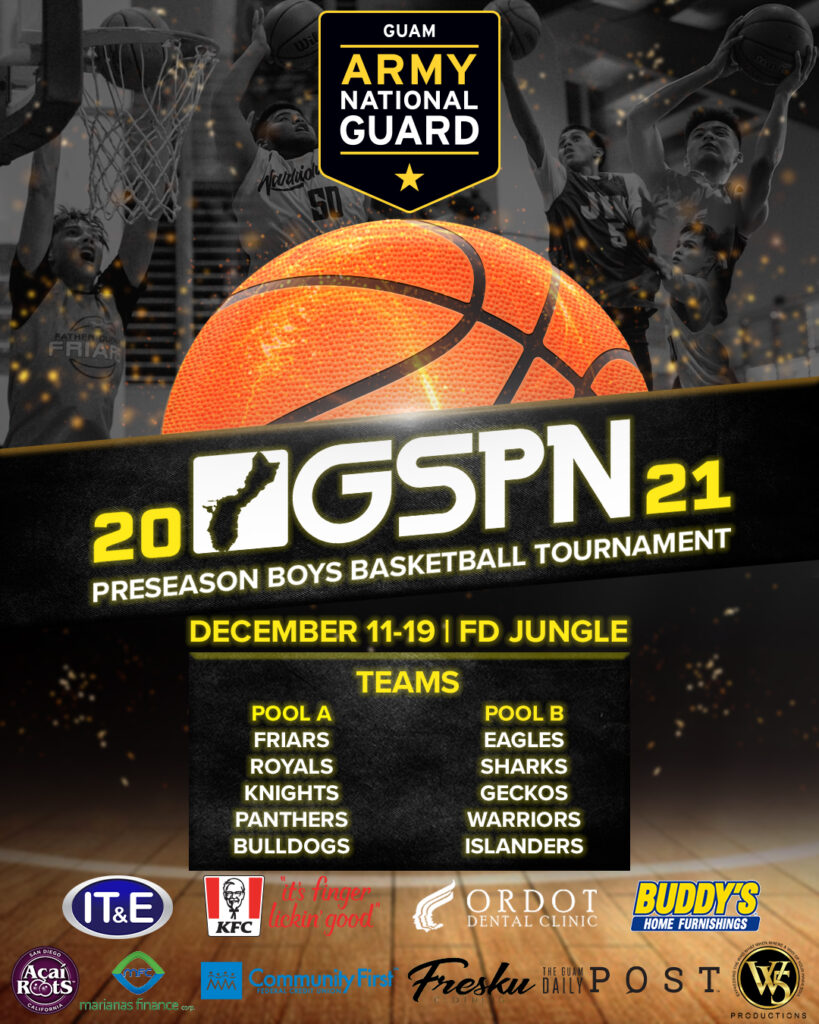 QUICK HITS
Robert Artero Maley recently captured the 182-lb. division of the Costa Mesa Classic, winning via pin in 4 out of 5 matches. Robert is a 4-year varsity wrestler at San Clemente HS (Tritons) and is currently ranked 15th in California's high school scene. He is the son of Jacque Artero Maley (AOLG 1991).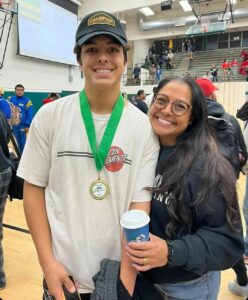 ——————————————–
Pat Taitano and Rich Abiador, teammates on the 1995 SPG volleyball team, have led their high school girls volleyball teams to the Washington State Championships in Yakima, Wa.
Taitano coaches Mt. Rainier High while Abiador leads North Creek High.
There for support is Dr. Mark Perez, a health professor at Central Washington University and a former UOG volleyball player.