[useful_banner_manager_banner_rotation banners=72,74,77 interval=10 width=120- height=600 orderby=rand]
By John Baza
Let the purple-reign continue. In a wet weekend dry of high school sports, the GW Geckos commanded the spotlight once again for the second straight year.
It was a classic matchup of the number one seed versus the number two seed in the championship with the ND Royals seeking their first girls volleyball title since 1989 while the GW Geckos were looking to repeat as champs.
It simply couldn't get more hyped, or crowded, than Saturday night's finale, but it was the Geckos who would emerge on top, avenging their lone loss in the regular season to the Royals.  GW did so in convincing fashion, commanding the game in three straight sets (25-20, 25-15, 27-25).
They had it all: the talent, the poise, the coaching and most of all the opportunity to prove again that they could repeat as champs.
"Honestly it feels good, as a captain I knew I had to do something to keep my team going and not fail them. I had to put them before me so I knew what I had to do to help them," replied Wendy's Player of the Game Sia Duenas on her thoughts while trailing in the final set.
"I wont take anything away from them, they earned every single point. I just told them they had to figure it out and that's exactly what we did. I told the girls they had to play 'smart ball not hard ball'," exclaimed a proud coach Bobbi Quinata on her team's performance tonight.
Third Set Thriller
With GW taking a commanding two set lead over the Royals, ND knew they had to act quickly if they wanted to keep their championship hopes alive.
No stranger to the pressure was league MVP, the Royals' Destiny Castro, who fired in two straight kills to tie the game at 22. The Royals found themselves on the brink of winning the set taking it to match point 24-22, just plays later.
The Geckos remained hopeful and kept faith, not giving up as late game hero Sia Duenas scored three straight points off of clutch hits to the Royals' defense to take the advantage in the 'win by two' situation (25-24).
The Royals would go on to tie the game at 25, but the moment was short lived as the Geckos took the lead behind an ND error before claiming the nail-biting set 27-25, to repeat as champions.
"We knew they were going to come back stronger after losing the first two sets and that they wanted the title just as bad as we wanted to defend it", explained Duenas on the game plan for the set.
Early in the third set, it looked as if the Geckos were poised to control most of the set after taking a 7-5 lead after an ace from Samyra Duenas. But the duo of middle blockers Sheri 'The Shield' Stanley and Kristi Stone made their presence know at the net with a pair of blocks and kills to take an 11-9 advantage.
The Geckos' Sam Quinata went on a run of her own to spark her team to a 14-12 lead before the Royals blanked GW off of kills from Castro and Demi Brennan, followed by double highlights from Stanley to tie the game in the crucial last moments.
3rd Set stats
GW: service errors 4; unforced errors 11; kills 8 (Sia Duenas 5, S. Quinata, C. Quinata); blocks 2 (Almoguera, S. Quinata); aces 4 (Sa. Duenas 2, S. Quinata, Almoguera)
ND: service errors 3; unforced errors 10; kills 6 (Castro 4, Stanley, Brennan); blocks 2 (Stanley 2); aces 2 (Brennan. Stanley)
First Set Action
Opening set saw promising action, as players from both sides were eager to take the lead and put on a great game for the fans. The Royals' Brennan was able to hammer in the kill, but a block from gw10 tied the game up at 7.
The Royals' Mames Blas and Kristi Stone made some key plays early in the set both offensively and defensively to maintain a 12-10 lead. But the key plays of Sia Duenas, along with three aces from sister Samyra, gave the Geckos a commanding lead late in the set.
Royals' Sherri Stanley sparked a small run offensively to cut the lead 23-20, but the balanced attack of GW sealed the set as the Geckos drew first blood winning 25-20.
1st Set stats
GW: service errors 5; unforced errors 5; kills 7 (Sia Duenas 3, S. Quinata 2, C. Quinata 2); blocks 1 (S. Quinata); aces 3 (Sa. Duenas, Trinidad, Almoguera)
ND: service errors 1; unforced errors 14; kills 5 (Stone 2, Brennan, Lefever, Castro); blocks 1 (Stone); aces 2 (Blas, Stanley)
Second Set
Much of the second set was controlled by the Geckos after gaining momentum from winning the first as GW jumped to a 5-1 lead after another Sam Duenas ace.
The Royals continued to show their presence at the net with Stanley and Brennan, but the Geckos proved too strong with a pair of kills from Sam and Colleen Quinata and two huge blocks from teammate Jasmine Almoguera 11-6.
The Royals went into a bit of a slump after a couple of errors, which proved costly with Almoguera having a momentous outing in the set to give her team a commanding 18-9 lead.
With ND's Castro having a bit of a slow night, a kill from Stone gave a light of hope for the Royals 20-10. But a hit down the middle from GW's Shai-Ann Trinidad followed by a highlight save from all-island libero Ana Aguon proved to be the difference as the Geckos cruised to take this one 25-15.
"Defense has always been my focus, when we falter, we really falter. Leading up to this game I had to teach and motivate them how to pick up the pieces and start anew", said Coach Bobbi on the focus for team leading up to this game.
2nd Set stats
GW: service errors 2; unforced errors 5; kills 5 (Almoguera 2, S. Quinata, C. Quinata, Trinidad); blocks 2 (Almoguera 2); aces 3 (Sia Duenas 2, Sa. Duenas)
ND: service errors 6; unforced errors 10; kills 6 (Stone 2, Castro 2, Leon Guerrero, Blas); blocks 1 (Stanley); aces 1 (Brennan)
*The game was broadcasted on live audio, but due to technical issues the saved recording is not available.
PHOTO GALLERY BROUGHT TO YOU BY:

QUICK HITS
3rd place: Big ups to the Para Todu Rugby Club for finishing 3rd out of 16 teams in the Manila 10's Rugby Tournament today. Biba Guam Rugby!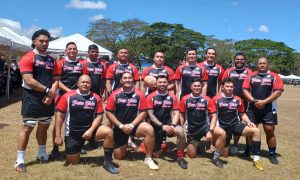 ——————————————
Guam MTB National Championship: Edward Oingerang and Jennifer Camacho are your 2023 MTB national champions. Oingerang finished the course in 1:13:24 while Camacho won her second straight title in 54:08.