By Jay Leon Guerrero
Mission accomplished for the JFK girls Track and Field team. Under the guidance of coach Jay Antonio, the girls hoisted the trophy after holding off a talented Guam High School girls team after all the points were tallied for the 142-132 victory. The victory categorizes the 'green and gold' as a dynasty after accomplishing their illustrious '3-peat' championship.
Regine Tugade and Alison Bowman led the Islanders by contributing 7 golds and one silver between the dynamic duo. Tugade won four golds which were in the 100m, 200m, long jump and triple jump, breaking High School records in both jumps in the process. "I was pretty confident in our team and I'm glad we won the championship," said Tugade.
Tugade said that she was nervous leading up to the event and she was glad it's over. "I forgot my spikes at the track the other day, thankfully someone picked them up for me. Losing my spikes was a sign mind was going crazy so I just told myself to focus and gain confidence for the meet tonight."
Tugade achieved her personal bests in the long and triple jump, unofficially breaking high school records. Tugade jumped 10.74 meters in the triple jump and 5.18 meters in the long jump.
Bowman won the 3000m, 1500m and 800m races for three golds and helped the 4 X 400 relay team take a silver. "Guam High is always a wild card team, they get new people every year. They fought really hard and they pushed us really hard," said Bowman.
"I'm proud of everyone on the team for their hard work, victory is just contagious at JFK."
The Guam High girls team had a small roster size, but had big time performers with what they had. The Panthers got a 4 gold medal performance from senior Christina Francisco. Francisco helped the Panthers win both relays and won the 100m hurdles and 300m hurdles.
"Christina is an amazing individual, I've watch her grow as an athlete from her freshman year. She struggled in her early years, then blossomed in her junior year and then blossomed even more in her senior year," said Panther Coach Joe Taitano.
"It's rare to have a kid do seven steps before the first hurdle and three in between. This year we decided to the steps with her and the results were amazing," said Taitano.
"I'm glad she won four gold medals today, she worked hard for it."
Panthers win boys title
Taitano celebrated a boys title after his team garnered 111 points. Okkodo was second with 95 points, JFK was third with 91.
The Panthers dominated the long and middle distance events which accounted for 73 of their 111 points. Douglas Grant won the 400m (53.35) and 800m (2:09.03) races to help the Panthers hoist the title.
Freshman Isaac Ventura opened the meet by winning the 3000m (9:57.57) long distance race by 7 seconds. The Panthers took silver in both relays which helped solidify their victory.
"It's been a battle for the boys with Okkodo, JFK, and Southern all bringing strong teams. Our goal was to make the top three (for both the boys and the girls) and I'm glad we did it," said Taitano.
Teologo wins 2 golds
Southern's Ryan Teologo bounced back in day 2 of the track meet after taking a disappointing silver in the discus. "I didn't do well yesterday (in the discus) so I had to come out and perform better today," said Teologo. Teologo had fast starts off the blocks in the 100 meter sprint and the 300 meter hurdles and maintained the lead to win gold in both events. "I felt them coming up in the last 20 meters and I just kept pushing," said Teologo.
Wong breaks the ice for Tiyan High
Matthew Wong made history for the Tiyan Titans by winning the schools' first gold medal. Wong had a good day at the track, completing the cycle winning gold in 200 meter sprint, silver in the triple jump and winning bronze in the 100 meter sprint.
"We are the foundation for Tiyan High track and we want to just keep raising the bar," said Wong.
Alegre unofficially breaks record, records farthest jump in 20 years
GW's Eric Alegre recorded his PR in the long jump to win gold in the event with a distance of 6.73 meters. Alegre now has the third longest jump in Guam history, with Florenz Quitlong besting Alegre twice with jumps of 6.86m and 6.80m both jumped in 1995.
With Quitlong being 20 years old at the time of the long jump record, Alegre now holds the high school long jump record.
Okkodo finishes highest in school's history
The Bulldogs left the track with their heads high despite not winning a championship. Both boys and girls finished the highest in schools history with the boys taking second and the girls finishing third. The Okkodo boys shocked the Panthers by taking home gold medals in both relay events.
The team of Ryker Garcia, Michael De Leon, Athan Arizanga, and Richard Hale III won the 4 X 400 relay gold medal with a time of 3:36.87. The Bulldogs 4 X 100 boys' relay team of John Mesias, Jaythaniel Cruz, Jordan Lorenzo and Michael DeLeon beat the Panthers by .13 seconds to win gold in the event.
With a young team growing in numbers, expect the Bulldogs to be major contenders for coach Desmond Mandell III next season.
Here are notable individuals all-island medallist's:
Regine Tugade, JFK – 100m (gold), 200m (gold), long jump (gold) *high school record, triple jump (gold) *high school record
Christina Francisco, Guam High School – 100 hurdles (gold) , 4×100 (gold), 300 hurdles (gold), 4X400 relay (gold)
Alison Bowman, JFK – 3000m (gold), 1500m (gold), 800m (gold), 4 X 400m relay (silver)
Ryan Teologo, Southern – 100m (gold), 300 hurdles (gold), discus (silver), triple jump (bronze)
Johnny Quitugua -110m hurdles (gold), triple jump (gold) 300m hurdles (silver)
Eric Alegre – long jump (gold) *high school record
Girls Team Points:
JFK – 142 points
Guam High – 132 points
Okkodo High – 95 points
Boys Team Points:
Guam High – 111 points
Okkodo High – 95 points
JFK – 91 points

QUICK HITS
Guam MTB National Championship: Edward Oingerang and Jennifer Camacho are your 2023 MTB national champions. Oingerang finished the course in 1:13:24 while Camacho won her second straight title in 54:08.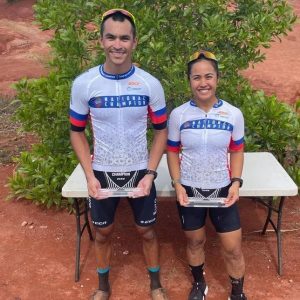 ——————————————
Kobe Miyashita, with St. John's coach Arvin Flores, was named the 2023 IIAAG Middle School Boys Volleyball MVP!